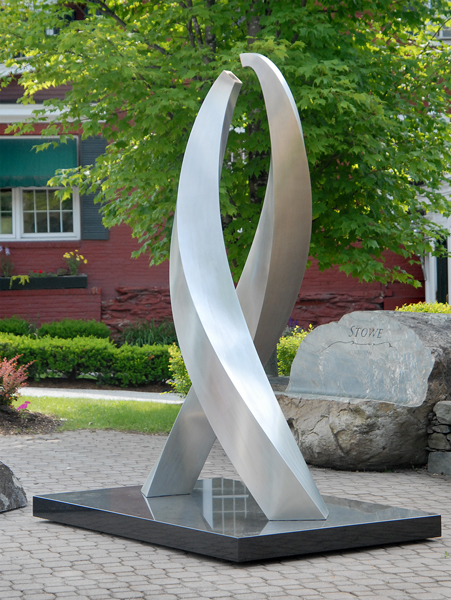 Christopher Curtis is part of Exposed 2011. He lives in Stowe, Vermont.
Artists throughout history have explored the topic of love, but perhaps Auguste Rodin's 1889 sculpture The Kiss expresses most classically the intense attraction, hesitation and tension of lovers. Rodin's sculpture expresses love and romance, yet many sculptures, beginning with the 25,000-year-old Venus of Willendorf have expressed a shared human recognition of the fundamental importance of fertility, and its centrality to the human experience.
This sculpture, fabricated in sleek stainless steel, uses modern materials and techniques to explore, yet again, this simple yet elemental human interaction. In our modern society, love is not limited to procreation, and fertility is increasingly complex, but this simple gesture of love retains its blush.
Christopher Curtis is a native of Stowe, Vermont, born in 1951.  He attended the University of Vermont where he was influenced by teacher and friend, Paul Aschenbach, who stressed continuous output as a key to constant improvement.  Curtis practices this creating, on average, about a dozen large sculptures per year at his studios in Stowe and Barre, Vermont.  Although most of his sculptures are in stone, he also works in fabricated metal, sometimes mixing the two media. He is a partner in The West Branch Gallery and Sculpture Park in Stowe.
---
ABOUT EXPOSED
For the past twenty years, the Helen Day Art Center has hosted an outdoor public art and sculpture exhibition called Exposed in Stowe, Vermont.  Exposed hosts sculptures, site-specific installations, and participatory work from twenty-three national and international artists. the 2011 edition offers a series of Thursday night events by 12 video artists, writers, performers, and musicians accompany the exhibit. This exhibition and series of events is accompanied by cell phone audio tours, QR codes, walking tour maps, walkabouts, and a catalogue of the exhibit published by Kasini House Books. The exhibition will take place July 8th to October 8th, 2011.