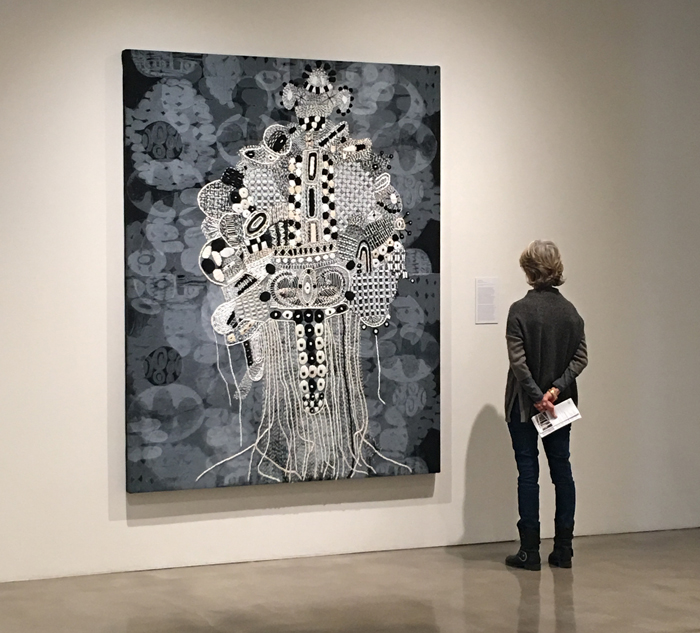 2019 VERMONT ARTIST TO WATCH
Sarah Amos, Enosburg Falls
"We live in a society today where the touch of one's hand has been slowly erased," said Sarah Amos. "There's a lot of artists that don't even touch their work. I want to be responsible for every mark I make and everything that comes out of the studio. I want there to be a sense of my hand."
The Australian artist who makes Vermont her home often works in a varied, hybrid style that combines print techniques like etching, monoprinting, and collagraph with painting and drawing using gouache, watercolor, pencil, and charcoal. In a 2017 show at the San Jose Institute of Contemporary Art in California, Amos presented work on felt that used collagraph and hand-stitching. Her work demonstrates a special ability to blend pre-modern and post-modern visual language into images that feel sophisticated and in the now.
"Artists to Watch 2019" is a survey of contemporary Vermont artists that appeared as special feature in Vermont Art Guide #9 and in an exhibition at the Vermont Arts Council, January 7-February 28, 2019. ABOUT THE PROJECT | GET THE MAGAZINE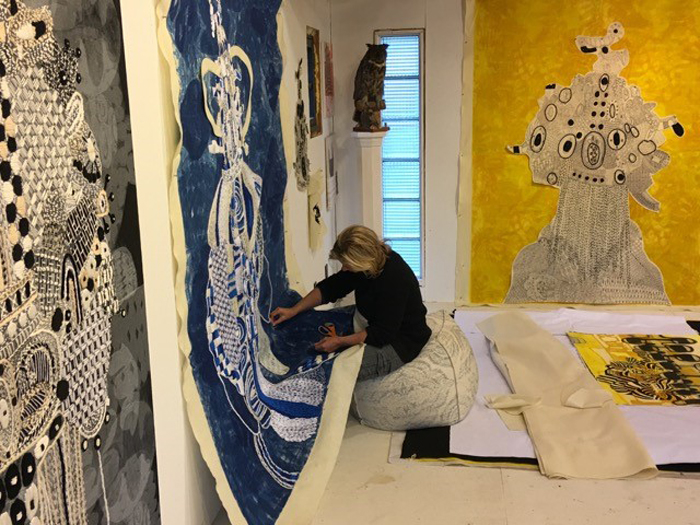 "She is prolific and obsessed with making work," said Rachel Moore, director of the Helen Day Art Center. "She is constantly thinking about and inspired by texture, color, design, shape, and landscape, while being thoughtful about the world in which she lives and taking inspiration from the present and past to make her work relevant. Because she is constantly experimenting, her work is shifting as well in new ways. Not all artists have the ability and bravery to go beyond their comfort levels and really challenge themselves in a highly professional practice, but she does and with great success."


"Living in Vermont allows me the space and time to spread out and make work in an extremely beautiful and non stressful environment," said Amos. "I am the sort of artist who needs isolation and concentration that I cannot find in a city. Vermont is affordable for me to pursue my work and is a brilliant staging ground for all ongoing projects both nationally and internationally."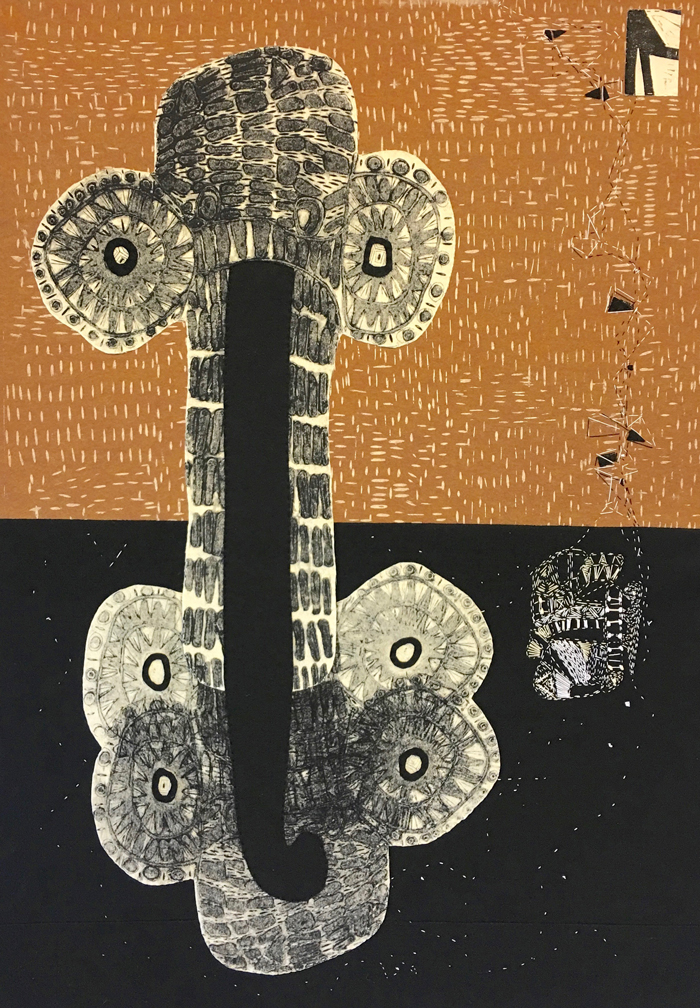 This Artist to Watch 2019 is a special feature in Vermont Art Guide #9. Vermont Art Guide is a full color, quarterly, printed magazine about contemporary art in Vermont. Our goal is to connect the entire state's art community by sharing information about exhibitions and events; present a picture of Vermont art and art in Vermont, to tell our story; and to build an audience for Vermont art inside the state and out. We hope you will join us and SUBSCRIBE TODAY.
About the Artist
Sarah Amos' work is in corporate, public, and private collections, national and international, including the Dartmouth-Hitchcock permanent collection, Katonah Museum, DeCordova Museum, Prudential Insurance in Boston, Time Warner New York, a Hilton Hotel development in Melbourne, and many others. She has participated in the San Francisco Art Fair and Art Miami. Her practice has been featured in Vermont Art Guide #2 and in the forthcoming 2019 book, Singular and Series, Monotype and Monoprint by Catherine Kernan (Schiffer Publishing). Amos is represented by Flinders Lane Gallery in Melbourne, Australia. In 2019, Amos will have solo exhibitions at the BCA Center in Burlington, The CUE Art Foundation in New York City, and the Huntington Museum of Art in Huntington, West Virginia. Originally from Melbourne, Australia, Amos lives and works in Enosburg Falls. Find out more at www.sarahamosstudio.com.
About the Curator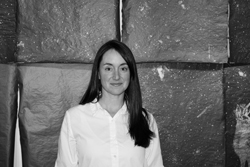 Rachel Moore
Helen Day Art Center, Executive Director
She looks for "passion, drive, curiosity, intelligence, sophistication, and superior craftsmanship. We work to create enticing, accessible, and unusual events to bring people into the space, or create interpretive materials so people will take time to see the work out in the public." Stowe's Helen Day Art Center is located on the second floor of a 1856 Greek Revival building that once housed Stowe High School. Galleries show a variety of work, from cutting edge contemporary to student shows. More information is at www.helenday.com.
Images (top to bottom) by Sarah Amos.