This easygoing frame shop shows paintings, pastels, and photography in a friendly atmosphere full of conversation about art and artists. Among the artworks featured in the gallery are pastels by Kim Provost, landscapes in oil by Tatiana Yakusheva, small landscapes in oil by Marie Jewel, and photographer Mike Sipe, whose work focuses on the Lake Champlain basin.
Art Works Frame Shop & Gallery
in the Blue Mall
150 Dorset Street, Suite 230
South Burlington 05403
(802) 660-4999
Hours:
Monday-Thursday, 10AM-6PM
Friday, 10AM-4PM
Saturday, 10AM-5PM
---
ART ON VIEW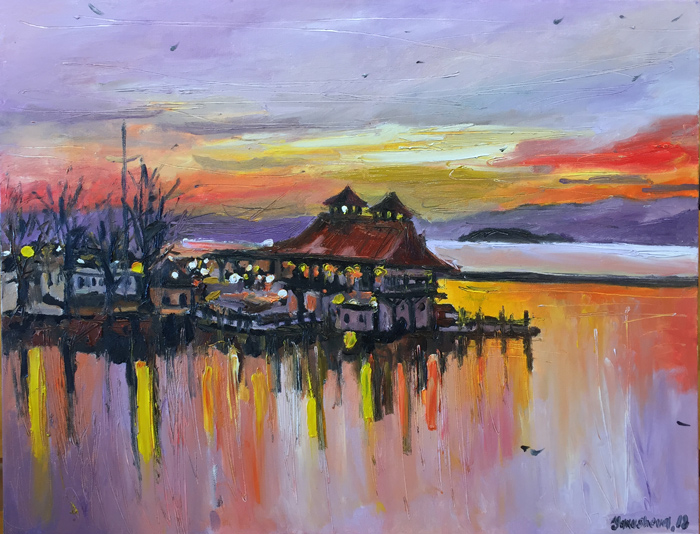 Featured artist: Tatiana Yakusheva
Tatiana Yakusheva says about her art:
For me Art is Life and Life is Art. Both processes are pretty complicated, but also adventurous, creative, challenging, and infinite. As we look for our paths in life, I also look for approaches and techniques in the art process. Every time I draw or paint, I try to improvise with new mediums and styles. Art, for me, turns into a meditation process. It is something sacred, magical, and ephemeral. The state of creation, or the process of creation, is life in a different dimension. Artwork turns into a separate substance that has energy, light and lives its own life. The goal for me is not to create painting with the right succession of strokes, proportions and perspective. All the beauty is in imperfection. Drawing or painting becomes a separate substance that has energy and light, and lives its own life.
Art has no borders and it needs to be free. You should put passion, energy and love into what you do to create something of artistic value, emotional and spiritual, something that would disturb people's minds and touch the strings of their souls. My works are usually the result of generated experience, passion, feelings, concerns, and questions. Emotions: love, friendship, happiness, grief, disappointment, failure, and success make the works impressionistic, lively, and dynamic. I don't create on someone's order or make the copies. You cannot step into the same river twice and you can never feel or think the way you did a moment ago. To copy for me means to lie or fake it. Every new work should be original, complete and genuine. You cannot have a formula for inspiration or love. Either it is there or it is not.
Image: Burlington Boathouse Sunset by Tatiana Yakusheva (22″x28″; oil on canvas)
Courtesy of Art Works Frame Shop & Gallery, South Burlington