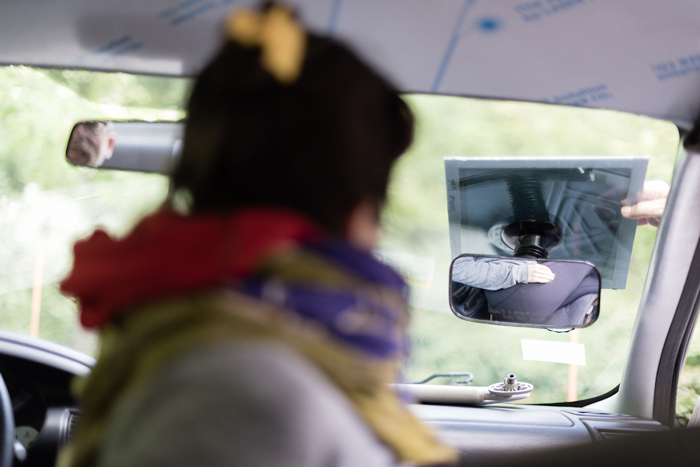 ART EVENT
AutoBiography: A Car Opera in Five Acts
at the Marketplace Parking Garage in Burlington
Sunday, November 4, 1-8PM
AutoBiography is a collaborative, site-specific performance created by artist Erika Senft Miller with collaborators Aaron Stein, Matt LaRocca, Leif Hunneman and Alice & the Magician with support from local businesses and creatives. It is sponsored by Dealer.com.
This is an opera about cars. It's about the people who use them and the archetypal stories they tell. The five act performance takes place in and around Burlington's Marketplace Garage. Audience members are invited to experience the performance on a self-guided tour with the purchase of a printed program available for $3 at Handy's Service Station and Lucky Next Door between 1 and 7PM on Sunday, November 4th. Programs will serve as a car manual. From there, one can follow the directions on the ground. All attendees should expect an exciting confluence of light, sculpture, scent, sound, and taste, stimulating all five senses. The garage stairwell will be transformed into an immersive sculpture, and a number of transitional events near stairwells on each level can be experienced.
Expect the unexpected, but also be on the lookout for music, dance, installation sculptures and surprising scents. The garage will be fully operational during the performance. The self-guided tour starts at Handy's Service Center at 75 South Winooski Avenue and lasts about an hour. At Handy's, one may see people getting in and out of cars for a tour; unfortunately, the organizers can't offer interior views to everyone who will attend, but you will smell and see the installations from certain cars during the last scene at Lucky Next Door. The show ends at Lucky Next Door at 153 Cherry Street, where visitors are invited to view video, smell custom car scents and participate in a podcast about cars. Programs are a ticket for a free cup of coffee, so hang onto it!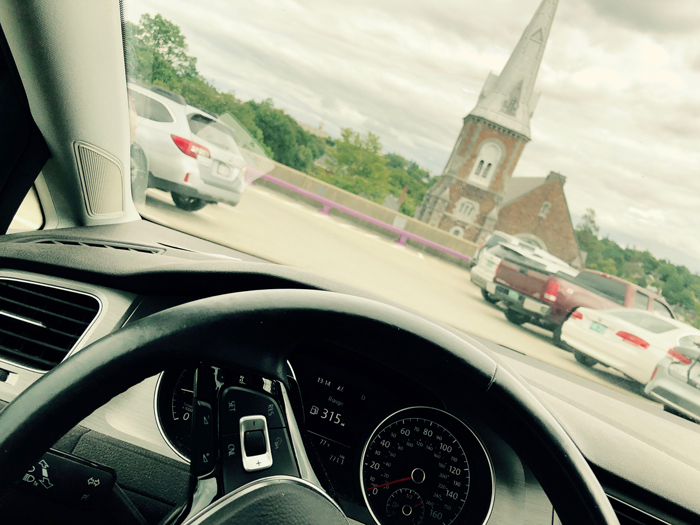 The project's principal artist, Erika Senft Miller, was inspired by Richard Wagner's Ring cycle, as well as the composer's concept of Gesamtkunstwerk, which merges multiple art forms and senses, and our own life stories that all somehow and somewhere involve cars. AutoBiography is multisensory performance that investigates and celebrates the meaning of cars in all our lives.
In this, as in all of her work, Senft Miller encourages every participant (dancer, artist, performer and viewer) to become an active collaborator, shaping the meaning and execution of the project.
Other collaborators include sculptor Lydia Kern and Jonathan Silverman, professor of Arts Education and former Chair of the Education Department at St. Michael's College. Writers Kim MacQueen, Molly Tiffin, and Sadie Williams collaborated with photographers Renee Greenlee and Kelly Holt and Amey Radcliffe of Gotham City Graphics to produce the performance program as well as AutoBiography Magazine, celebrating our relationships with cars, which will be available for sale near the November 4th performance date.
This event is sponsored by the City of Burlington, Dealer.com, The Automaster, Burlington City Arts and other Burlington businesses and organizations. Supporters include Handy's Service Center, Lucky Next Door, Premier Strength and Performance, Spillane's Towing and Recovery, D Richard Automotive and Downs, Rachlin & Martin. This event is hosted in participation with the Vermont Arts Council's VT Arts 2018 initiative.