Discover dynamic fine art exhibits of all mediums in the heart of historic Stowe Street with free, monthly gatherings to celebrate the arts in Vermont.
Axel's Gallery & Frame Shop
5 Stowe Street
Waterbury 05676
(802) 524-3696
Hours:
Tuesday-Friday, 10AM-6PM
Saturday, 10AM-4PM
---
ART ON VIEW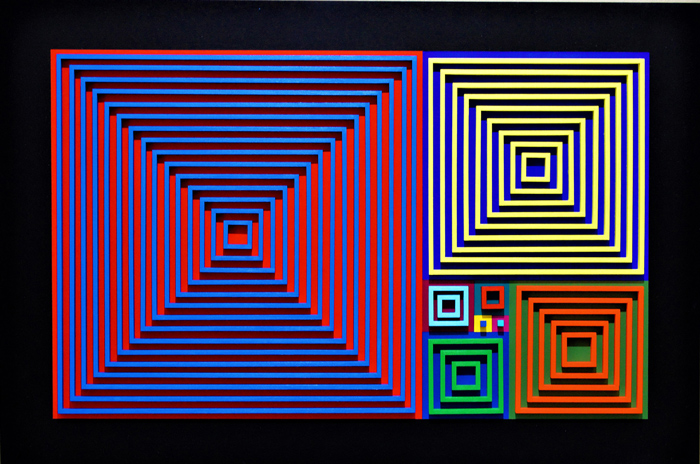 Chris Jeffrey: Recent Work in Light & Color
July 4-August 3, 2019
Chris Jeffrey is a central Vermont-based artist whose work, through the use of color, light and very often the viewer's own physical involvement, encourages people to experience a heightened awareness and sense of presence as they interact with the world around them. Recent work, including a series of self-contained light boxes, strip paintings and wire paintings are on display and beg for the viewer to be physically involved in order to fully bring them to life.
The series of self-contained light boxes show fluorescent objects bursting into color under UV light and then, through mirrors, seem to recede into infinity.  Viewing these is more or less a physically passive experience, in which it's the mind that, ideally, experiences a sense of movement and expansion. 
For a more active counterbalance, the boxes are accompanied by what Jeffrey's call "wire paintings" and "strip paintings". These are examples of the type of kinetic art that requires the viewer to be physically involved in order to fully bring it to life.  The perception of the wire paintings in particular changes dramatically depending on the speed with which the viewer moves past them and how far away he or she is. (And yes, some queasiness is a not uncommon reaction to them…) The strip paintings are more subdued, more of an exploration of color, but the experience of them also varies quite a bit depending on the angle they are viewed at and the speed with which the viewer walks by.
(adapted from the venue's press materials)
---
PREVIOUS EXHIBITIONS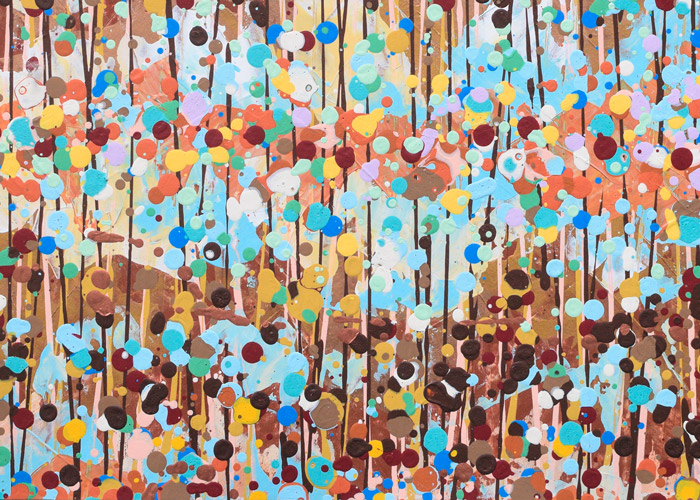 Matt Larson: Terroir
April 16-May 25, 2019
As the winner of the 2018 Axel's Gallery Photography Shoot-Out, Matt Larson is utilizing his solo exhibition opportunity to showcase his recent exploration of abstract paintings and collage rather than the prize winning landscape photography he is known for.
Terroir is a French word that means, in its most basic sense, "earth" or "soil". Although no precise English equivalent exists for this quintessentially French term, its roots are found in the sense of place induced by the underlying conditions of a given landscape. Inspired by this mosaic of ecological patterns, Larson's "Terroir" series is expressed through metaphorical marks rather than descriptive drawing, leading to abstract renditions of color and light that transcend memory and convey emotion.
Although these translations are not literal, each piece interprets a unique time and place, evoking the attributes and idiosyncrasies of the landscape we live in. Larson's recent work has been described as "…a meditation on how patterns in nature develop as well as how they may change over time–whether because of normal ebbs and flows in nature or because of changes catalyzed by human activity."
A closing artist reception is scheduled for Friday, May 17th from 6-8PM. This event is free, open to the public and will feature a demonstration of process by the artist, a free raffle of two small framed pieces from the "Terroir" series (participants must be present to win), and the grand reveal of the competition theme for the 2019 Axel's Gallery Photography Shoot-Out.
(adapted from the venue's press materials)
Image: Terroir 9 (detail) by Matt Larson
---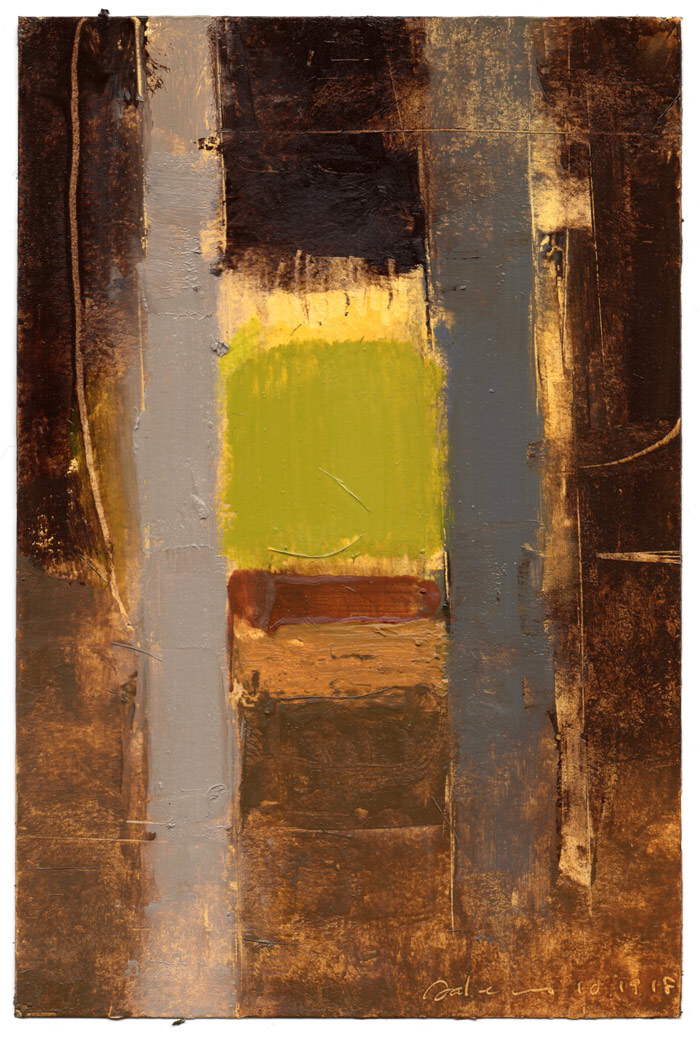 Joseph Salerno: Forest Recollection
February 26-April 11, 2019
"Forest Recollection" is an exhibition of work by Johnson artist Joseph Salerno, that wanders into memory with paint used as both a cloak and a window. Moving through these works calls to painting's ability to live on the edges of abstraction and representation, like watching a film set to slow motion or paused for a moment in soft focus. Haunting, resonant Vermont forests, drenched in mist or glowing with ethereal light, wind an elegant trail through the gallery.
(adapted from the venue's press materials)
Image: 10-19-18 from the "Woods Edge" series by Joseph Salerno
---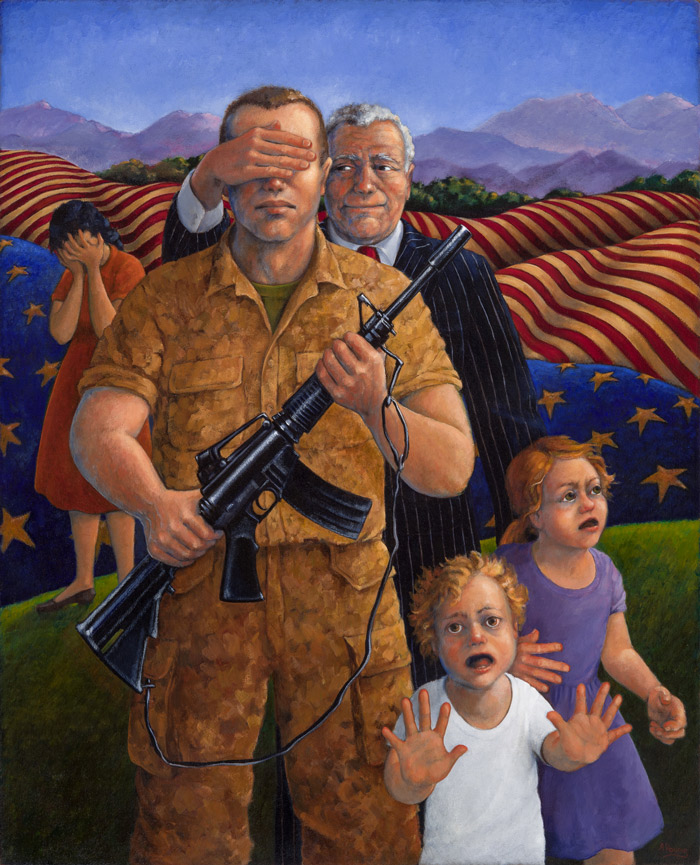 The Way We See It: Social [In]Justice
January 8-February 23, 2019
The world is filled with injustice. And as of late, the political stage has highlighted both racism and sexism within our own country. "The Way We See It: Social [In]Justice" is a group show highlighting the work of four artists (Kate Longmaid, Ann Young, Michelle Saffran and Jerry Ralya) who are responding to their own view of social injustice, be it racism, sexism, religious discrimination or genocide.
(adapted from the venue's press materials)
Image: Collateral Damage by Ann Young
---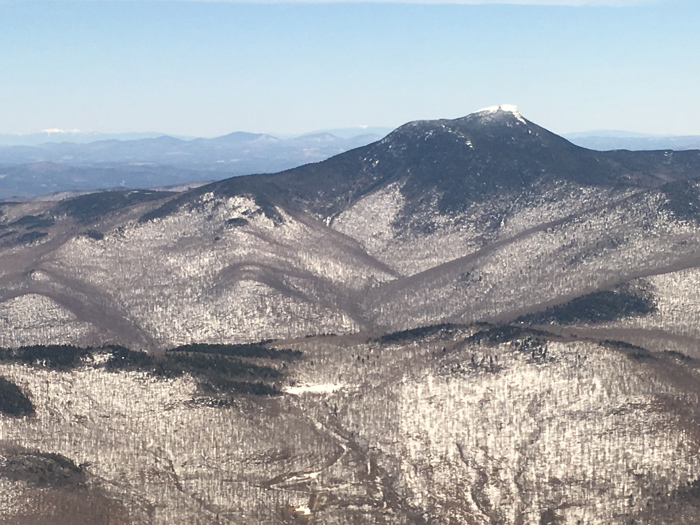 Axel's First Annual Photography "Shoot Out"
October 23-November 21, 2018
Axel's Gallery & Frame Shop hosts a photography "shoot-out" featuring the distinctive profile of Camel's Hump. In this day and age, we have great photography equipment at our fingertips creating incredible opportunities for both amateur and professional photographers. Couple the equipment access with affordable, fun software and processing "film" has becomes available to everyone. Now that the equipment and process has become easily accessible, the field of "best" photography seems to have widened. Often at Axel's Gallery, a customer is browsing through a bin of photographs commenting how they have an even better photo of the subject they are reviewing.
So Axel's invited all to a challenge: How would you photograph and process one of the most recognizable features of our Vermont landscape – the profile of Camel's Hump?
Stop by the gallery to vote for your favorite no later than Friday, November 16, 2018. Winners will be announced on Friday, November 16, 2018 at 6:45PM.
(adapted from the venue's press materials)
Image of Camel's Hump by Whitney Aldrich.
---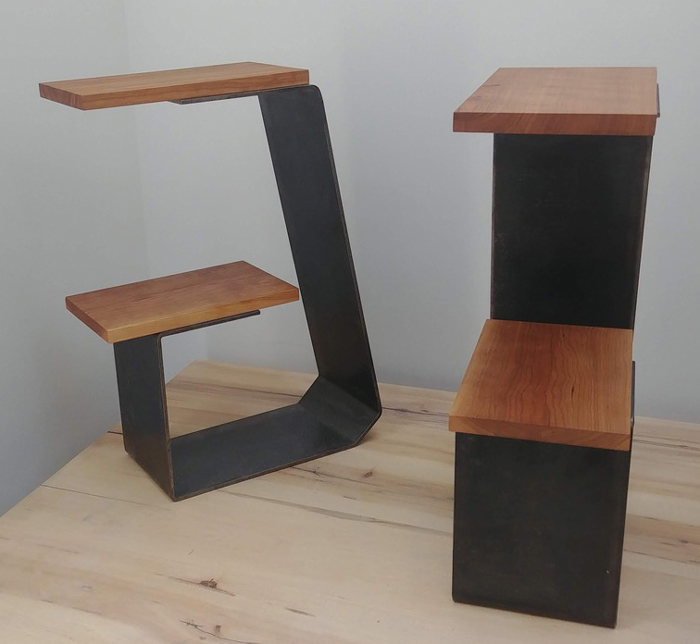 Steel+Wood: The Underpass Collective
August 28-October 20, 2018
At Axel's Gallery, The Underpass Cooperative showcases collaborative furniture, lighting and other functional works made of steel and wood. While often used as the carrot to garner commissioned work, these on-spec pieces allow each of the three craftsmen to envision work that is both improvisational and wrought with complete creative freedom. The pieces are decisively contemporary, while utilizing age-old craft traditions.
While actively maintaining their individual, neighboring workshops, The Underpass Collective's Ben Cheney, Jesse Cooper, and Chris Eaton share their resources, feedback and lunch on a daily basis.
(adapted from the venue's press materials)
Image:
Furniture by The Underpass Collective
---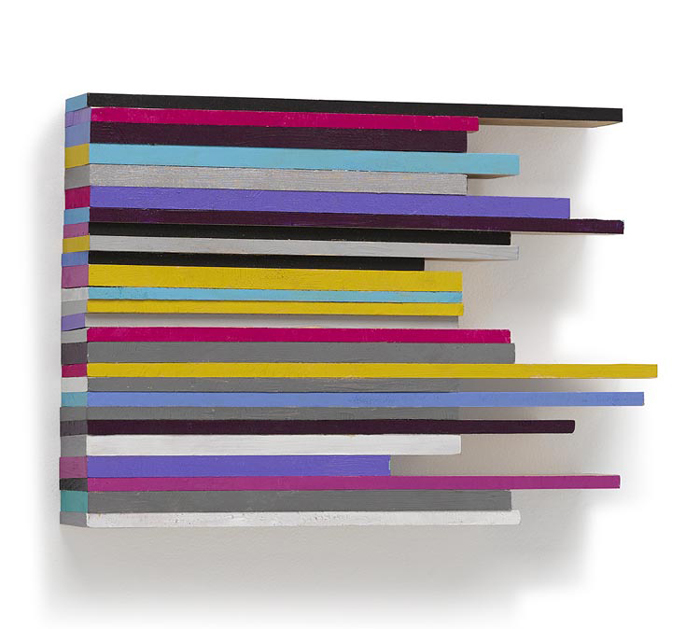 Colorful Musings by Rob Hitzig
at Axel's Gallery & Frame Shop in Waterbury
July 3-August 25, 2018
Artist Reception: Friday, July 13, 6-8PM
"Colorful Musings" by Montpelier artist Rob Hitzig explores the surprising interactions of colors and shapes through geometric abstraction. Although not easily categorized, the art rides a mysterious line between the painting and sculpture; while some pieces have physical depth, all the work, even pieces that are completely flat, have visual depth. Hitzig is inspired by wonder and curiosity, seeking to discover what happens when things just happen, with the hope that the work generates the same experience for the viewer.
Rob Hitzig is a self-taught artist who began sculpting wood after learning how to make furniture on weekends while working for the Environmental Protection Agency in Washington, DC. As a result, much of his work integrates fine furniture building techniques. Since becoming a professional artist he has shown his work throughout Vermont. He also shows his work at Washington, DC's Cross MacKenzie Gallery, and had his last show there reviewed in The Washington Post.
(adapted from the venue's press materials)
Image:
Stack 1
by Rob Hitzig
7″x10″x2″
acrylic and gouache on wood
2017
Courtesy of the artist and Axel's Gallery & Frame Shop, Waterbury
---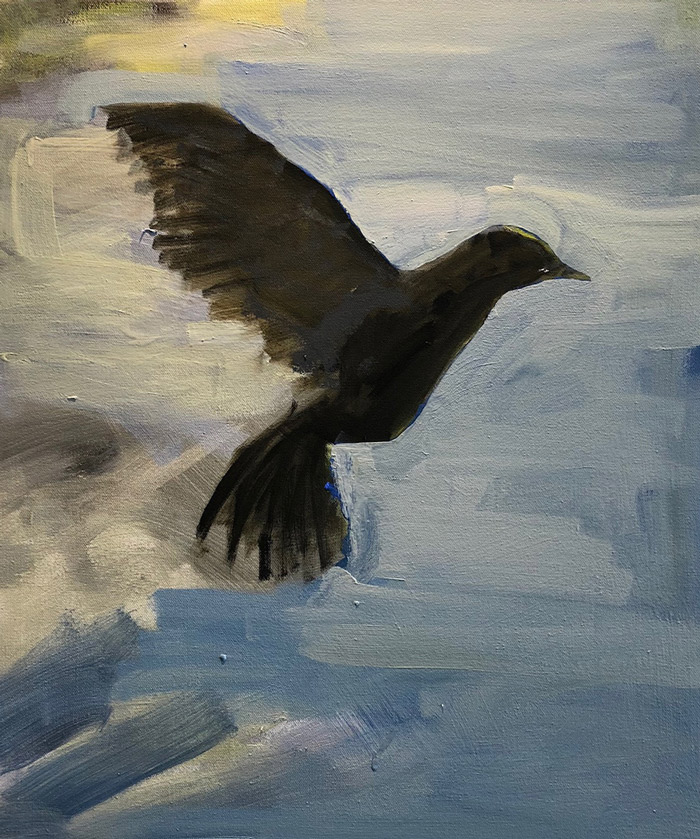 Stop Motion: Maiya Keck
May 22-June 30, 2018
Artist reception: Friday, June 8, 6-8PM
Maiya Keck's work explores both figurative and abstract themes in a gestural manner. Over a dozen of her original oil and charcoal pieces are on display in "Stop Motion". Keck said, "Painting has always been an active expression of creativity for me. I love the action of the movement and the endless quick decisions in rapid secession that constitute the act of painting and drawing."
In "Stop Motion", Keck explores when motion ends and the work is suspended into a sustained image for the viewer. The sexy fluidity of the paint and malleability of the charcoal hold the artist in a constant desire for interaction but transferring that interest to the viewer is the real challenge. Birds have been a catalyst subject for the artist as they embody the constant movement of pushing paint and the endless forms that are created by their flight, which she captures through photography when outside of the studio.
"Inevitably, the birds bring my process back to the push and pull of the medium where they are then lost all together in abstraction," said Keck.
(adapted from the venue's press materials)
Image:
Stop Motion
by Maiya Keck
Courtesy of the artist and Axel's Gallery & Frame Shop, Waterbury
---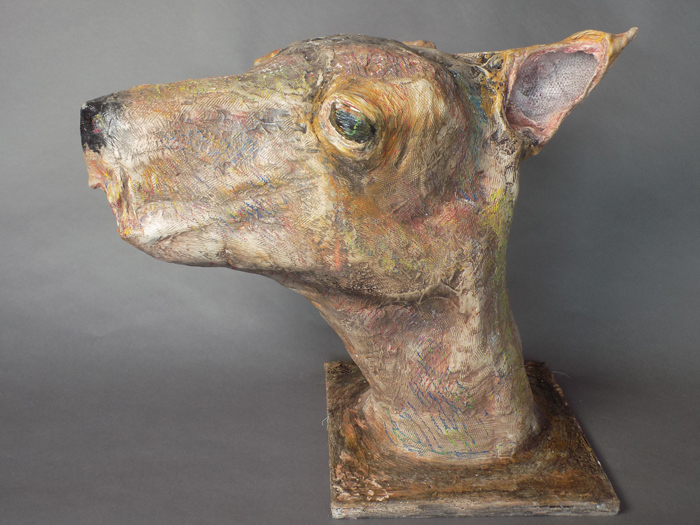 Portraits of a Different Kind by Sande French-Stockwell
April 10-May 19, 2018
Artist reception: Friday, April 13, 6-8PM
Sande French-Stockwell has been drawing, painting and sculpting portraits since 2004. But as of 2017, she has fallen in love with the creative freedom found in plaster. This freedom can also be seen in her portraiture drawings as well. For this exhibition, French-Stockwell presents her latest pieces: both works on paper and in the round.
The artist says about her work:
​There is a new verve, excitement and dynamism to my purpose as an artist! The road has been long and fruitful, there have been times of gestation and times of action. Presently working with plaster, I feel on the cusp of a breakthrough, a new era to my work.
It is amazing how life is more challenging, exciting, and vital than ever before.
Magic from the ancients to the present is embodied in my sculptures and drawings. In this exhibition, I invite you to be part of this manifestation, to react, to think, and pose more searching questions about your life and your relationship to our deep and ancient past. There is a search through these ancient connections to find our new possible beings and Be-comings.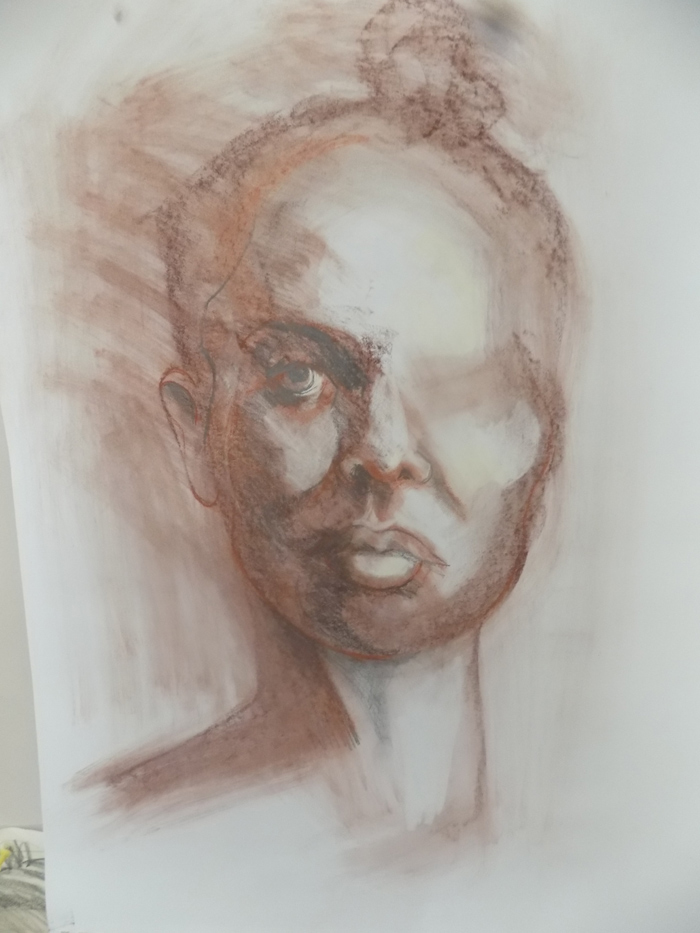 There is a need to bring forward collective dreams, of our shared magic and show the joy of our existence on earth. Working with the immediacy of plaster it is possible to catch those traces of other worldliness and play, something that brings value to magic and dreaming.
Working with plaster allows a quick and instant breath of life into these beings I sculpt. I use my hands to shape and form the traces of a hypnotic yesteryear, a raw present and magical future.
Please join me on this creative journey to celebrate our dreams!
(adapted from the venue's press materials)
Images by Sande French-Stockwell (top to bottom):
untitled sculpture
untitled portrait
Courtesy of the artist and Axel's Gallery & Frame Shop, Waterbury
---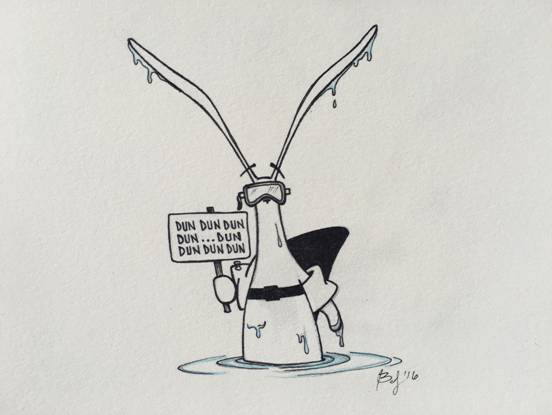 "My Daily Bunny": Michael J Balzano
March 20-April 6, 2018
Started in 2014 as a conceptual exercise for a children's book, Michael J. Balzano's "My Daily Bunny" has grown into a daily Instagram account with an audience of almost 3,000 followers who check in daily on the musings of the floppy-eared adventurer.
"My Daily Bunny" has hopped onto the computer and iPhone screens of the fur ball's followers. From eating ice cream sundaes, to enjoying the many wonders of the world around us, to dressing up as our favorite pop culture icons, The Bunny has explored the animal experience each and every day.
Now, it is time for The Bunny to embark on a brand new adventure. So, if you carrot'all hop on by and celebrate the past four years of daily smiles and maybe even find a few clues of what's to come!
(adapted from the venue's press materials)
---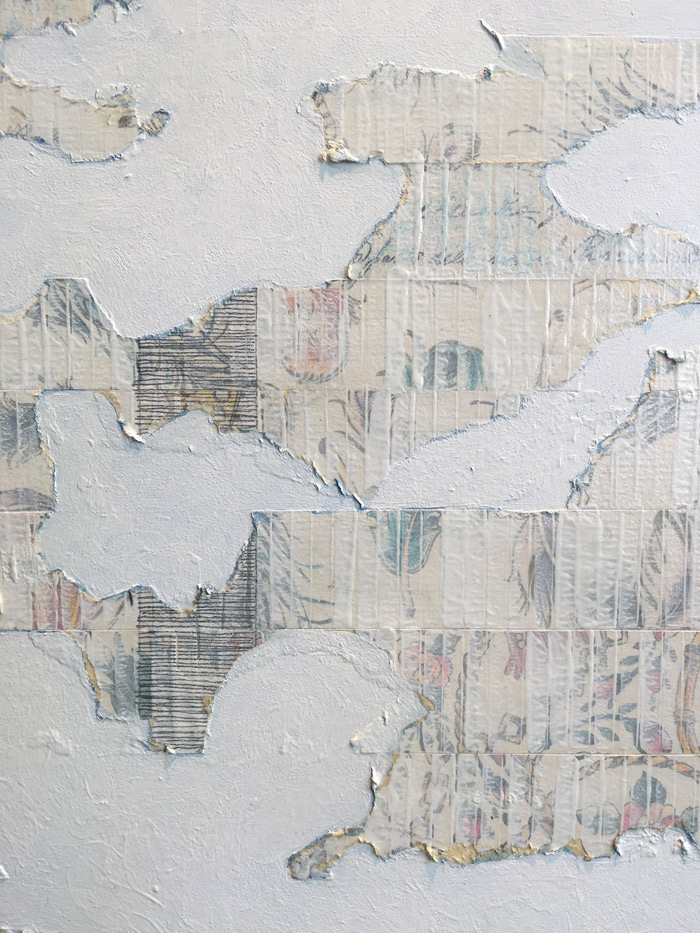 Kathy Stark: "Mostly White"
January 9-February 17, 2018
In this white/gray, cold time of the year, there is something warm and comforting to the "Mostly White" series of paintings by Kathy Stark. It may be the predictability of pattern, the subtle shifts of color or the delicate change in texture of collage that brings warmth to her palette and canvas.
Kathy Stark, an artist represented by SOHO20 in New York, is continually in awe of the Vermont landscape and is personally visually drawn to the open fields with their great expanse of light, the feeling of air and spaciousness. When snow covers these fields with their gentle rolling surface, their glitter, their open expanse, shadows, and the abundance of subtle color speak to Kathy and ask to be painted.
For this series of white paintings, Stark used a tool she fabricated to create a linear pattern and then the surface is built up with acrylic paint layer upon layer. Often the surface is further worked with pencil, ink, oil pastel, collage materials and scraping tools.
Her work is intuitive the result of both planned and spontaneous actions. Each new body of work is an out-growth of previous paintings incorporating new ideas, thoughts, and experiences. She does not set out to create a series but rather she keeps addressing the thought until she is satisfied that the body of work completes that thought. This most often results in a series–and in this case, the "Mostly White" series.
(adapted from the venue's press materials)
Image:
Just Beyond 54 Skyline Drive (detail)
by Kathy Stark
---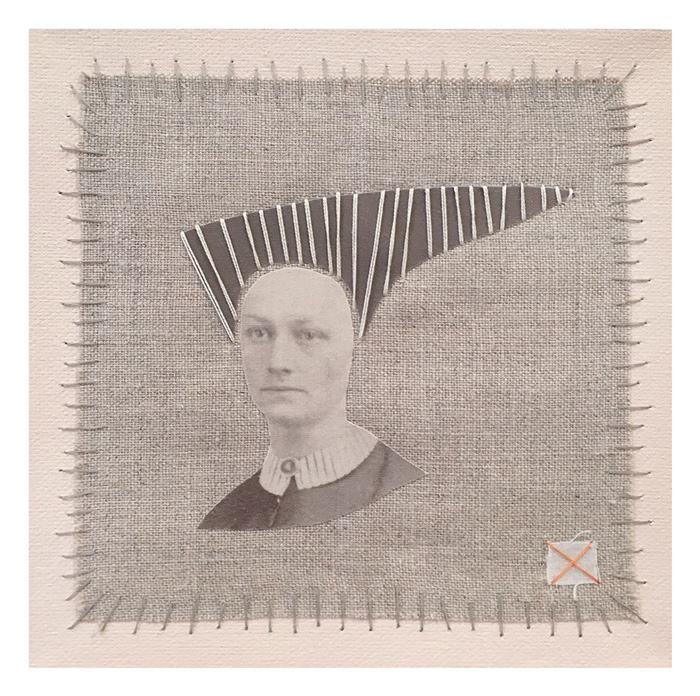 New Work: Athena Petra Tasiopoulos
June 27-July 22, 2017
Meet the artist: Friday, July 14, 6-8PM as part of the Waterbury Block Party
Athena Petra Tasiopoulos describes herself as a collector of second hand images, primarily "cabinet card" portrait photography from the late 19th and early 20th centuries. Tasiopoulos manipulates these found photographs digitally and prints them on fabric. Her finished works are a whimsical assemblage of textiles and photos stitched to pastel-hued canvas blocks.
Athena Petra Tasiopoulos is a mixed media collage artist. Originally from Pennsylvania, Athena studied photography at the Art Institute of Philadelphia where she graduated in 2008. She currently resides in central Vermont.
Tasiopoulas says, "My imagination is continuously lured by the mystery of found photographs–'instant relatives' discarded and forgotten in musty antique stores. It is as if these souls exist in an interesting sort of limbo–simultaneously trapped yet saved within the photograph. I find myself feeling compassion for them. I aim to re-invent the portrait, to disjoint my subjects from an antiquated identity and allow them to transcend the constraints of time and place."
(adapted from the artist's press materials)
Image:
Striped Hat
by Athena Petra Tasiopoulos
---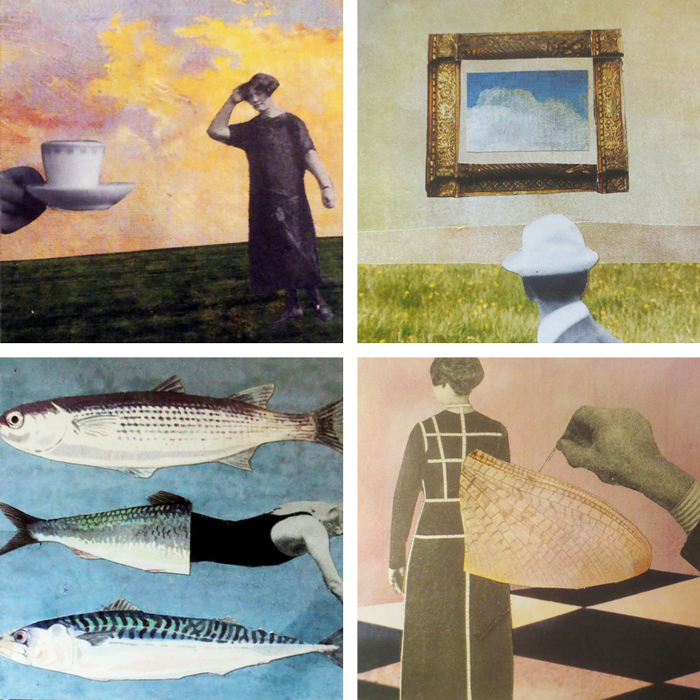 Kathleen Sawyer
June 7-18, 2016
"Never on Sunday" is a gathering of 150 small, hand-built collages. Cut and paste of a delicate imperfect nature using a process closely resembling kindergarten art, but made while drinking large cups of grown-up hot stuff.
Kathleen Sawyer says about her work:
When I was a little girl and was asked what I wanted to be when I grew up, I don't think I said "I want to be an artist." Most likely, I said "mermaid." Later in my on-again, off-again affair with higher education, I imagined myself being a curator or travel writer. Now years later, my art heroes are mostly undiscovered ones and my travel writing has become bathtub reading.
Many years ago, I started making collage cards and sending them to family and friends on New Year's Eve. My son, Chris, thought these should be shared with people outside our small world. At age 14, he sold his guitar and gave me the money for the first printing. In 2001, we started Local Wisdom Cards, a small Vermont company with six designs. When I sold the company in 2013 and moved to Maine, they had been sold in over seven hundred museums and brick and mortar shops across the United States and abroad.
My materials are the same ones I used in kindergarten. I probably still should not eat my paste or run with scissors. I have abandoned the safe career path to live the second half of my life in the hopeful unknown.
(adapted from the artist's press materials)
Image:
untitled collages
by Kathleen Sawyer
each 4″x4″
collage
Images courtesy of the artist
---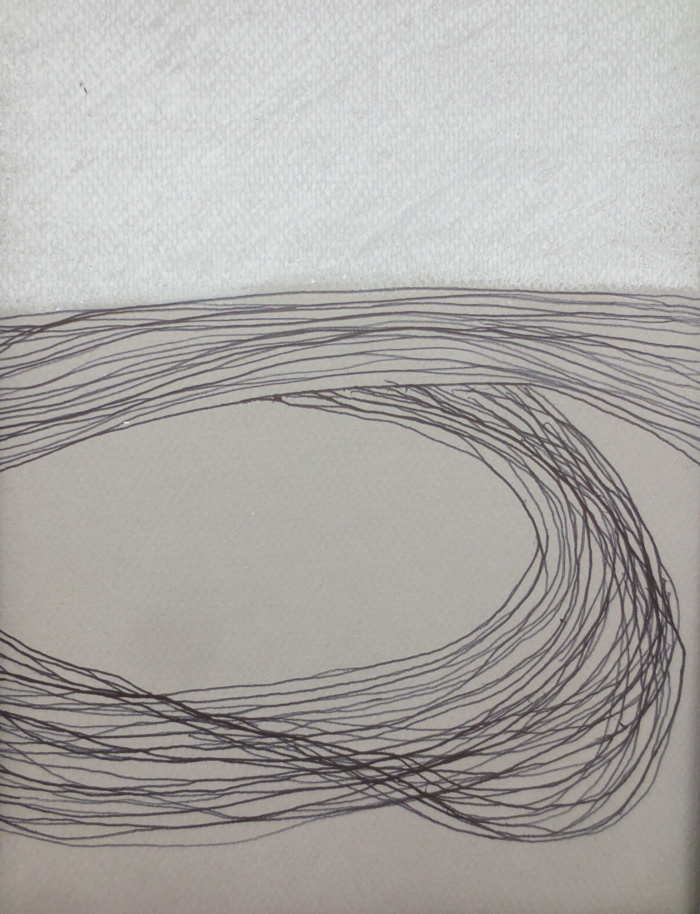 Axel Stohlberg
May 31-June 4, 2016
Since retirement three years ago, Axel Stohlberg has been living on the coast of Maine. This lifestyle and landscape of old buildings, boats, ocean and tides has crept its way into his work. Witness the drawings and paintings of freedom and the flow of the unrestricted life of Axel Stohlberg. Life after the frame shop.
(text adapted from the exhibition's press materials)
Image:
Line and Form #4
by Axel Stohlberg
white china marker, black Pigma Micon pen on pastel paper
Courtesy of the artist and Axel's Gallery & Frame Shop, Waterbury