The Opera House, the "cultural cornerstone of Barre", was built in 1899. It hosts 70-100 performing arts events each year. Visual art by Vermont artists is on display in the corridors.
Barre Opera House
City Hall
6 North Main Street
Barre 05641
(802) 746-8188
Hours:
Monday-Friday, 9AM-5PM (stop at the box office first)
and during performances
---
ART ON VIEW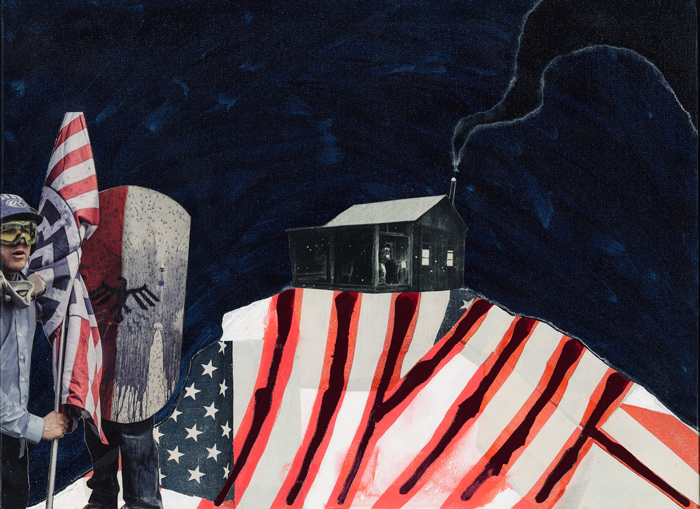 A People's History
February 2-April 9, 2019
"A People's History" is a solo exhibition by Vanessa Compton featuring 23 collages on the birth, development, and destiny of our nation. Compton returned recently from a month-long artist residency during the government shutdown on the Navajo Nation, the largest reservation in the United States. The Navajo Nation was just one tribe of many facing a shortage of food services, medical services, road services, and essential personnel as a result of the shutdown. Her work attempts to bear witness to America's story from those whose struggles and voices have been silenced and largely omitted from most history books. Chinese dissident artist Ai Weiwei has said "my art is like a voice to me, when I use it it can be a song or it can be a lament." Sharing this belief, Compton writes, "I feel a responsibility to make work that responds to the deepening polarization and continuing systems of oppression that operate this country." Her work is a path with heart that upholds humanitarian principals, especially for the innocent and most vulnerable in society.
Image: Johnson vs. M'Intosh by Vanessa Compton (12″x16″; collage, acrylic, oil on canvas). Courtesy of the artist.
---
PREVIOUS EXHIBITIONS
James Vogler
October 11-November 13, 2018
Charlotte artist James Vogler presents a selection of 15 works created during 2018. His paintings reflect a mixture of moments gleaned from past or present experiences. The results are expressed in a blending of abstraction and figuration. In combination, these elements infuse his work with a curious ambiguity.
Vogler was born in New Jersey and received his BA in Painting from Kean University in 1976. He continued his education in the Masters Art History program at Rutgers University and later in the Masters Painting program at Kean University. While working for the next 10 years as an art installer for the Metropolitan Museum of Art in New York, he continued to paint and develop his style of abstraction. In 1991, he and his family moved to Vermont to pursue new careers. Since returning to painting full time in 2007, Vogler has exhibited works widely in the New England region and Canada. Working largely in oil on canvas, he continues to draw upon his personal experience and surroundings for inspiration in his work.
Image: Rapunzel by James Vogler (36″x36″; oil and charcoal on canvas; 2018)