Featuring contemporary art exhibitions that connect art and community, nurture creativity, imagination, and ignite a passion for learning through the arts.
The BCA Center
135 Church Street
Burlington 05401
(802) 865-7166
Hours:
Tuesday-Thursday, Noon-5PM
Friday-Saturday, Noon-8PM
(May-October) Sunday, Noon-5PM
---
ART ON VIEW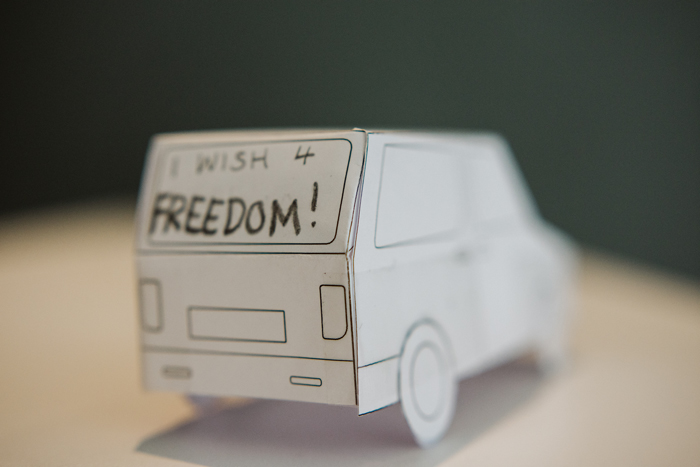 Tectonic Industries: Dreams Can Come True
October 19, 2018-February 9, 2019
Tectonic Industries is a collaborative art partnership based in Portland, Maine, comprised of Danish artist, Lars Boye Jerlach, and British artist, Helen Stringfellow. Through sculpture, wall-mounted instructional videos, physical surveys, and interactive activities that engage visitors, Tectonic Industries examine the artifice inherent within the creation of the modern myths and belief systems in popular culture. In Dreams Can Come True, the artists present a series of self-help questionnaires that look to address and solve visitors' most pressing problems and thus help them to begin living the "life of their dreams". Guided by a series of instructions, visitors navigate the installation in search of self-actualization which can be manifested in an interactive model they can build/leave in the gallery. Interactive and engaging, while balancing wry amusement with philosophical reflection, Dreams Can Come True explores the impossibility of our collective, endless search for concrete answers and endeavor for self-improvement.
(text adapted from the venue's press materials)
image from Dreams Can Come True by Tectonic Industries
---
PREVIOUS EXHIBITIONS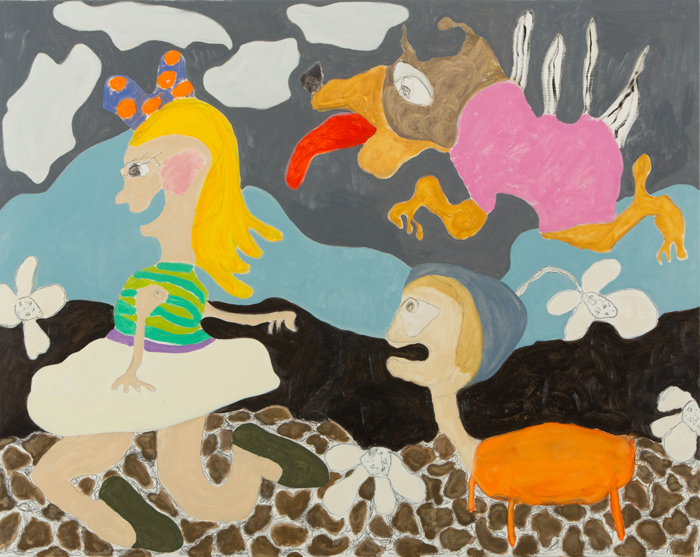 Winter 2018 Exhibitions
January 19-April 7, 2018
Dusty Boynton: "From Within"
Dusty Boynton merges past memory and personal experience to create works that are seemingly child-like in appearance, but sophisticated in gesture and expression. Drawing from her inner subconscious world, the artist's cast of characters rejects conventional representation and inhabit a fantastic world of their own. Boynton's expressive brushstrokes, vibrant color palette, and supernatural imagery give her compositions a carefree and imaginative innocence. This exhibition features large-scale paintings, monoprints, and reliefs created over the past decade. (image above)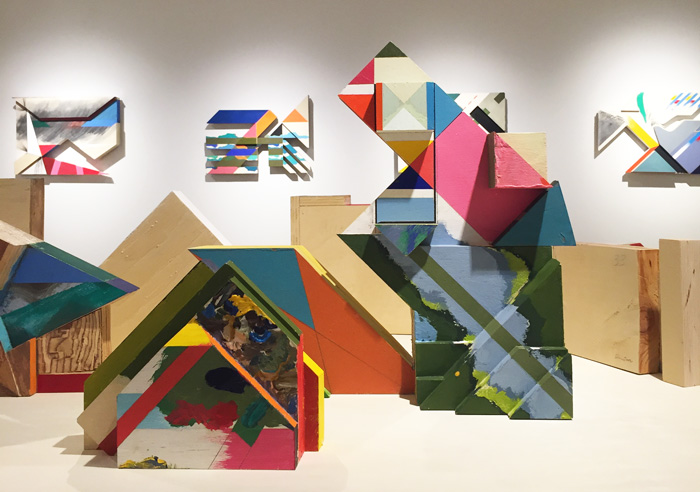 Edwin Owre: "New Constructions"
With an artistic career spanning more than five decades, artist and educator Edwin Owre works continuously in his Grand Isle studio creating new, colorful "constructions" that explore the possibilities of drawing and the gesture through abstract sculpture. Referencing the sensibilities of the formative American art movements of the 1960s and 70s, while embracing contemporary expressions of mark-making, Owre creates work that is exciting, immediate, and most importantly formative to a generation of Vermont-based contemporary artists working today.
Elise Whittemore: "One by One"
Elise Whittemore, BCA's 2017 Barbara Smail award-winner, has made important contributions to the vibrancy and excellence of Vermont's arts community as an artist and arts advocate. In her beautifully designed prints, Whittemore is drawn to the physical labor of art making and how it challenges her to pursue different ways hand and material can create meaning together. The artist's use of pattern develops a narrative that explores the physicality of printmaking as well as formal constructs that are inherent to the natural world.
(text adapted from the venue's press materials)
Image (top):
Be as You Are
by Dusty Boynton
46″x58″
oil on linen
Courtesy of Denise Bibro Fine Art
Image (center):
"New Constructions" (installation view)
by Ed Owre
Photograph by Ric Kasini Kadour
Image (bottom):
"One by One" (installation view)
by Elise Whittemore
Photograph by Ric Kasini Kadour
---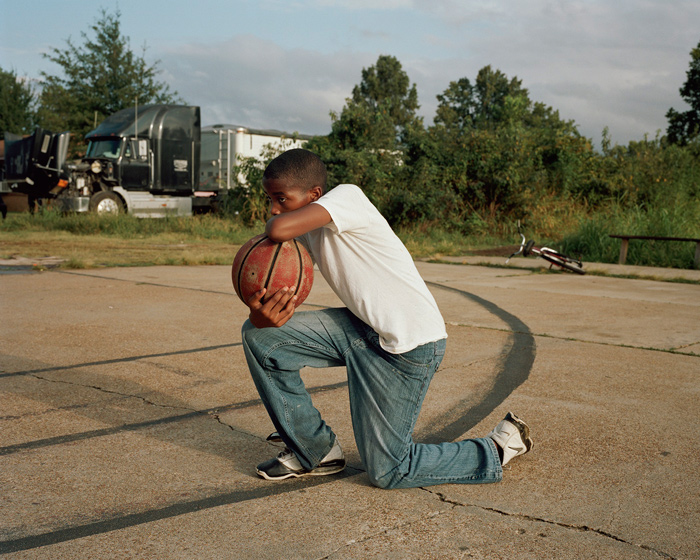 Shane Lavalette, Wylie Sofia Garcia, and Molly Bosley & Athena Petra Tasiopoulos
Through April 8, 2017
On the 1st & 2nd Floors: "Shane Lavalette: One Sun, One Shadow" (sweeping photographic portrayal of the American South) and "Wylie Sofia Garcia: With My Voice, I Am Calling You Home" (richly patterned paintings and lenticular prints embody themes of domesticity, meditation, and personal place making). Vermont Metro Gallery: "The Past Present: Work by Molly Bosley and Athena Petra Tasiopoulos" (exhibition that uses metaphorical objects to explore our humanity and unpack our relationship to the past through paper cuts (Bosley) and collage (Tasiopoulos)). (image: Montre by Shane Lavalette, 2010)
---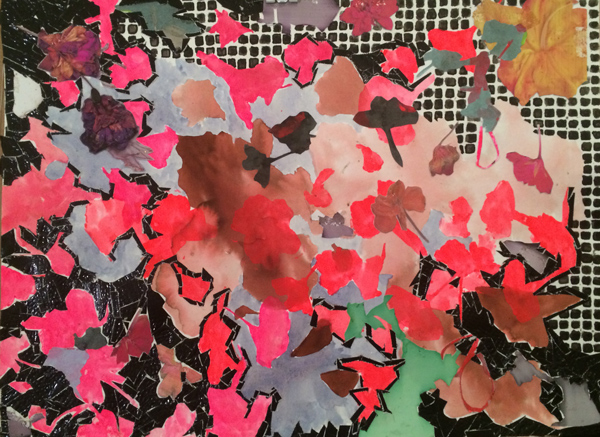 Carrie Dickason: Industry Practice
March 3-April 9, 2016
Carrie Dickason makes a practice of material manipulation that engages in an ongoing dialog about consumer culture. Recently relocated from Detroit, Dickason responds to her surroundings by exploring the juxtaposition between erosion and growth. Choosing materials that reflect both her background in the automotive and textile industries of Detroit, and inspired by common materials that are often discarded, Dickason delivers a powerful yet beautiful comment on industry consumerism and the waste we create.
Funded in part by a grant from the Vermont Arts Council, National Endowment for the Arts and The Andy Warhol Foundation for the Visual Arts.
(text adapted from the gallery's press materials)
Image:
Drift (detail)
by Carrie Dickason
120″x144″
discarded plastic packaging
---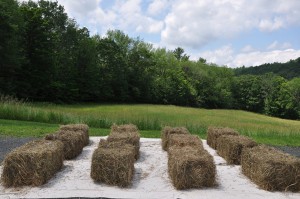 Sam Falls & Sarah O Donnell
Friday, July 12, 2013, 5-8PM
First Floor: Sam Falls
Drawing inspiration from photographic processes, Sam Falls conducts outdoor experiments similar to contact sheet printing. Using sunlight to "develop" the imprint of wood onto large swaths of fabric or infusing colored dye into hay bales, Falls applies the physical and technical aspects of image making to unconventional materials. By juxtaposing photography's technical process with sculptural convention and painterly form, Falls' work introduces a harmonious dialogue between three independent mediums. (image: process image by Sam Falls)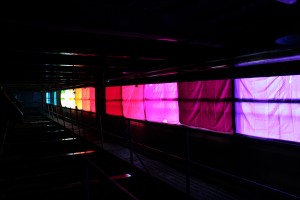 Second Floor: Sarah O Donnell
From horror films to stories of neighborhood gentrification, abandoned structures are concrete symbols of our past and fertile territory to continuously reimagine our future. Known for her light-based installations that use mysterious buildings to explore place, isolation, and the tension between still photography and the moving image, Sarah O Donnell's BCA exhibition focuses on Burlington's Moran Plant. O Donnell will use the Moran Plant to light up the sky, expose the building's structure, and continue to fuel the dialogue about Moran's iconic status as Burlington's trophy of beautiful decay. (image: Moran Interior by Sarah O Donnell)
---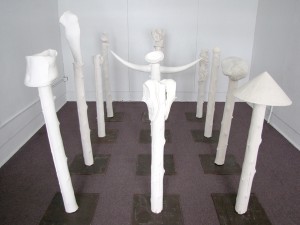 Gregg Blasdel: "Bounty"
Opening Reception: Friday, January 25, 2013, 5-8PM
2012 Barbara Smail Award winner Gregg Blasdel explores social memory through objects and customs that recall cultural events, experiences and people. Raised in the Midwest, Blasdel was inspired by regional customs among farmers and ranchers who picked objects from fields or kept trophies from hunts and placed them on fence posts and barns. Blasdel created this installation over an eight-year period by selecting objects from his everyday life that recall a specific memory or interest.
The 2013 Barbara Smail Award recipient will be announced at Bounty's opening reception.
image: Bounty by Gregg Blasdel (2002)
---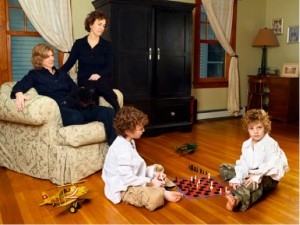 Seat's Taken
Friday, January 25, 2013, 5-8PM
"Seat's Taken" is a group exhibition designed to continue the community-wide dialogue initiated by ECHO Lake Aquarium and Science Center's recent exhibition, "RACE: Are We So Different?". "Seat's Taken" aims to move the discussion beyond race to examine the larger issue of why human beings wrong one another, as race is just one variable in a complex equation. The exhibition examines human interaction, questions the way we choose to navigate the world, and challenges our reactions to the unfamiliar, uncomfortable, and different.
Artists Include:
Angelo Arnold, Nick Cave, Frohawk Two Feathers, Vanessa German, Amber Kempthorn, Stella Marrs, Liz Maugans, Todd Pavlisko, Alix Smith, Nathan Vincent, and Naoko Wowsugi.
Image: States of Union 29 by Alix Smith (2009)
---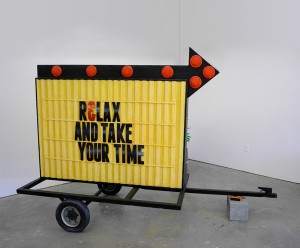 Conrad Bakker: "Untitled Project: Seasonal Economies"
Friday, September 14, 2012, 5-8PM
In this exhibition, artist Conrad Bakker creates a site-specific project responding to the activities of Vermont's seasonal economies. Hand-carving consumer goods out of wood and distributing his rough facsimiles of everyday objects through alternative markets like yard sales or eBay, Bakker explores notions of craft, commodification and consumption through humor and interventionist strategies. Steve Budington guest curates.
Image: Untitled Project: Sign (Relax And Take Your Time) by Conrad Bakker (2010)
---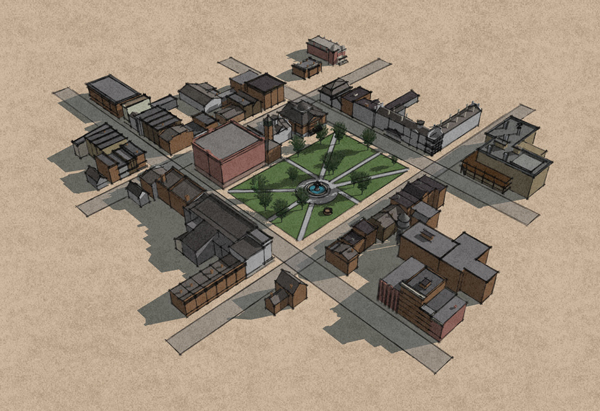 Emergence: Champlain College MFA Class of 2012
Friday, June 29, 2012, 5-8PM
This exhibition celebrates the art of the first graduating class of Champlain College's Emergent Media MFA program. Featuring innovative digital projects alongside traditional media, the exhibition will focus on art at the intersection of the internet, mobile networks and other crossroads of human interaction in this new digital age.
Artists include: Jeremy Smith, Stephen Keetle, Kevin Murakami, David Stiller, Hilary Hess, Jacob Neville, Tara Gordon, Coberlin Brownell, Christina Rosalie.
Image: Burlington 1890: Ethan Allen Firehouse by Coberlin Brownell