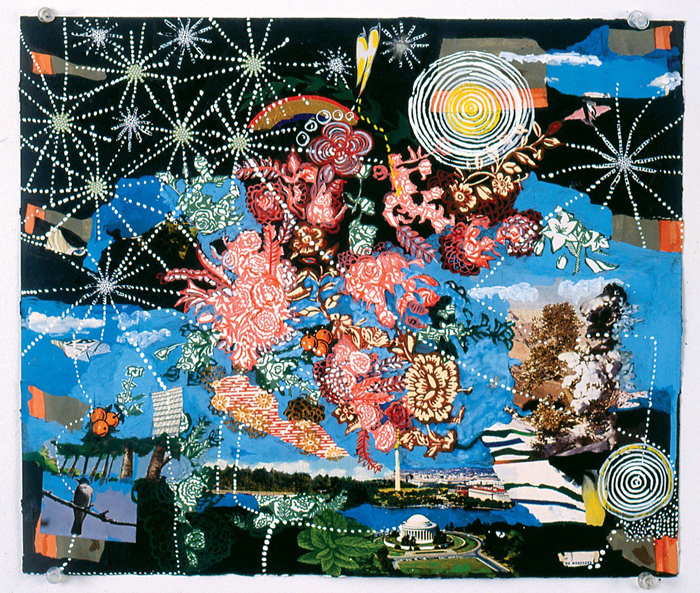 2019 VERMONT ARTIST TO WATCH
Sally Gil, Brooklyn, New York
Originally from Bennington, Sally Gil maintains a connection with Vermont through the 571 Projects gallery in Stowe and, in recent years, through exhibitions at The Bennington Museum, The Helen Day Art Center, and The Fleming Museum, where she exhibited her large, intricate collage work.
Gallerist Sophie Bréchu-West writes, "Throughout her work, Sally's palette is seductive: the brilliant blue of a cloudless day, intense floral pinks and reds, luxuriant greens—the colors of our natural landscapes—are set against deep outer space black. These colors are sampled, excepted from their sources, reconfigured and given new meanings in her work, which ultimately celebrates beauty. Her work touches me and resonates with me through its multitude of references to Vermont: splashes of foliage clipped from old Vermont Life magazines, activities and architecture that I recognize from growing up here, but also from her meticulous stream of consciousness process that builds non-linear narratives, like visual poetry. While her work often references Vermont, it uses by no means exclusively Vermont imagery—it is far more global than that."
"Artists to Watch 2019" is a survey of contemporary Vermont artists that appeared as special feature in Vermont Art Guide #9 and in an exhibition at the Vermont Arts Council, January 7-February 28, 2019. ABOUT THE PROJECT | GET THE MAGAZINE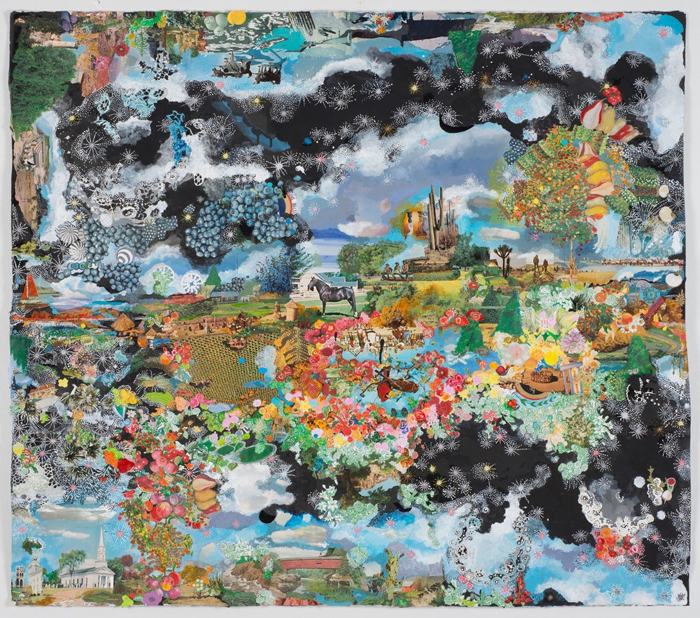 Gil describes herself, "I am a person that is a searcher: for the truth, for the party, for what I don't know." Her second major at university, after art, was anthropology and it shows in her work. "Making work, I rediscover how the world is enormously interesting and beautiful, curious and mysterious. I want to give that experience back to the viewer."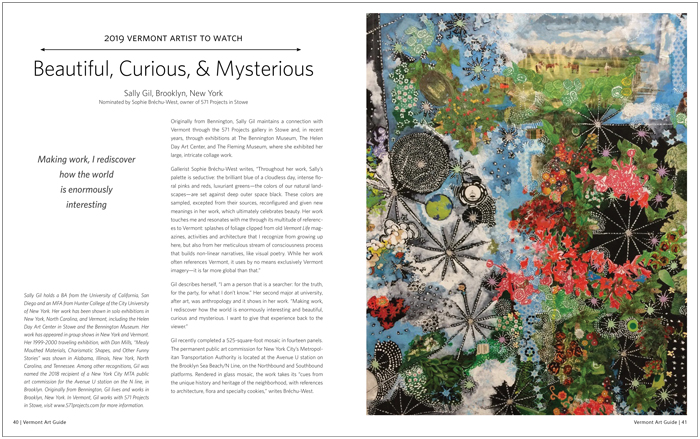 Gil recently completed a 525-square-foot mosaic in fourteen panels. The permanent public art commission for New York City's Metropolitan Transportation Authority is located at the Avenue U station on the Brooklyn Sea Beach/N Line, on the Northbound and Southbound platforms. Rendered in glass mosaic, the work takes its "cues from the unique history and heritage of the neighborhood, with references to architecture, flora and specialty cookies," writes Bréchu-West.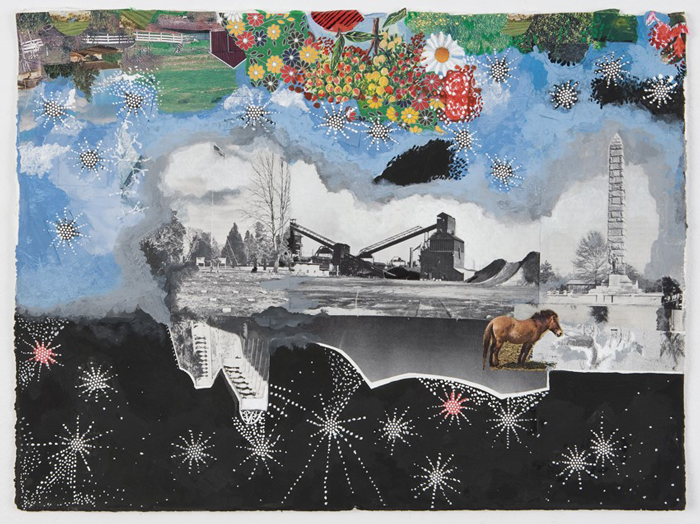 This Artist to Watch 2019 is a special feature in Vermont Art Guide #9. Vermont Art Guide is a full color, quarterly, printed magazine about contemporary art in Vermont. Our goal is to connect the entire state's art community by sharing information about exhibitions and events; present a picture of Vermont art and art in Vermont, to tell our story; and to build an audience for Vermont art inside the state and out. We hope you will join us and SUBSCRIBE TODAY.
About the Artist
Sally Gil holds a BA from the University of California, San Diego and an MFA from Hunter College of the City University of New York. Her work has been shown in solo exhibitions in New York, North Carolina, and Vermont, including the Helen Day Art Center in Stowe and the Bennington Museum. Her work has appeared in group shows in New York and Vermont. Her 1999-2000 traveling exhibition, with Dan Mills, "Mealy Mouthed Materials, Charismatic Shapes, and Other Funny Stories" was shown in Alabama, Illinois, New York, North Carolina, and Tennessee. Among other recognitions, Gil was named the 2018 recipient of a New York City MTA public art commission for the Avenue U station on the N line, in Brooklyn. Originally from Bennington, Gil lives and works in Brooklyn, New York. In Vermont, Gil works with 571 Projects in Stowe, visit www.571projects.com for more information.
About the Curator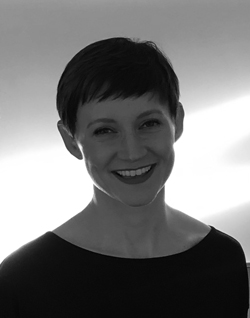 Sophie Bréchu-West
571 Projects, Director
"I look for artists who are consistently making work that challenges themselves and the viewer, whether through experimental processes or visual compositions…I want to give the viewer space and time to connect with the work, for the work to communicate with that individual." 571 Projects in Stowe presents work by emerging and mid-career artists through exhibition, independent curation, and art consulting. Learn more at www.571projects.com.
Images (top to bottom) by Sally Gil:
Candle and Bouquet
Indigenous Mass
Vermont 66