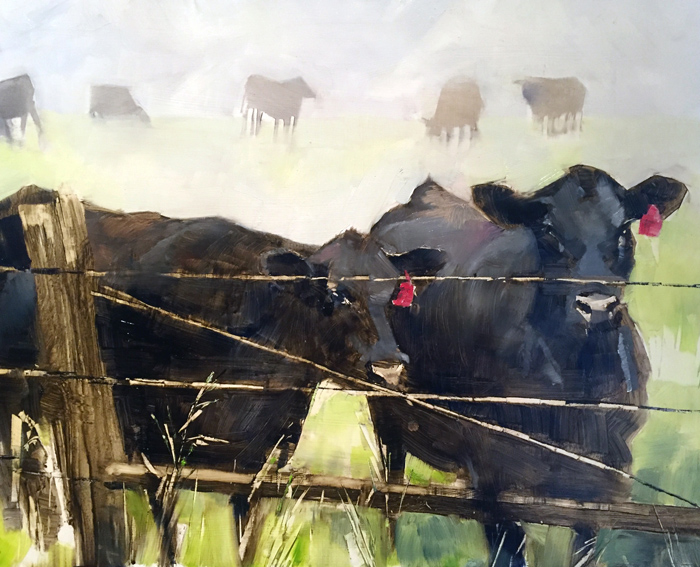 ART ON VIEW
Beth Bathe
September 2018
Vermont Artisan Designs, an award-winning gallery in downtown Brattleboro, offers fine art and American-made craft by more than three hundred artists and craftspeople. In September, the gallery spotlights new work by Beth Bathe.
Oil painter Beth Bathe holds BFA from Virginia Commonwealth University and has had her own graphic design business, Bathe Design, for 30 years. Her subjects include figurative, still life and landscapes. She has been interested in the plein air painting movement for a number of years. She enters numerous national competitions, teaches workshops, and has been recognized for her consistently strong work. In 2017, she was part of the "Artists for the New Century" group show at the Bennington Center for the Arts.
Bathe is a member and board member of the Mid Atlantic Plein Air Painters (MAPAPA), Oil Painters of America (OPA), Susquehanna Valley Plein Air Painters (SVPAP), Daily Painters of Pennsylvania and Daily Paintworks, and Outdoor Painters Society.
Beth Bathe lives and works in Lancaster, Pennsylvania. She travels to Vermont to paint and plans to paint more in southern Vermont during the Fall of 2018. Learn more about her and her art at her website HERE.
(text adapted from the artist's press materials)
---
INFORMATION
Vermont Artisan Designs
106 Main Street
Brattleboro 05301
(802) 257-7044
Hours:
Monday-Thursday and Saturday, 10AM-6PM
Friday, 10AM-8PM
Sunday, 10AM-5PM
Image:
Ladies in Red
by Beth Bathe
16″x20″
oil on canvas
Courtesy of Vermont Artisan Designs, Brattleboro