BigTown Gallery offers a full spectrum of visual, literary, and performing arts with a year-round exhibit schedule, Summer Reading Series, and performing arts events. Art sales and estate counseling are but a few of the professional services offered. Programming is presented by the Gallery's non-profit 501c3 tax-deductible sister entity, BigTown Projects, and is generously supported by its loyal audience members and partners; programming is free (unless otherwise noted) and open to the public.
BigTown Gallery
99 North Main Street
Rochester 05767
(802) 767-9670
Hours:
Wednesday-Friday, 10AM-5PM
Saturday, Noon-5PM
Sunday-Tuesday, by appointment
---
ART ON VIEW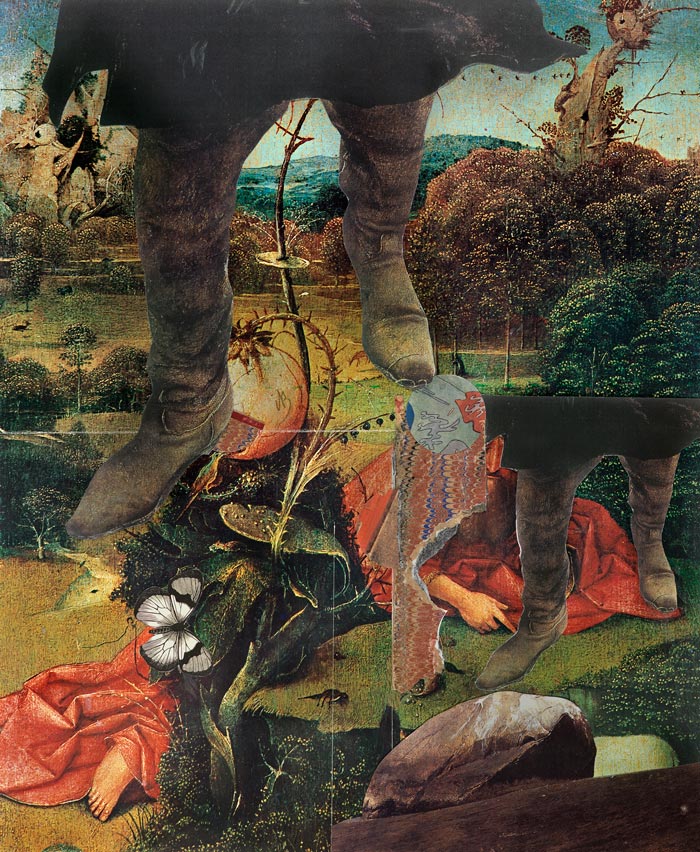 Late Work: Varujan Boghosian
December 12, 2018-January 26, 2019
John R. Stromberg, writing in October 2018, said about Varujan Boghosian: There are three primary stages of engagement with the art of Varujan Boghosian. It starts with delight. We are immediately drawn into the visual impact of the colors and shapes, the subjects, and the overall strength of his compositions. This soon gives way to marvel as we begin to think through the potential relationships of his selected images and objects. We find connections, historical and literary, sometimes with the aid of his titles. As the whole coalesces, that is, as the forms and content merge, the universe of the work expands. The magic of Boghosian's gift takes hold. We're launched—set off into the realm of wonder. And this is the truly amazing part. By spending time with his work, we get to a place where we increasingly discover his spark and mystery in our own surroundings. His work leads us to a place of enthusiasm and awe for the world. From the mundane to the magnificent, we see it anew. That is the power of wonder.
(adapted from the gallery's press materials)
Image: Bonaparte's March by Varujan Boghosian (24″x21″; collage; 2018)
Also on view:
A Muse: A visit to the studio of Varujan Boghosian
by Erick Hufschmid
December 12, 2018–January 26, 2019
This portfolio of photographs of Boghosian's studio was taken by Erick Hufschmid in the spring of 2011. The studio is located on the campus of Dartmouth College. The photographs are of the studio as found, that is, nothing has been arranged, altered, moved, or changed in any way, from the studio as Hufschmid encountered it.
---
PREVIOUS EXHIBITIONS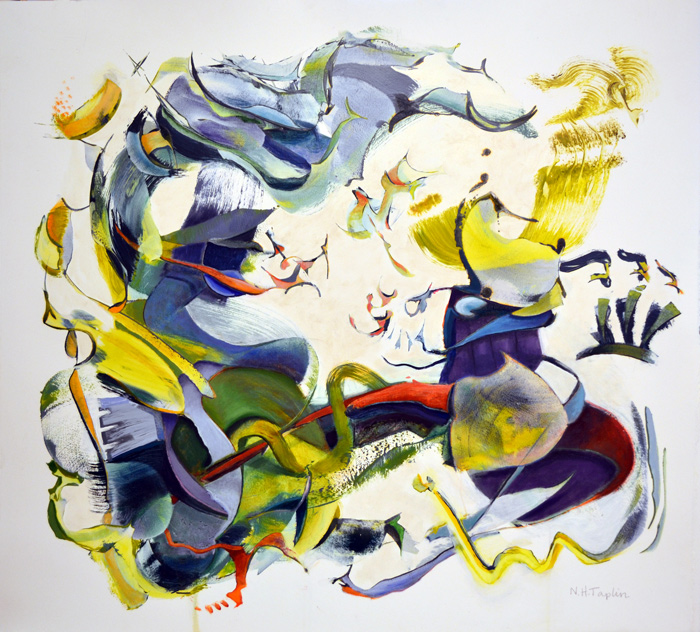 Nancy Taplin: Painter
December 13, 2017-March 31, 2018
A resident of Warren, Nancy Taplin's large-scale paintings on canvas are known for their dancing swirls of bright color. Taplin said of her painting, "I think of my paintings as a drama on stage, the first big strokes are the start of a loose plot that tightens as it moves along. The lines, shapes, and colors whisper, shout, shove, lean, kick, leap and slide as though they might be in an opera. I have no fear of making changes. At a certain point, the painting takes on a life of its own. I want it to look like it just happened, a flash of magic and like magic it will show me when it's finished.
(text from the artist's press materials)
Image:
untitled
by Nancy H. Taplin
39″x43″
oil on rag paper
2017
Courtesy of the artist and BigTown Gallery, Rochester
---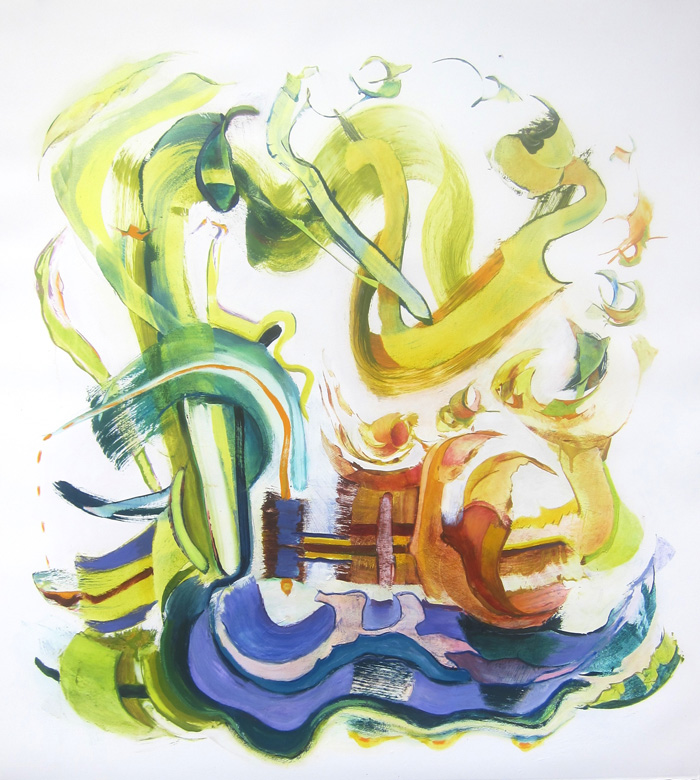 New Work by Nancy H. Taplin
September 21-October 22, 2016
Nancy H. Taplin says about her new work:
My new work, although somewhat gestural at the start of a piece, is more specific, more structured. If I find something happening that is less abstract I'm not afraid to use it. The mark making is more deliberate. I still think of a mark as a traveler. Where does it go, who does it meet on the way? Does it stop dead at another mark, does it leap it, go through it, and what does it do once it gets to where it's going? It remains a living drama to me, I am just it's facilitator. The decision to stop is always the scariest part. I have to arrive at that place knowing there is no where else to go.
A quote from Mark Rothko: I think of my pictures as dramas; the shapes in the pictures are the performers. They have been created from the need for a group of actors who are able to move dramatically without embarrassment and execute gestures without shame.
(text from the artist's press materials)
Image:
Undertow
by Nancy H. Taplin
42″x34″
oil on rag paper
2016
Courtesy of the artist and BigTown Gallery, Rochester
---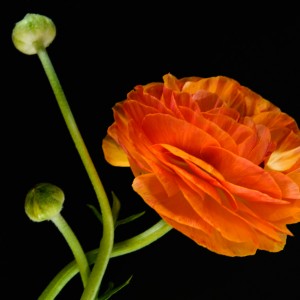 Juice Bar
December 2013
"Juice Bar" is BigTown Gallery's annual rotating gallery members show: an oasis of bright and beautiful art!
Come drink from the fountain of rich and vibrant creativity all winter long. This show introduces the ingenious work of Richard E. Smith and Jessica Straus.
All work is cash and carry. Give Art for the Holidays!
Image:
Ranunculus
by Kristen Hoving
11″x11″
digital print on archival paper
2012
---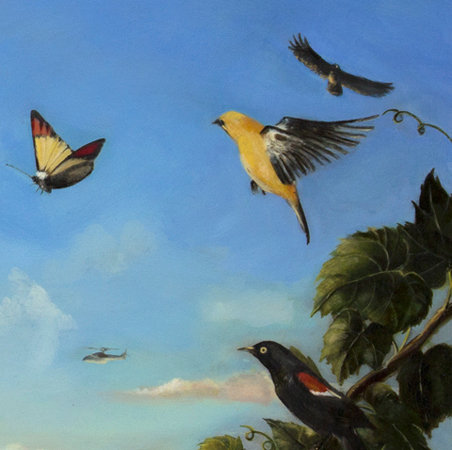 Aviary
October 2013
Saluting our bird friends as they undertake their winter journeys, with photography by Virginia Beahan, Kirsten Hoving, Tad Merrick and Rosamond Purcell; collage by Varujan Boghosian, Jessica Ferguson, Marcy Hermansader, and Erika Lawlor Schmidt; painting by Gail Boyajian (image above), Anda Dubinskis, Nancy Taplin and 19th century British Field Book watercolors; textiles by Pat dipaula Klein and Bhakti Ziek; sculpture by David Bumbeck and Hugh Townley; woodblock print by Anthony Lapaglia; and featuring birdcarving by local artists Remy Lary and Floyd Scholz and guest artist Tom Head.