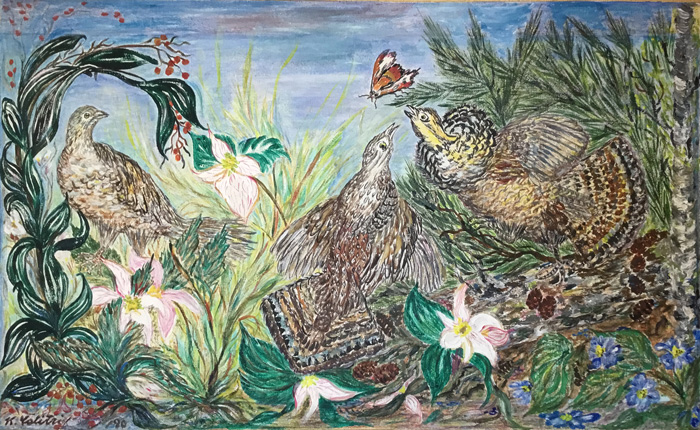 ART ON VIEW
Birds, Bees and Butterflies in the Land of Milk and Honey at Jackson Gallery at Town Hall Theater in Middlebury, June 1-July 8, 2018
Klara Calitri is a prolific artist whose work in multiple media has included painting, monotype prints, ceramics, sculpture, and more. As a nonagenarian, she has spent decades creating art that is informed by her Austrian heritage and inspired by nature, filled with flowers, birds, and living things of all types. She surrounds herself with the things she loves. Her home and gardens offer a sanctuary for the pollinators and migratory flying fauna she cares about so deeply. (image above: Still Life with Bees)
It is this passion that inspired Klara to propose an exhibit of art and poetry on the theme of birds, bees and butterflies. Her desire is to raise awareness for these creatures and their importance in our ecosystem, while warning of the potentially adverse effects of environmental change to their habitats. Klara invited artist friends to participate, and included a group of poets who have submitted works on the same theme. Several of the artworks, as well as books and notecards, have been donated by the artists to benefit the Otter Creek Audubon Society.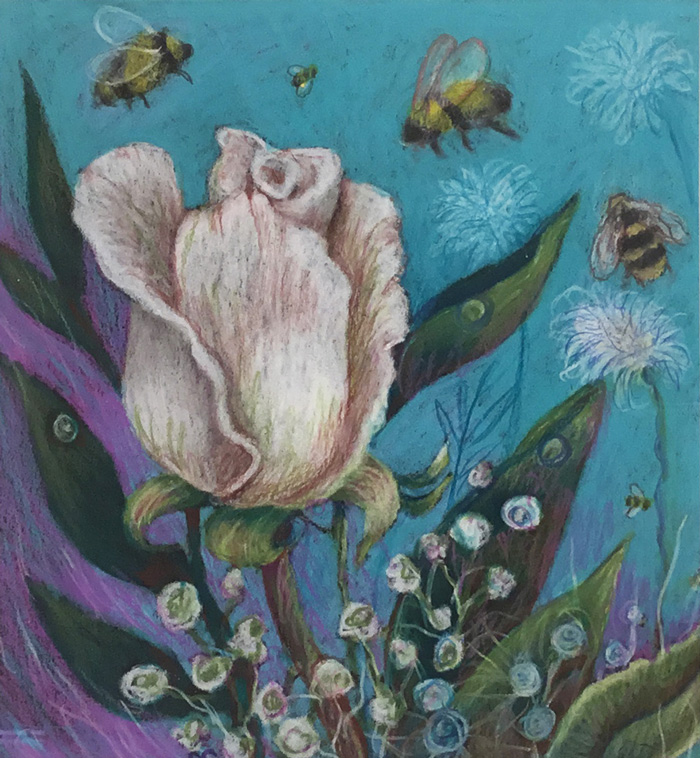 Along with several works by Klara Calitri, the exhibit includes paintings, photographs, mixed media and cards by Rachel Elion Baird, Susan Humphrey, Lisa Calitri, Patty LeBon Herb, Sarah Wesson, Deanna Shapiro, Karla Van Vliet, Molly Hawley, Yinglei Zhang and Phoebe Stone (image above: Still Life with Bees). Poems have been contributed by Rachel Elion Baird, Lisa Calitri, Ann Cooper, Susan Jefts, Patricia LeBon Herb, Kathleen McKinley Harris, Thea Calitri-Martin, Deanna Shapiro, Karla Van Vliet and Nancy Means Wright.
Vermont Art Guide #7 has nearly two hundred places to see art around the state. The full-color, printed magazine has artist and venue profiles as well as articles and news about Vermont Art. Our goal is to document and share the state's incredible art scene. SUBSCRIBE TODAY
---
While in the area…
Lemon Fair Sculpture Park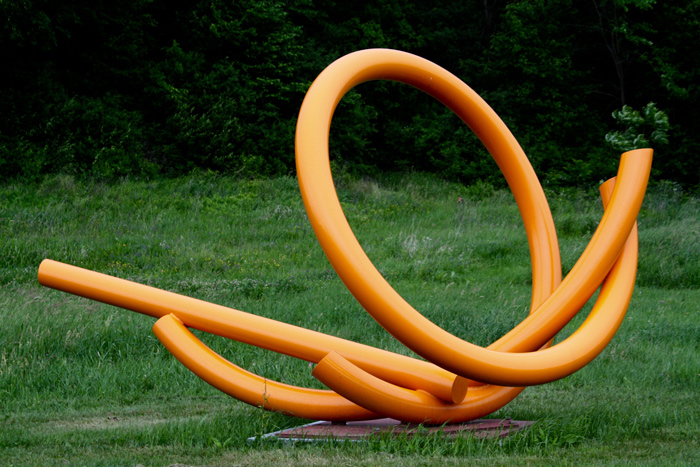 While visiting the Jackson Gallery, check out Lemon Fair Sculpture Park just 8 miles southwest of town. This outdoor sculpture park located at a private residence displays over thirty-five sculptures in a pastoral setting. Visitors will find thirty-five large sculptures from all over the world composed of steel, titanium, stone, kinetic and brightly painted, sited along a mile-long mowed path. There is a large horseshoe parking area. Located inside a mailbox by the entrance, there is a map and informational booklet. Bring water, good walking shoes, insect repellent and sunscreen. No facilities.
Image: Tiller by John Clement (2007)
---
INFORMATION
Jackson Gallery at Town Hall Theater
lower level
68 South Pleasant Street
Middlebury, Vermont 05753
(802) 382-9222
Hours:
Monday-Saturday, Noon-5PM
and an hour before any public events in the building
Lemon Fair Sculpture Park
4574 Route 74 East
Shoreham 05770
(802) 383-8161
Hours:
May 5-October 28, 2018: Saturday-Sunday, 9AM-4PM