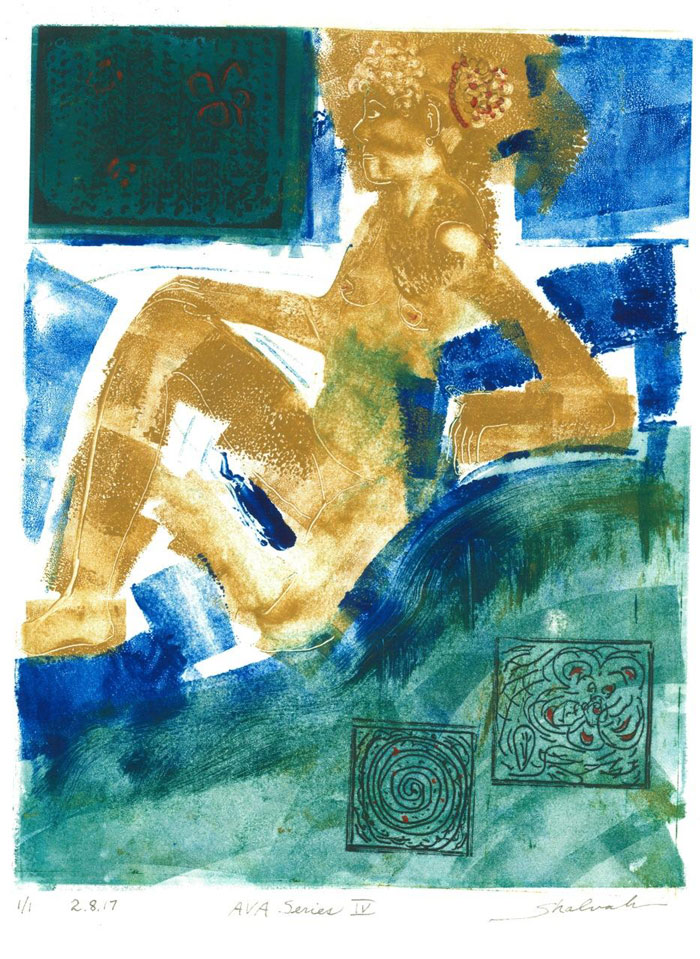 ART ON VIEW
Body Language: A Collaboration of Poems and Prints
by Don and V. Shalvah Herzberg
at Two Rivers Printmaking Studio in White River Junction
February 2-March 31, 2018
"Body Language" is a collaboration of poems and prints by Don and V. Shalvah Herzberg.
About V. Shalvah Herzberg:
V. Shalvah Herzberg has lived in Vermont for over 35 years, during which time she was a research faculty member at Dartmouth Medical School who took occasional art classes at AVA Gallery and Art Center when it was located in Hanover, New Hampshire. Following her retirement, she concentrated on original design knitting, pottery, and painting. After becoming a juried signature member of the Vermont Watercolor Society, she studied at Two Rivers Printmaking Studio, where she continues to perfect non-toxic alternatives to traditional printmaking. Her images range in subject matter from local scenery and botanicals to the human figure and non-representational abstraction.
(text adapted from the venue's press materials)
---
INFORMATION
Two Rivers Printmaking Studio
Tip Top Media and Arts Building, Suite 160
85 North Main Street
White River Junction 05001
(802) 295-5901
Hours:
Tuesday-Friday, 11AM-2PM
or by appointment
Call (802) 295-5901 to confirm before your visit
IMAGE:
Woman Lounging
by Don & V. Shalvah Herzberg
22″x11″
solarplate, monotype
2017
Courtesy of the artists and Two Rivers Printmaking Studio, White River Junction