Brandon has been called "the art and soul of Vermont" because of the work of a dynamic, vibrant, and varied collection of 50-plus artists belonging to the Brandon Artists Guild whose exhibit space is open to the public six days a week. No tour of Vermont's galleries is complete without a visit to this very special community of artists whose reputations extend far beyond the borders of this very special state.
Brandon Artists Guild
7 Center Street
Brandon 05733
(802) 247-4956
Hours:
Tuesday-Saturday, 10AM-5PM
Sunday, 10AM-4PM
---
ART ON VIEW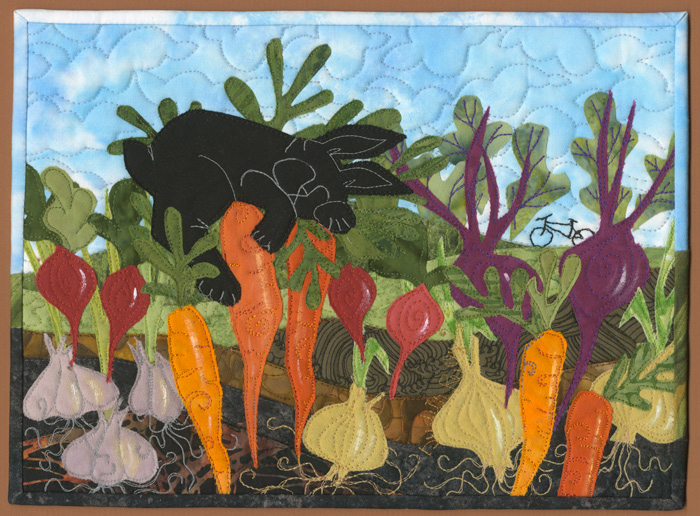 Art of the Earth
March 1-April 30, 2019
The Brandon Artists Guild is celebrating its 20th anniversary with a series of themed exhibits honoring our planet. The series runs from March through October with "Art of the Earth" as the first in the series.
The exhibit series represents a departure for the 20-year-old Artists Guild. "Rather than having our traditional single-artist exhibits, we decided to invite all our exhibiting members to contribute to four group shows based on a single theme," says artist Judith Reilly, "and what better subject than the Earth, where we draw our inspiration from?"
This year is also the Chinese Year of the Pig, which ties into the BAG's history. In 2003, the Guild's first public art fundraiser, "The Really Really Pig Show," caught the public's attention and put the young Brandon Artists Guild on the road to its current success. "We owe a lot to the pigs," says Reilly.
The Year of the Pig also recognizes nature's elements, Earth, Wood, Water, and Fire. The BAG will devote its four exhibits to these elements. The "Art of the Earth" exhibit includes pottery by guest artist Amanda Ann Palmer.
(text adapted from the venue's press materials)
Image: Earth Appreciation by Judith Reilly (fabric). Courtesy of the artist.
---
PREVIOUS EXHIBITIONS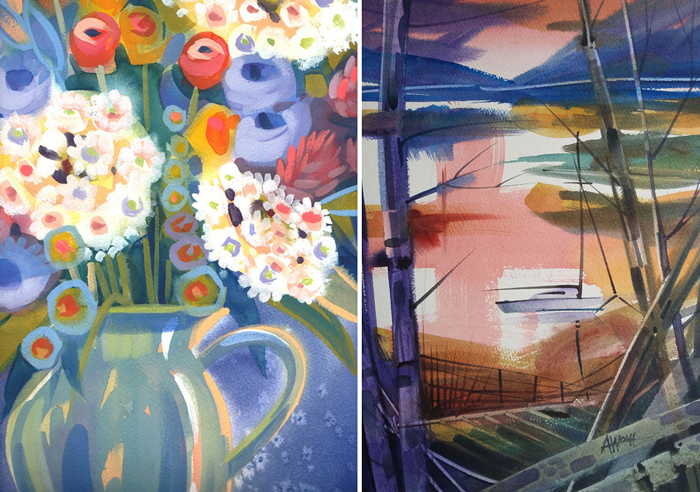 Reinventing the View: Ashley Wolff
August 31-November 5, 2018
"Reinventing the View" is a solo show of new work by artist and illustrator Ashley Wolff. Wolff has built a devoted following with her colorful watercolors, gouache paintings and children's book illustrations. The vibrant, celebratory pieces she has selected for "Reinventing the View" stem from a more personal source.
"I chose the title, 'Reinventing the View', to mark being back in my home state of Vermont, but without either parent," Wolff said. "After 34 years in California, I returned to live close to my mother. The lush bouquets of flowers painted in gouache are an outpouring of emotion following Mom's death in May. She loved saturated color and anything purple."
The other half of the show includes transparent watercolors. "It's a medium I first learned and practiced with my father, who died 30 years ago," says Ashley. "So it appears, without conscious planning, that I'm honoring both parents with work they would have loved if they could be here."
(text adapted from the venue's press materials)
Images:
left: Flowers by Ashley Wolff
right: Abstract by Ashley Wolff
---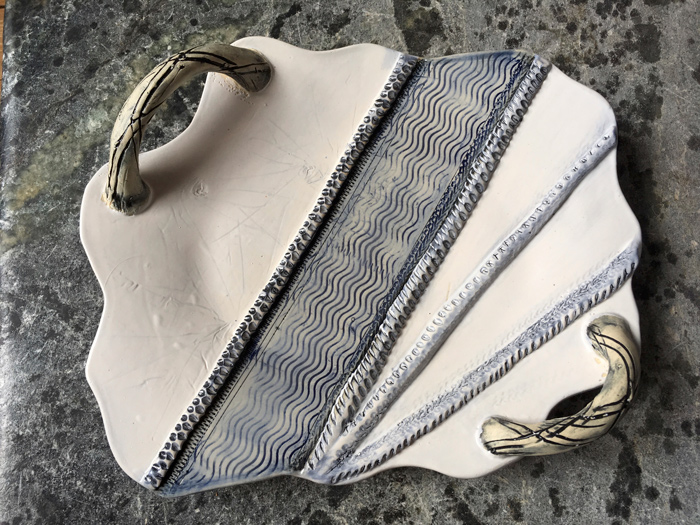 Fabrications in Clay
June 29-August 28, 2018
"Fabrications in Clay" is a solo show of ceramic work by Guild member Deborah Goodwin, who lives in Stockbridge.
If Deborah's pieces resemble fabric, there's a good reason. "I've borrowed techniques from apparel manufacturing," explains the former fashion merchandiser, "making a pattern and embossing clay slabs with fabric textures." The combination of supple fabric details and hard clay makes a comfortable, casual fit. "All my pieces are functional, with a, hopefully, fun twist," Deborah adds.
Deborah brings her fresh, tactile approach to familiar forms like platters, pitchers, ginger jars and serving ware. Strata,the largest piece in the BAG show, is a series of nine interconnected tiles, or trivets. "I envisioned each trivet as an individual work but wanted the textures and colors to flow throughout the whole installation," she says.
Deborah holds a BFA in ceramics and sculpture from Denison University in Granville, Ohio. She discovered the Brandon Artists Guild during vacations in Vermont while working as a clothing designer in New York. In 2007, she and her family moved to Vermont and she rekindled her passion for ceramics. She joined the Brandon Artists Guild as an exhibiting member in 2017.
(text adapted from the venue's press materials)
Image:
platter by Deborah Goodwin
Courtesy of the artist and Brandon Artists Guild
---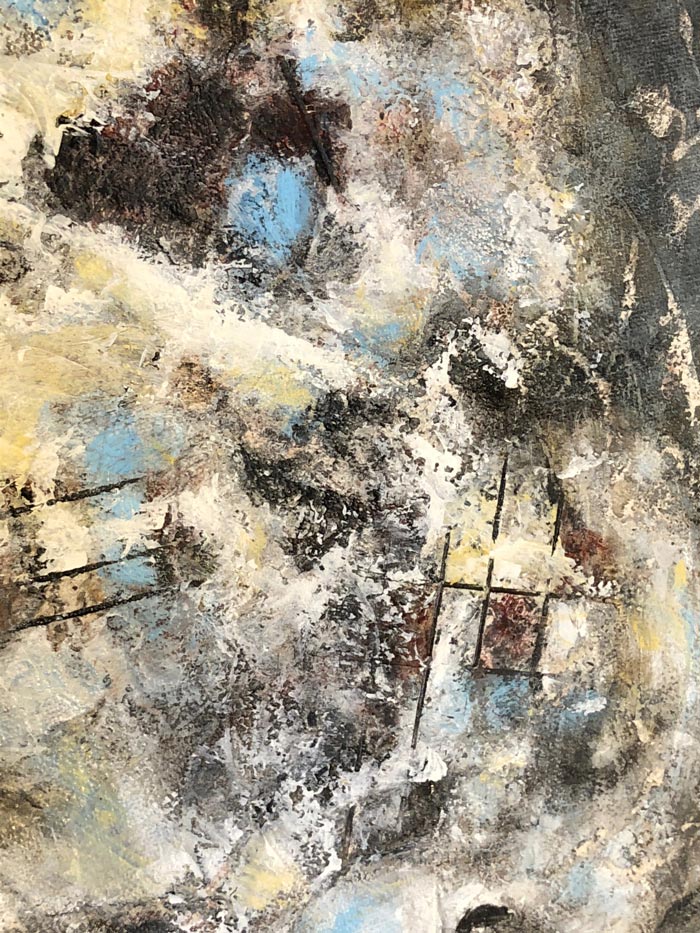 "Head in the Clouds": David Fifield
May 4-June 26, 2018
Dave Fifield grew up in Vermont and graduated from UVM, where he studied audio art and philosophy. He became interested in abstract art almost as soon as he started taking courses.
Fifield said, "I am fascinated by the infinite possibilities of abstract art. I almost feel like it's more about discovery than creation. Not knowing how a particular painting is going to resolve is what is exciting about it. There is a freedom and wonder to the process that can be very satisfying. 'Head in the clouds' felt like a good phrase to encapsulate the work. It describes the work in several ways. First of all, some of the paintings look cloudy, as if peering out of an airplane window, seeing through the mist to discover unknown landscapes. It also describes where I like to be mentally when I'm painting, in the clouds so to speak where imagination is least restricted. Also, I often find myself looking at cloud formations, which can be quite interesting, and they seem to just happen without obvious structure or planning, and for me that's a metaphor for how I like to work."
(text adapted from the venue's press materials)
Image:
untitled painting by David Fifield
Courtesy of Brandon Artists Guild
---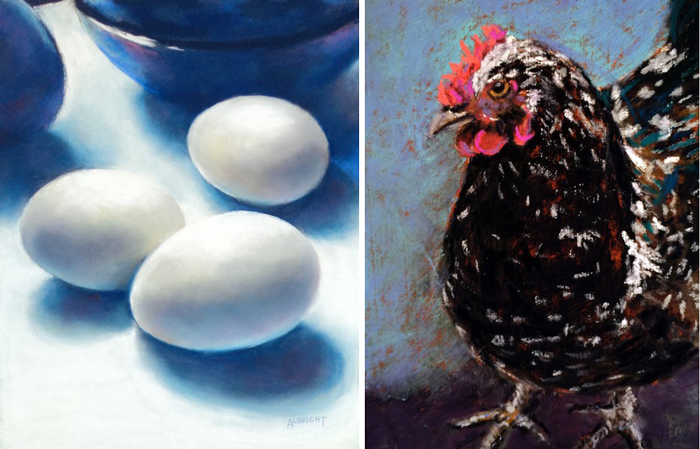 Art from Farm to Table
March 2-April 30, 2018
"Farm to Table" presents works in pastel by Middlebury artists Judy Albright and Cristine Kossow. Vintage tools, stacks of produce, farm animals–these are the Vermont staples from which Kossow and Albright draw inspiration.
"I'm generally a still-life painter, says Kossow, "but when I came to Vermont I got so excited about cows, chickens, pigs. I love to paint cows." Relocating from the Hudson Valley, she finds no shortage of subjects in the Green Mountain State. A Parsons-trained graphic designer, Kossow rekindled her love of painting when she received a box of pastels as a birthday gift. "I remembered my cousin, Judy, is a pastel artist," Kossow explains, "so we reconnected. Now we live across the street from each other and are having a joint show."
Judy Albright, who earned a master's in art and education at SUNY New Paltz, moved to Vermont from Connecticut about a year ago. In Middlebury, she paints and teaches pastels. "The Vermont arts community and the public have been very welcoming to Cris and me," says Albright. "We never expected to have this kind of exposure. Then again, we're not shy."
"The theme of 'Art from Farm to Table' is our way of honoring the spirit of Vermont," adds Kossow. "We're very motivated to create art here."
Judy Albright serves on the board of the Vermont Pastel Society. Cristine Kossow is on the board of governors of the Pastel Society of America. Their joint show will include existing work and several new pieces. This show is part of Vermont Arts 2018–a year-long celebration highlighting arts events across the state, sponsored by the Vermont Arts Council.
(text adapted from the venue's press materials)
Image:
(left) Hard Boiled by Judy Albright (pastel)
(right) Milky Way by Cristine Kossow (pastel)
Courtesy of the artists and Brandon Artists Guild
---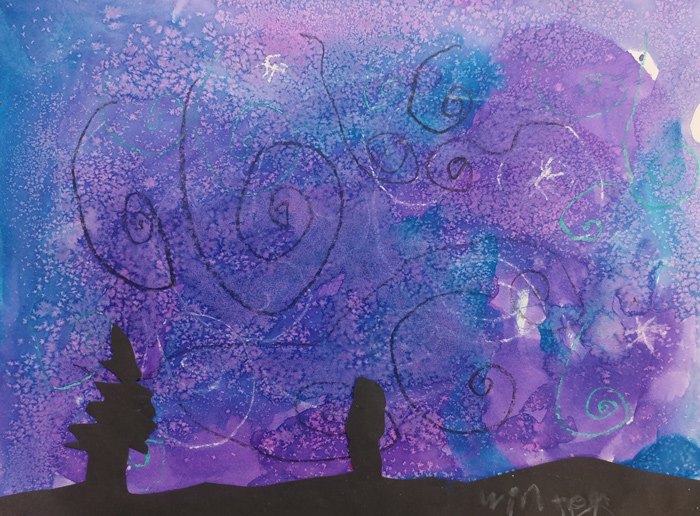 Annual Student Art Show
February 2-27, 2018
The Brandon Artists Guild presents its annual show of new artwork by area K-12 students. This celebration of creativity from the schools gives students an exciting opportunity to have their work displayed in a professional gallery setting. The exhibit also provides the public a rare chance to see talented student work in a wide variety of styles and media, including sculpture, collage, and paint.
The show includes work from students at Barstow Memorial, Leicester Central, Lothrop Elementary, Neshobe Elementary, Otter Valley Union, Sudbury Country, and Whiting Elementary schools.
(text adapted from the venue's press materials)
Image:
by Winter Blaisdell, Lothrop Elementary School, Pittsford
Courtesy of Brandon Artists Guild
---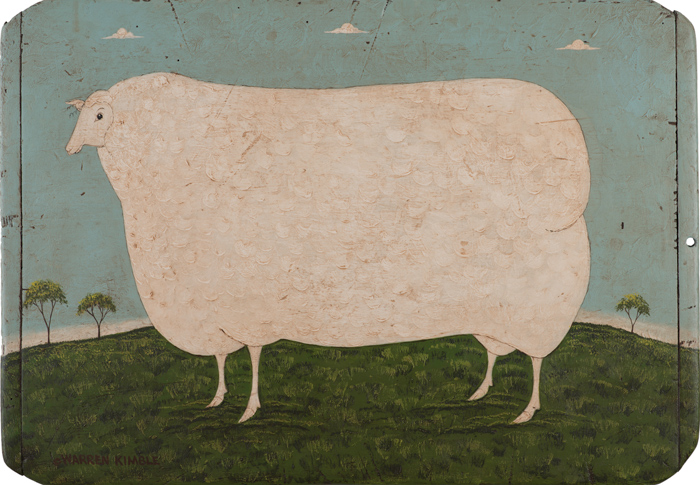 Warren Kimble: "Folk Art 2017"
June 30-August 29, 2017
The Brandon Artists Guild celebrates one of its founders, Warren Kimble, with an exhibition featuring the universally appealing folk art that has made him famous since 1987. The twist is that the folk art imagery he presents with this exhibition is a new body of artwork. When asked what a current show at the Brandon Artists Guild means to him, Kimble said, "I feel very invested in the Guild. I have an earnest desire to sustain its importance to the arts in the community."
Kimble's beloved version of Americana–art that tells stories of a simple, less complicated era–is the genre for which he is most known. In recent years, however, the prolific artist has delved into other subjects with timely content, such as the Widows of War installations, or with humor and satire (The House of Cards collection). And he has continued his insatiable exploration of abstract images, both in painting (such as the "Cosmos" series, relating to Earth and the Universe) and in sculpture–the masculine assemblages shown at Burlington's Frog Hollow in March 2017.
Now, to the delight of his many fans, this exhibition at the Brandon Artists Guild shows Warren Kimble in a current mood of nostalgia, once again painting his signature animal, barn, and homestead scenes on antique wooden boards and other found objects. The artist combines his love of New England painting, architecture, and artisan imagery and applies this considerable knowledge of antiques and artifacts to the creation of his visionary folk art. The delicate details, gentle humor, and whimsy speak to the child in all of us, offering a peaceful retreat into a serene fantasy world of olden times.
(text adapted from the venue's press materials)
Image:
Sheep on Blue
by Warren Kimble
---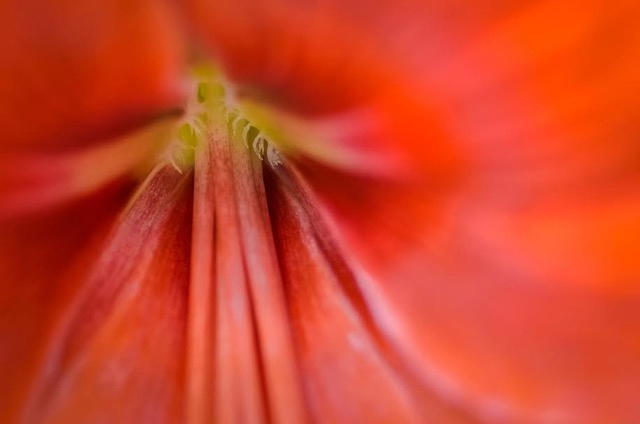 Fish, Fowl, & Flowers:
William Barnard & Richard Conrad
May 5-June 27, 2017
Vermont artists William Barnard and Richard Conrad both find inspiration from observing nature, sometimes with scientific precision. Photographer Richard Conrad started taking pictures in New York City in the 1960s. A move to Vermont in 1995 changed his focus. "I enjoy photographing Vermont's varied countryside throughout the year as well as its small towns and villages," says Conrad. "I also enjoy garden photography. My wife is an avid gardener and landscape designer. We get to see and share our visited gardens from two entirely different perspectives."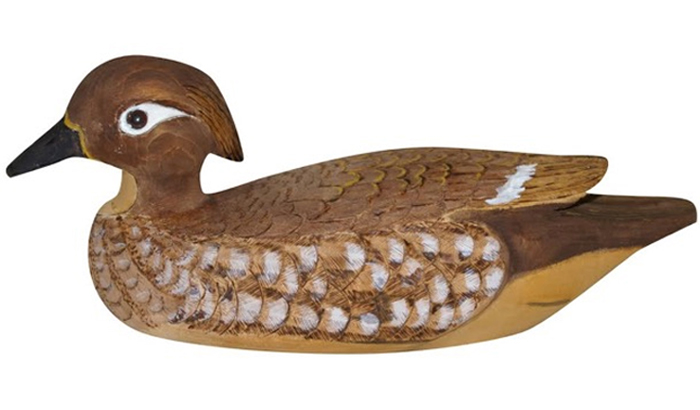 "I'm a vertebrate ecologist," explains William Barnard. "The beginnings of my interest in art are reflected in the pages of my field notes." Like nature itself, Barnard's carved wooden fish, birds and other animals have evolved as he experiments with new techniques and media. "My early carvings were intended to be as realistic as my skills permitted, lately I've done a few more abstract pieces."
(text adapted from the venue's press materials)
Image (top):
photograph by Richard Conrad
Image (center):
carving by William Barnard