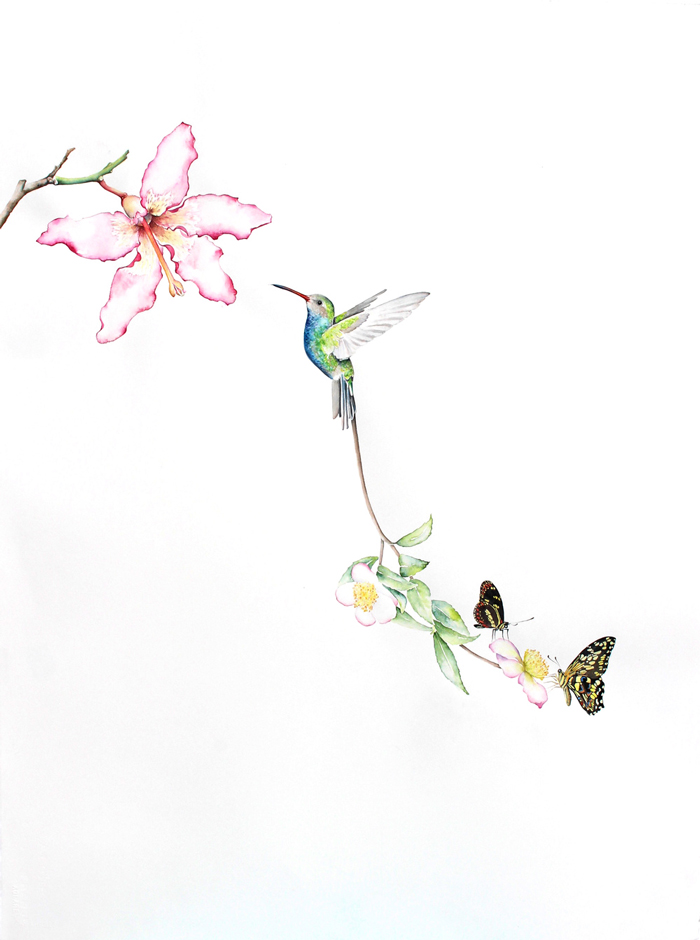 Amy Ross: "Butterfly Effect"
February 17-March 31, 2017
Using graphite, watercolor, walnut ink and collaged paper, Amy Ross expands on her methodology of "artist as mad scientist" in her most current body of work, "Butterfly Effect".
For years, Ross proposed the following, "My drawings and collages offer visual hypotheses to the question: What would happen if the DNA sequences of humans, plants and mushrooms were spliced with each other?" Left more to chance, the new work explores what kinds of things might take place should human meddling be removed from the equation.
"Butterfly Effect" is a concept wherein a single small cause has an overwhelmingly significant effect. Some believe that the flap of a butterfly's wing could cause or change the course of a tornado. In Ross' new paintings, it is a single stroke of the paintbrush. By introducing a line connecting a bird to a flower, she raises questions about evolution, our interconnectedness and our interdependence. The introduction of tiny seemingly innocuous insect into a painting changes the course of evolution.
Illustrating the "perversion of the natural world wrought by genetic engineering and mutation gone awry" Ross now considers the effect of energies beyond human perception, positing that perhaps, we not only know much less than we might like to think, we are certainly in much less control.
Boston-based artist Amy Ross was a religious studies major at Connecticut College and went on to earn a Master's in Theological Studies from Harvard Divinity School before switching gears to study art at the School of the Museum of Fine Arts, Boston. Amy has had solo exhibitions in many U.S. cities, including New York, Los Angeles, Boston, and Atlanta.
(text adapted from the venue's press materials)
---
INFORMATION
Walker Contemporary
4403 Main Street
Waitsfield, Vermont 05673
(617) 842-3332
Hours:
Friday-Saturday, 11AM-5:30PM
and by appointment
Image:
Bird of Paradise #18
by Amy Ross
30″x22.5″
watercolor on paper