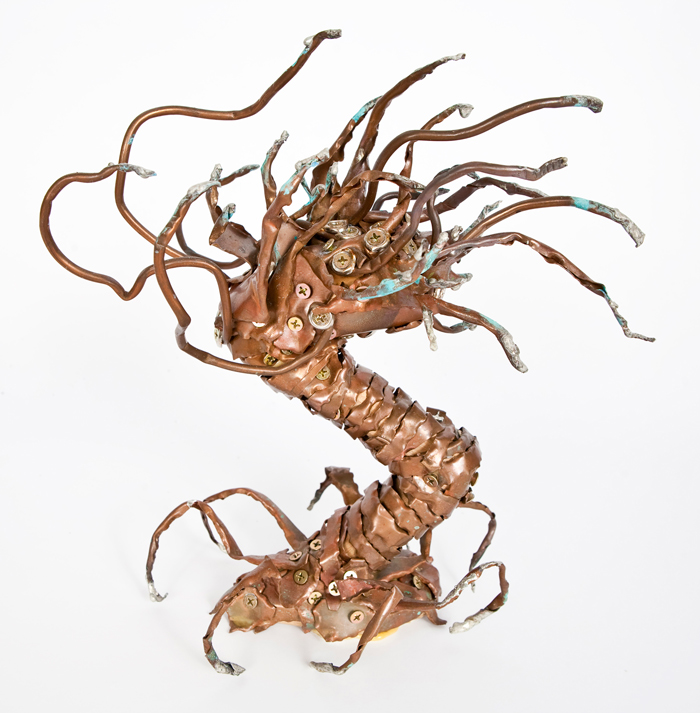 ART ON VIEW
"Cuprum Papyrus": Ross Sheehan
at the Hartness Library at Vermont Technical College
in Randolph Center
January 4-February 20, 2018
"Cuprum Papyrus" are ancient terms for copper and paper. In this solo show, Ross Sheehan presents a collection of copper sculptures and works on paper, completed at different stages in Sheehan's career, but all sharing common archeological themes from skeletal blueprints to studies in identification.
"I am fascinated with identity, longevity and time capsules. I want my work to last 'forever', and to literally leave my fingerprint behind," says Sheehan.
Many of the more recent works on paper focus on fingerprints and teeth, modern-day vehicles for identification. His drawings and prints range in subjects from animal and plant cells and topographic maps to a volcano scribbled on a dollar bill fragment. The mixed works on paper exude energy and playfulness, while hinting at the dark and unknown. Sheehan's use of organic shapes, movement, and matter in his works on paper can be traced directly into his copper sculptures.
"My copper sculptures lean toward the other worldly," says Sheehan. "They resemble creatures and plant life that may have existed in a prehistoric context. Some of the organic forms possess a certain type of movement, as if they were crawling or swaying in the breeze. Others appear as if they have been fossilized after encountering a natural disaster."
Learn more about Ross Sheehan's work at his website, www.rosssheehanart.com.
(text adapted from the venue's press materials)
---
INFORMATION
Hartness Library
Vermont Technical College
Main Street
Randolph Center 05061
(800) 431-0025
Hours:
Monday-Friday, 8AM-4:30PM
Image
Skrubbmill
by Ross Sheehan