The gallery represents traditional and contemporary artworks by emerging and established North American artists. The Stowe location is the third venue for this growing gallery, which also has two locations in Middlebury and one in Bozeman, Montana.
Edgewater Gallery in Stowe
151 Main Street
Stowe 05672
(802) 760-6785
Hours:
Tuesday-Saturday, 10AM-5PM
Sunday, 10AM-4PM
---
ART ON VIEW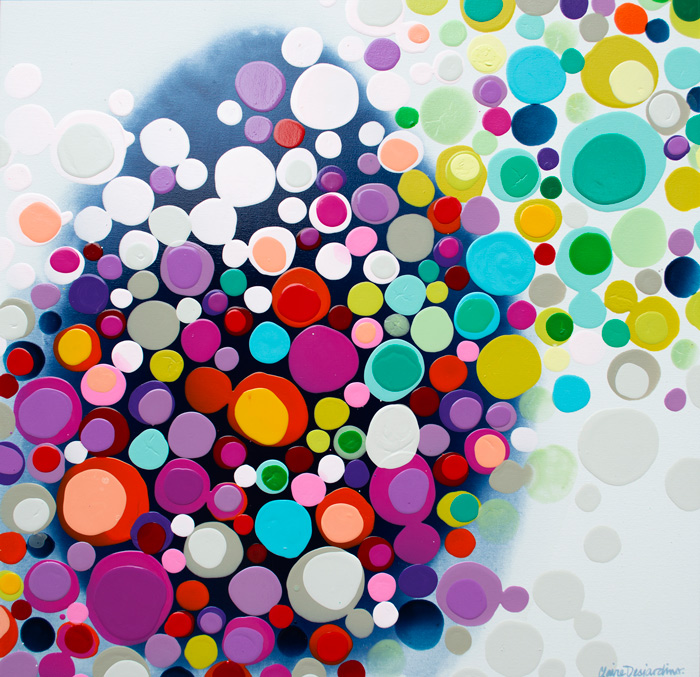 Looking North
March 2019
Opening reception: Friday, March 8, 2019, 5-7PM
"Looking North", curated by Kelly Holt, brings the energy of the contemporary art scene in Montreal and beyond to Vermont and features photography, paintings, sculpture and mixed media work. The exhibition features two artists whose studios were in Montreal at times, Claire Desjardins and Kathryn Lipke Vigesaa, as well as artist Carol Kapuscinsky from Ajax, Ontario, whose paintings are currently shown in Montreal and Toronto. This is Kapuscinsky's first exhibition in the United States.
Award-winning abstract painter Claire Desjardins is originally from Montreal. Desjardins now lives in the natural beauty of the Laurentians, an hour north of the city. Desjardins' work is exhibited in major cities across the US and Canada. Her paintings have been featured in major motion pictures, TV series, and she just launched her signature collection of women's apparel under her own label, Claire Desjardins by Carré Noir, earlier this year. Desjardins states that her work is "an attempt to decipher the chatter in my head, to put forward a less awkward side of myself, to navigate through my everyday chaos towards calm…The outside world is referenced quite indirectly through the filter of my emotions. Through my work, I find myself expressing sentiments or reactions of which I am consciously unaware."
Carol Kapuscinsky has been exhibiting in solo and group exhibitions widely in Quebec and Ontario. The artist has an impressive range of experience teaching workshops to students of all ages, and is an accomplished juror for exhibitions throughout Canada. Kapuscinsky works as a contemporary realist whose process uses minimalist imagery, painting her landscapes with oils on canvas, glazing with thin layers of paint to reveal the transition between the visual and the spiritual while maintaining an unlimited feeling of space. Referencing her studio practice she says, "I'm back in the moment with the wind, the sounds and the exquisite beauty of nature. I find it an enormous responsibility to paint a field, a stream, a place, and do it justice."
Kathryn Lipke Vigesaa is an accomplished sculptor, photographer, filmmaker, and bookmaker whose public art projects, installations, and exhibitions continue to receive international acclaim. They appear in museum collections from Finland and Sweden to Guatemala to North Dakota. Scholarly accomplishments include serving as Professor and Associate Dean on the Faculty of Fine Arts and Research at Concordia University in Montreal. She has a strong connection with the Vermont landscape, residing in both the Northeast Kingdom and Montreal for many years. For Vigesaa, "The land itself is a central catalyst for much of my artwork. The earth's surface or what is the face of the land asserts an ever present impact on our daily lives. A sense of place, the vastness of a landscape and the startling details which when examined closely speak to the work. Through the process of making art I take time to confront nature, to research its specific history and attempt to establish an identity of a place and a sense of its spirit."
(adapted from the gallery's press materials)
Image: Lots to Say by Claire Desjardins (30″x30″; acrylic on canas). Courtesy of the artist and Edgewater Gallery in Stowe.
---
PREVIOUS EXHIBITIONS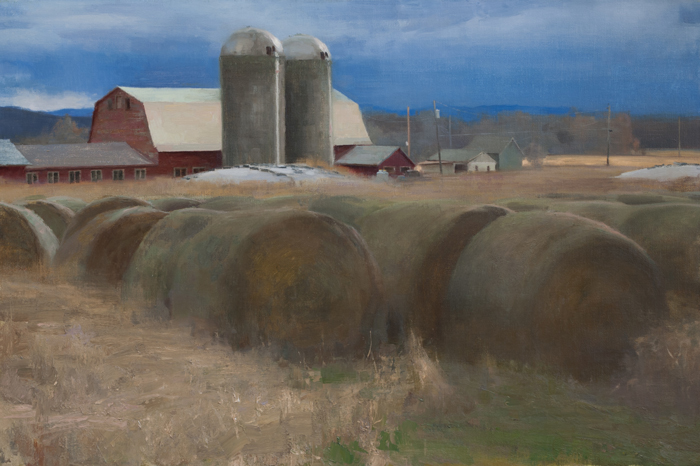 Roots: Paintings by TJ Cunningham
December 1, 2018-January 11, 2019
Kelly Holt, Curator of Edgewater Gallery in Stowe said about this show:
TJ Cunningham inspires with his thought provoking landscapes of his native home, Addison, Vermont.
Known for his depth and layering of oil colors, majestic Vermont skyscapes, stretching farmlands, and meandering river waters, Cunningham once again delivers the scenes we recognize as the quietude of true homeland in this exhibition.
Cunningham received his formal training at Pensacola Christian College. He enjoys connecting with living artists in his travels, whose techniques he studies and whose work Cunningham follows and admires. The artist works directly in the landscape and from plein air studies in his studio in Tennessee. He teaches plein air painting workshops in several locations across the United States. Cunningham's work is exhibited and collected nationwide, as well as in Europe.
Image: Winter's Provision by TJ Cunningham (20″x30″; oil on linen; 2018). Courtesy of the artist and Edgewater Gallery in Stowe.
---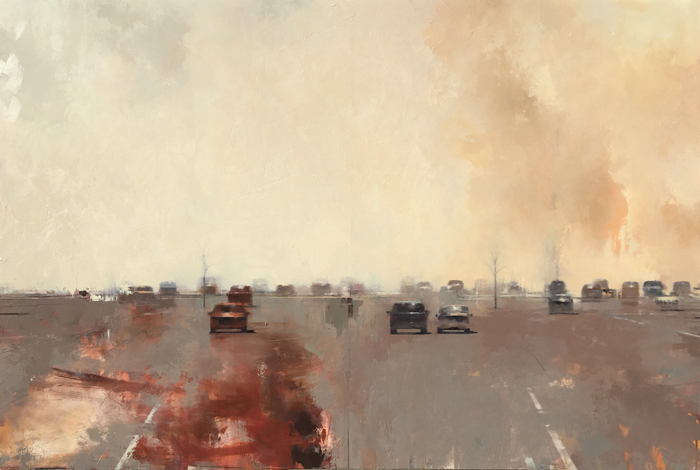 Anthropocene: paintings by Sean Thomas
November 1-29, 2018
Artist reception and talk: Friday, November 2, 5-7PM
"Anthropocene" is Phoenix, Arizona artist Sean Thomas' solo exhibition featuring his new series of urban landscapes.
Thomas is known for his mark-making and layering techniques using drawings and oil and wax on panel. Thomas has a particular mastery of white on white surfaces, bold and barely seen lines, and capturing the vastness of the open road. The scope of his work delves into a continual interest in studying architectural forms, the modern industrialized landscape, and human impact. This series is an "examination of the landscape's development resulting from human presence and a response to the relationship between the artificial and natural environment."
"Anthropocene" speaks directly to today's urban sprawl and effect of industry in the landscape. Of the work, Thomas explains, "Modern infrastructure is literally built upon manufactured landscapes of the past. The layering of mark-making and paint is a direct reference to the layering of time on a constructed environment 'controlled' by humankind."
Sean Thomas received his formal training in illustration at Delaware College of Art and Design, followed by a BFA in illustration at Rhode Island School of Design and participation in the RISD European Honors Program as well as studying at Italiaidea (Center for Italian Language and Culture Studies), both in Rome. Thomas was an Assistant Teacher at the Rhode Island School of Design, and he taught workshops for the Copley Society of Art in Massachusetts before relocating to Arizona. He is represented in galleries in New England, with many exhibits in Rhode Island, Boston and Cape Cod.
Sean Thomas' paintings have been collected internationally, nationally, and in private collections.
Image:
Taxonomy (Jardin)
by Sean Thomas
32″x48″
oil and wax on panel
2018
Courtesy Edgewater Gallery, Stowe
---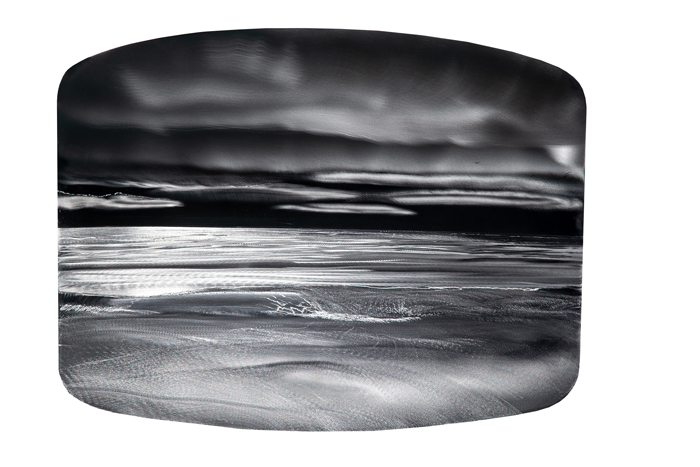 New Dimensions in Landscape: New Works by Homer Wells
October 1-28, 2018
Artist reception: Friday, October 5, 5-7PM
Artist demonstration: Saturday, October 20, 1-3PM
"New Dimensions in Landscape" is a solo exhibition and new series of etched aluminum paintings by Homer Wells. Originally a sign maker by trade, Wells is one of Vermont's preeminent metal sculptors. He works with recycled metal, using translucent paint over his spun aluminum designs to enhance reflected light. As viewers shift their gaze across the piece, the refraction and reflection create the appearance of clouds and water steadily moving across the panel. Burnishing, brushing, auto paint and sealants make his original pieces distinctive, versatile, and able to be installed indoors or outdoors.
Says Wells of this new series, "My work has often been likened to a glass of water or a breath of fresh air. These things do not threaten our beliefs nor do they call us to public action. These landscapes are new in technique and materials, testing what we see with our eyes/retinas and what we see with our minds. I hope the viewer will be encouraged to open the mind to seeing things that can only be seen in the mind's eye."
By micro engraving the surface of the aluminum, air brushing colors and bending, doming, and curving surfaces, he creates a sculptural object that presents as a landscape painting, yet defies that expectation. Etched patterns become an almost photographic representation of a mountainside and reflection. Says Wells, "It is my hope that the viewer will give each painting a chance to move and change in the light, finding that position in the room that makes the clouds move or even disappear, the water shimmer, and the sun rise."
Wells' artistic works have been featured nationally, at the Burning Man Festival and in private collections.
Image:
You are the Eyes of the Morning
by Homer Wells
18″x28″
etched aluminum
Courtesy Edgewater Gallery, Stowe
---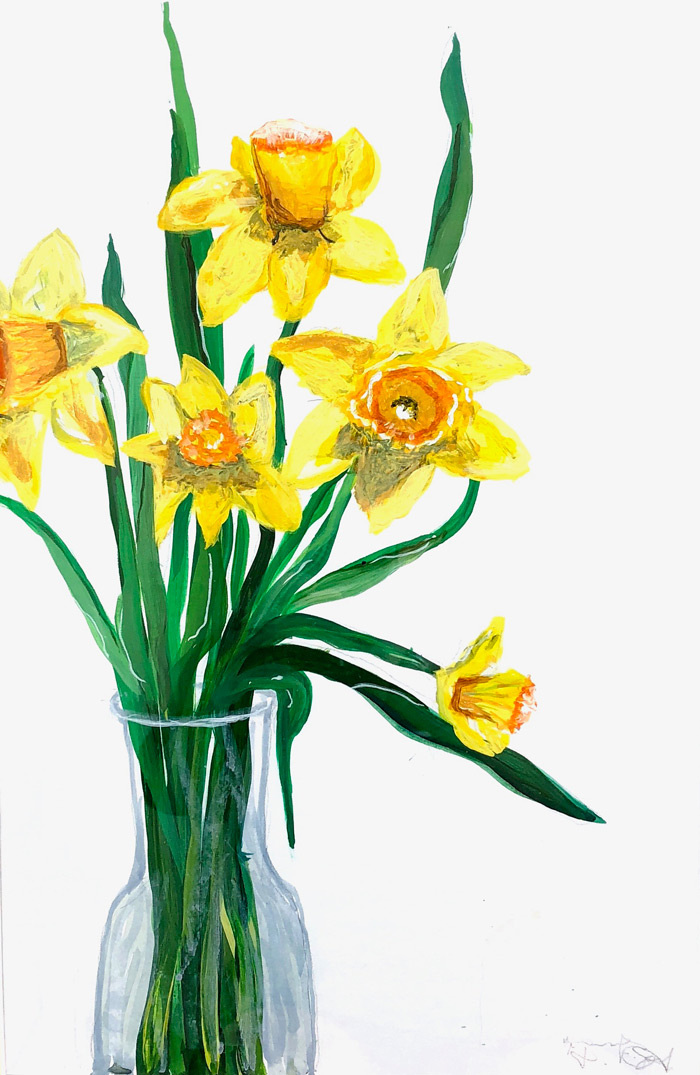 Connections: in partnership with the Travis Roy Foundation
September 1-28, 2018
"Connections" is a juried group exhibition mounted in partnership between Edgewater Gallery in Stowe and Boston's Travis Roy Foundation.
Connections brings artists together who are responding to the following curatorial statement for the exhibition: Connection is what many strive for in today's global community–seeking to discover common experience and ideas. Connections are made daily, through relationships, sports, transportation modes, science, mathematical findings, technology, workplace, social gatherings, music, art, religion, and spirituality. By extending beyond what is comfortable and challenging what is possible, connections can bring wonderful surprises. With connection, there can be a sense of harmony and hope.
It is often through the creative process and the profound effect of imagery that common experiences are cultivated. Building a dialogue through color, form and perspective provides a foundation of new ideas: conversation thrives and narratives are awakened. Through artistic expression, imaginations stretch. What is possible can change. Through creating and viewing art, one often feels safe to question and ponder as we seek to find meaning and connection. To feel connected is to find links and commonalities with others, feeling free to ignore division, boundaries and biases. Bridging these gaps make discovering a sense of understanding and empathy possible. How do you connect?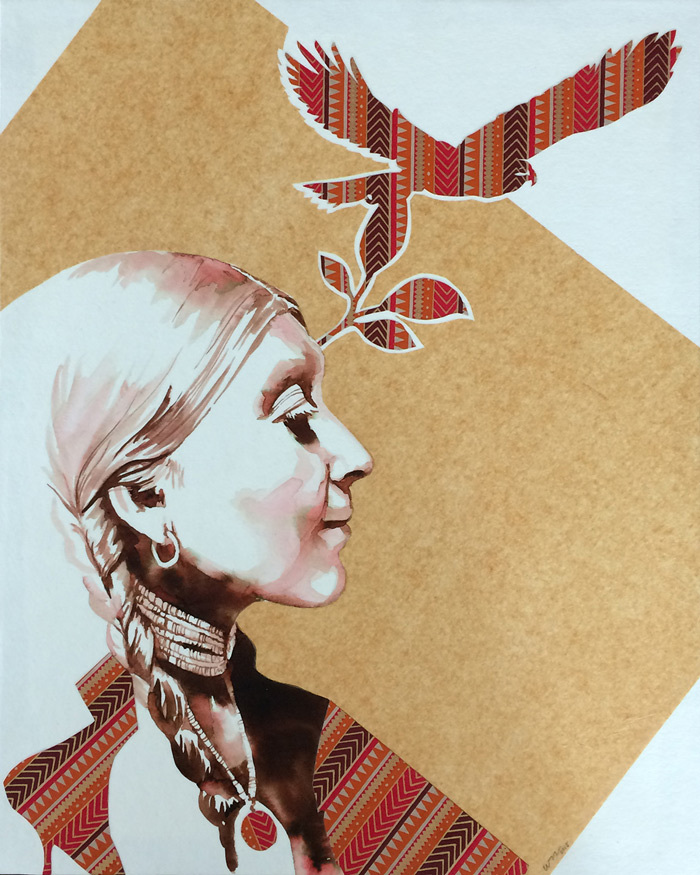 Jurors selected the artists from a large group of submissions for this exhibition. Submission fees were donated directly to the Travis Roy Foundation. The jurors were Sophie Bréchu West, Founder and Director of 571 Projects in Stowe, Dana Heffern, Artist and Director of the Champlain College Art Gallery, and Travis Roy, Artist and Founder of the Travis Roy Foundation.
About the Travis Roy Foundation
The Travis Roy Foundation has strong ties and an active grassroots support network in both Greater Boston and in Vermont. It hosts annual events and speaking engagements in New England locations and nationwide in support of those touched by spinal cord injuries, bringing awareness to this important cause.
Travis Roy is a Maine native who arrived at Boston University in the fall of 1995. In his first hockey game for the defending national champion Terriers, Roy had a freak accident which left him paralyzed from the shoulders down. Ten months after his accident, Roy returned to BU, graduating from the College of Communications in 2000. Roy wrote the book Eleven Seconds with Sports Illustrated senior writer EM Swift. Since leaving BU, Roy has established himself as a professional speaker. He speaks to audiences of all ages at high schools, colleges, and business groups across the country.
Roy founded the Travis Roy Foundation in 1997 to help spinal cord injury survivors and fund research towards a cure for paralysis. He currently resides in Boston and spends his summers in Vermont. Roy continues to paint at least once a year with his middle school art teacher Susan M. Riley. Their paintings will be displayed together in the exhibition.
During the opening reception on September 14, meet Travis Roy and members of the Foundation. There will also be prizes for selected artists, a raffle to raise additional monies for the Travis Roy Foundation, and a talk by Travis at 6PM.
(text adapted from the venue's press materials)
Image: (top)
Daffodils
by Travis Roy
14.5″x9.5″
acrylic on paper
Courtesy Edgewater Gallery, Stowe
Image: (center)
Spirit Guide
by Wendy Nooney
20″x16″
mixed media and watercolor
Courtesy Edgewater Gallery, Stowe
---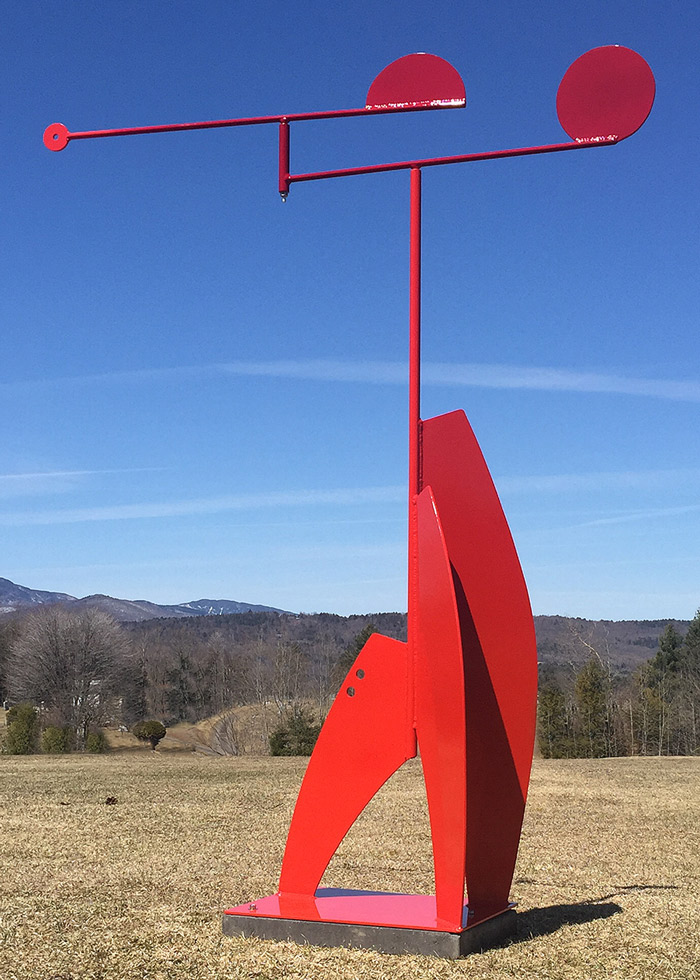 Exploring Air
July 2-August 30, 2018
"Exploring Air", presented in partnership with Spruce Peak Performing Arts Center, is a celebration to honor the environment and global community.
"Exploring Air" features selections ranging from big sky landscapes to industrial scenes including monoprints, photography, woodblock prints, and contemporary sculpture from kinetic to cast glass to wearable art. "The movement and visual abundance of air is the magic in Vermont…the moisture, floating, rolling and dancing over the weathered soft slopes of the Green Mountains are what gives air a structure or vehicle to travel," said Bristol artist Rory Jackson. Curated by Kelly Holt, the exhibition features work by Jon Black, Matt Brown, Galen Cheney, Tom Cullins, TJ Cunningham, Micah Dudash, Rory Jackson, Erika Senft Miller, Rachel Moore, Marshall Noice, Mark Reamy, Sean Thomas, Homer Wells and Judith Wrend.
Reception Event:
Friday, July 27, 4PM during the Stowe Arts Festival and Gallery Walkabout.
The reception includes a musical performance and a meet-and-greet with Jia Kim, Artistic Director/cellist for Spruce Peak Chamber Music Society. Jia Kim is the recipient of the prestigious 2017 career grant from the Leonore Annenberg Fellowship Fund for the Performing and Visual Arts, and leads a dynamic musical life as a performer, educator, and a passionate advocate for the Arts.
(text adapted from the venue's press materials)
Image:
Acting Out
by Judith Wrend
82″x64″x64″
aluminum with auto paint
Courtesy Edgewater Gallery
---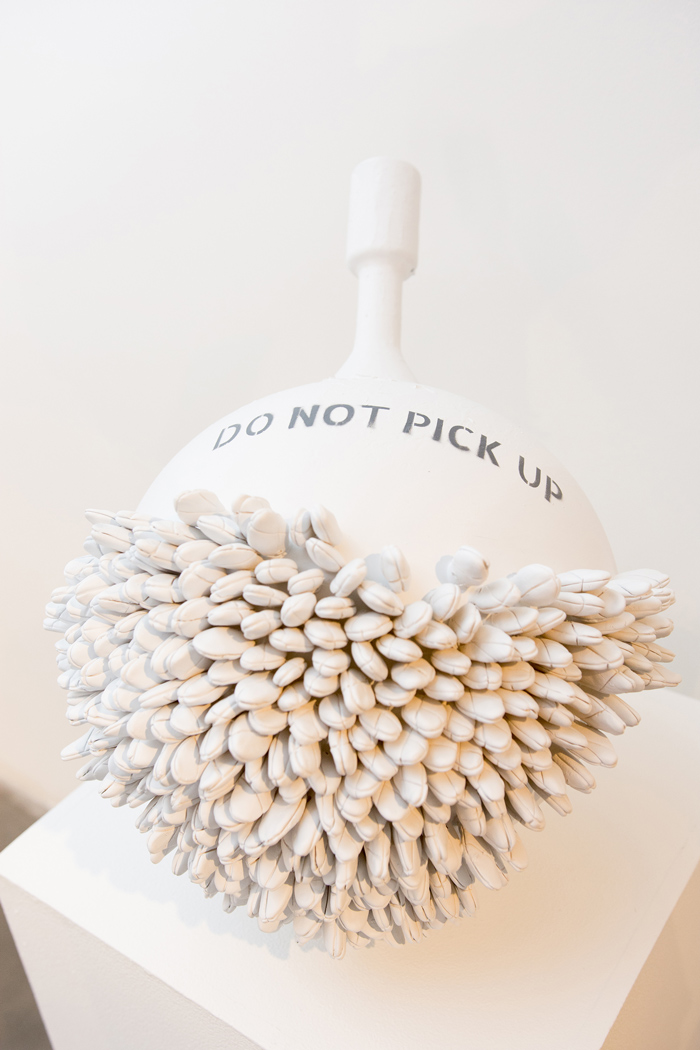 Rachel Moore: Traces
May 6-June 29, 2018
Opening Reception: Friday, May 11, 5:30-7PM with artist talk at 6PM.
Rachel Moore's work is steeped in careful attention to pattern language and shifts. Her materials range from watercolor and graphite on paper, to blown and cast glass, to ink on vellum and more. Traces ties together many thematic patterns in the artist's work honoring the environment with a dialogue on prevailing conditions. Minimalist in color, her installations are infinitely rich in carefully considered materials and surfaces with an ethereal elegance and sophistication. Paying homage to presence in absence, many of her sculptural pieces refer to measurable data in climate change as well as migration patterns. Each movement, memory, presence and energy leaves a trace. This exhibition echoes traces of beauty in our global community.
Moore is a multidisciplinary artist working in mixed media sculpture, installation, drawing, and social practice. Moore uses maps, cultural and religious icons, text, and sculptural replications of objects from daily life to respond to social and political movements, often in poetic and haunting ways. In her social practice, she has used storytelling to create relationships of understanding and as a way to bring awareness to multicultural histories, in some cases, asserting a culture's rightful place in history.
Moore's work has been featured in international museums and galleries, on Art21's "Inside the Artist's Studio" and she is the recipient of numerous grants and awards. The artist is represented by Edgewater Gallery, Stowe; Stewart Gallery, Boise, Idaho; and Traver Gallery, Seattle, Washington. She lives and works in Vermont.
(text adapted from the venue's press materials)
Image:
Do Not Pick Up
by Rachel Moore
20″x12″x12″
blown glass, ceramic, paint
Courtesy Edgewater Gallery
---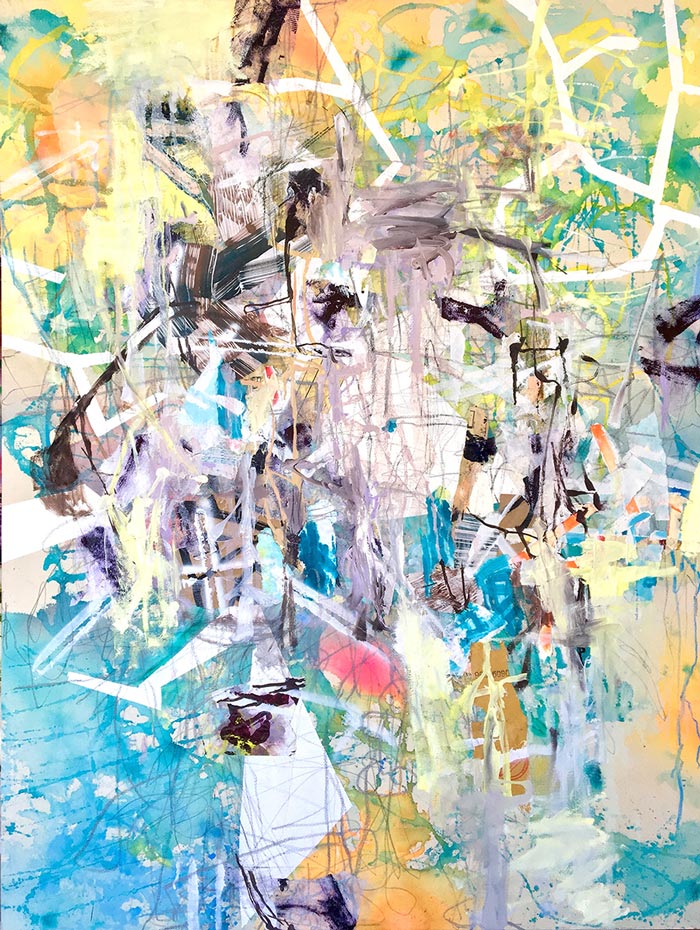 Galen Cheney: "Look Up"
March 10-May 4, 2018
Artist Reception and Artist Talk: Friday, March 23, 5:30-7:30PM. Artist talk is at 6PM.
The essence of the work exhibited in Galey Cheney's "Look Up" is process-driven abstraction. Experimentation and exploration of materials are central to this body of work. Cheney's paintings build physically in form–surfaces are built, carved, scraped into. Mixed media layers transform her paintings into a sculptural presence. Says Cheney of her process, "I want my paintings to brim with energy and tension, muscularity, fragility, and heart." Cheney's new body of work involves a deepened exploration of work created during a residency in China in 2015. She is now using multi-layered constructions, adding new ways of working liquid acrylic on raw canvas and collage. Cheney's work is often described as a mixture of urban contemporary, bursting with energies of forces steeped in nature, and always pushing boundaries. Current influences are the work of Angel Otero, Mark Bradford, John Walker, among others.
Cheney, originally from Los Angeles, moved East and spent years working and exhibiting in Vermont. Her professional art practice spans nearly thirty years. The artist now lives and paints in North Adams, Massachusetts, minutes away from the creative energy of Mass MoCA. Cheney received her BA from Mount Holyoke College and her MFA from the Maryland Institute, College of Art.
Her work has been shown and collected in Europe, Canada, China, and throughout the US. Recent exhibitions include The Painting Center in New York City, Gray Contemporary in Houston, Texas, Greenville Center for Creative Arts in South Carolina, and Da Wang Culture Highland in Shenzhen, China. Recognition for her work includes an exhibition award at Saint-Gaudens National Historic Site, residency fellowships to The Millay Colony, the Vermont Studio Center, and Da Wang Culture Highland in Shenzhen, China, as well as publication in New American Paintings, and a recent nomination for a Joan Mitchell Foundation Grant for Painting.
Cheney will also be teaching a painting workshop "Beauty in Process" at Helen Day Art Center on Saturday, March 10.
(text adapted from the venue's press materials)
Image:
Undertow
58″x44″
mixed media on canvas
Courtesy Edgewater Gallery
---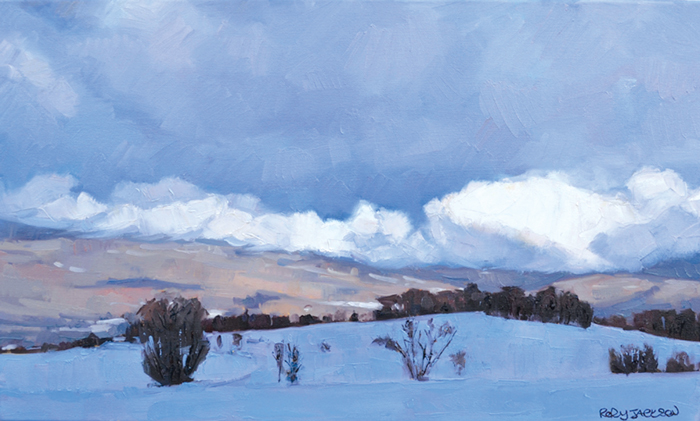 Rory Jackson: "Coming in from the Cold"
January 13-February 20, 2018
Opening reception: Saturday, January 13, 5-7:30PM
Rory Jackson's "Coming in from the Cold" features a new collection of the dynamic Vermont landscape paintings for which he has become known. Among the works are quintessential winter scenes demonstrating the artist's keen observation of his native environment and his ability to evoke a sense of warmth amid the cold.
Rory Jackson is celebrated for his careful attention to the lights and darks that occur within the spirit of the Vermont landscape. With large brush strokes and vibrant colors, Jackson provides viewers with the details we often miss. Jackson resides in Lincoln and travels annually to Cape Three Points, Ghana, where he and his wife founded Trinity Yard School. Jackson studied at Massachusetts College of Art and Design in Boston and the Art Students League in New York under the direction of Max Ginsburg. His work has been exhibited in Vermont and New York.
(text adapted from the venue's press materials)
Image:
Warmth in Winter
by Rory Jackson
21″x35″
oil on canvas
Courtesy Edgewater Gallery
---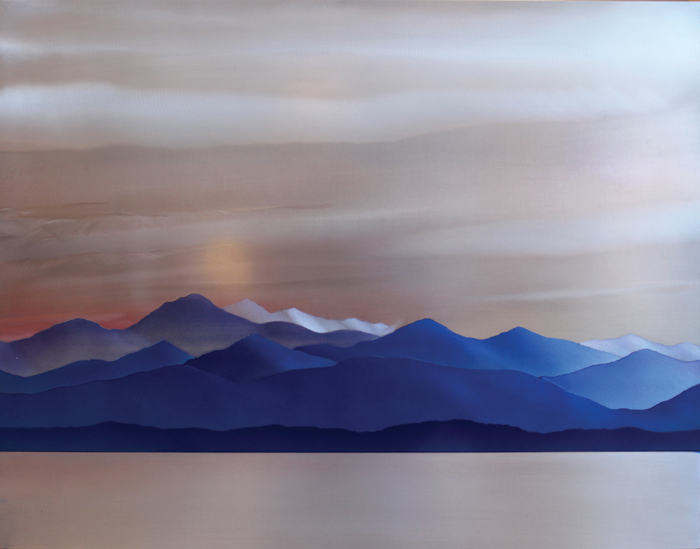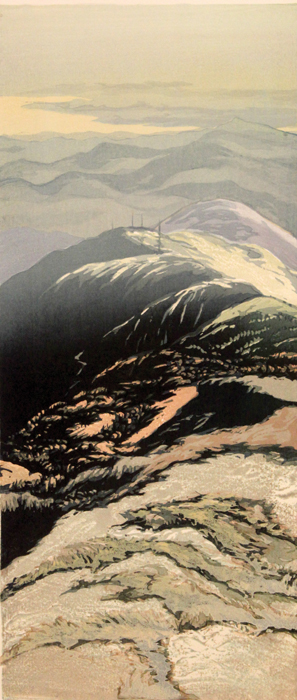 The Place Just Right
at Edgewater Gallery in Stowe
December 2017
Grand Opening Celebration: Friday, December 8, 5-7PM
Edgewater Gallery in Stowe's grand opening exhibition, "The Place Just Right", features works from gallery artists, including painters Joe Bolger, Matt Brown, Homer Wells, Rory Jackson, T.J. Cunningham, Kate Gridley, Jonathan Ebinger, Kathryn Milillo, photographer Gary Hall, and sculptor Jay Lagemann.
The grand opening event includes an artwork raffle to benefit the United Way of Lamoille County. The raffle includes original works donated by Joe Bolger, Matt Brown, and Homer Wells. Raffle tickets are $20 and may be purchased in advance on the Edgewater Gallery website, the United Way of Lamoille County website, or at any of the three Edgewater Gallery locations in Middlebury and Stowe. All ticket proceeds benefit the United Way of Lamoille County. Winners must be present during the Grand Opening to claim their work of art.
(text adapted from the venue's press materials)
Image: (top)
I Must Go Down to the Lake Again
by Homer Wells
27″x35″
auto paint on aluminum
Courtesy Edgewater Gallery
Image: (right)
Stowe from a Distance
by Joe Bolger
17″x14″
oil on panel
Courtesy Edgewater Gallery