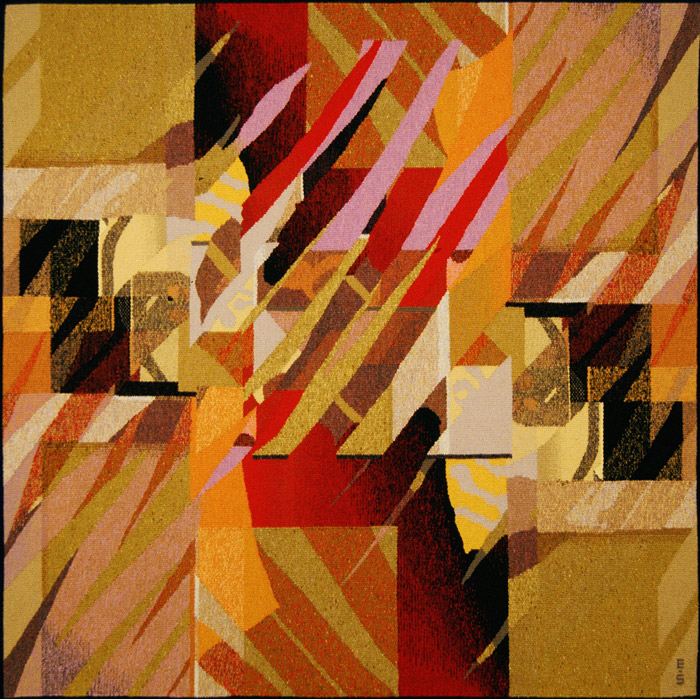 ART ON VIEW
Elinor Steele Tapestry
in the Jackson Gallery
at the Town Hall Theater in Middlebury
February 10-March 31, 2018
Vermont designer/weaver Elinor Steele Friml displays examples representing forty years of dedication to the art of contemporary hand-woven tapestry. The exhibit will include works from several of her series, including abstract and impressionistic images, landscapes, and geometric compositions.
Steele combines a strong sense of color and composition with meticulous craftsmanship to create her tapestries. Working from a small scale printed color drawing and a full sized "cartoon" or line pattern she interprets her designs while weaving by hand on a high-warp loom using traditional tapestry techniques. Combining several strands from a large palette of wool yarns to achieve the desired colors and gradients, she takes full advantage of the rich tone and texture that are inherent in the medium.
The award-winning artist has been represented in national and international exhibitions and has been commissioned to create numerous works for corporate, healthcare, and residential settings. She studied Fine Art at the University of New Hampshire and Tapestry at the Edinburgh College of Art in Scotland. With creative interests in music and theater as well as art, she currently manages the Jackson Gallery and THT Box Office, and is scenic artist for the Opera Company of Middlebury.
(text adapted from the venue's press materials)
---
INFORMATION
Jackson Gallery at Town Hall Theater
lower level
68 South Pleasant Street
Middlebury, Vermont 05753
(802) 382-9222
Hours:
Monday-Saturday, Noon-5PM
and an hour before any public events in the building
Image:
Reconstruction II by Elinor Steele Friml