The Emile A. Gruppe Gallery, Inc., opened in 2003, exhibits and sells the works of noted landscape artist Emile A. Gruppe. It also promotes New England artists through exhibition and sales. The gallery is located in a renovated 1860s English Sheep barn at the home of Emile's daughter, Emilie Gruppe Alexander, and her husband Stuart.
Hours: Thursday-Sunday, 10AM-3PM and by appointment
Emile A. Gruppe Gallery
22 Barber Farm Road
Jericho 05465
(802) 899-3211
---
ART ON VIEW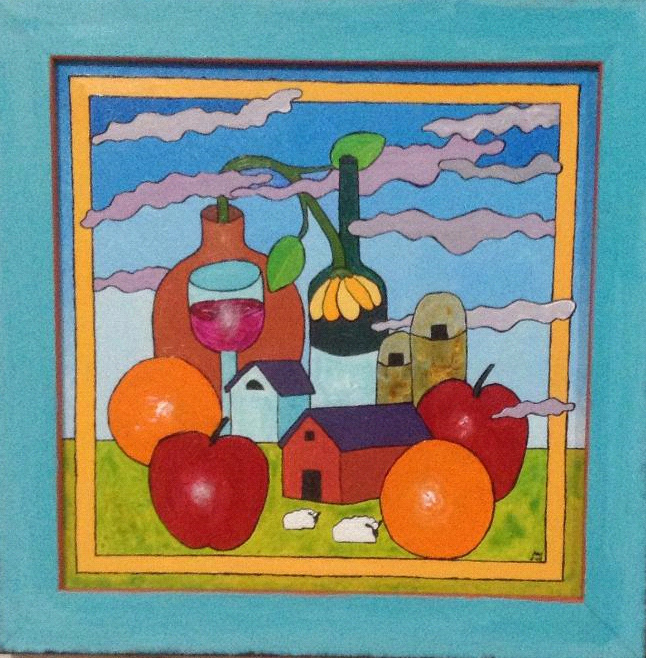 "I Can't Move.": (michael smith)
July 25-August 24, 2019
"I can't move." is case studies in still life behaviour by (michael smith). According to (smith), a still life is a depiction of an arrangement of inanimate stuff, and has occupied an important place in the visual arts for centuries. A still life is steadfastly immobile. It will not turn away from the artist's (or viewer's) gaze. But when no one is looking, a still life might begin to display its obvious hidden colors. These paintings are presented to document some of these seldom observed situations.
Artist reception: Sunday, July 28, 2-4PM.
(Text adapted from the artist's press materials.)
---
PREVIOUS EXHIBITIONS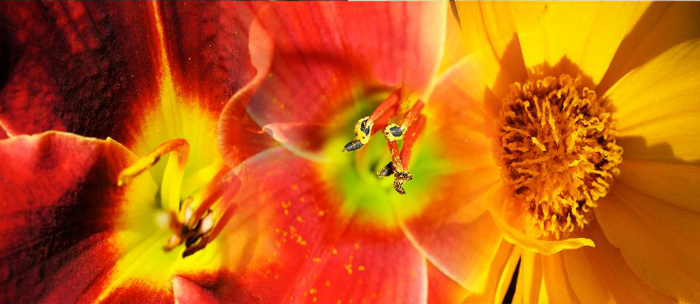 Beyond Mud Season
March 31-May 26, 2019
The prelude to Spring in Vermont, known as Mud Season, is welcomed as a harbinger of warming days and cool nights and the setting up of the maple economy. It is also a tease as to what is coming: flowering plants, lots of color, bird songs and warmth. "Beyond Mud Season" offers a jump start on your enjoyment of the upcoming seasons and also offers the opportunity to enjoy these works in your own space.
The exhibit features watercolors by Monique Dewyea , textile marbling by Linda and Dean Moran, photography by Luci Wilcox, watercolors by Jericho's Adrienne Fisher and Montpelier artist Susan Bull Riley, and "painterly" digital photographic images by Roarke Sharlow.
(Text adapted from the gallery's press materials.)
---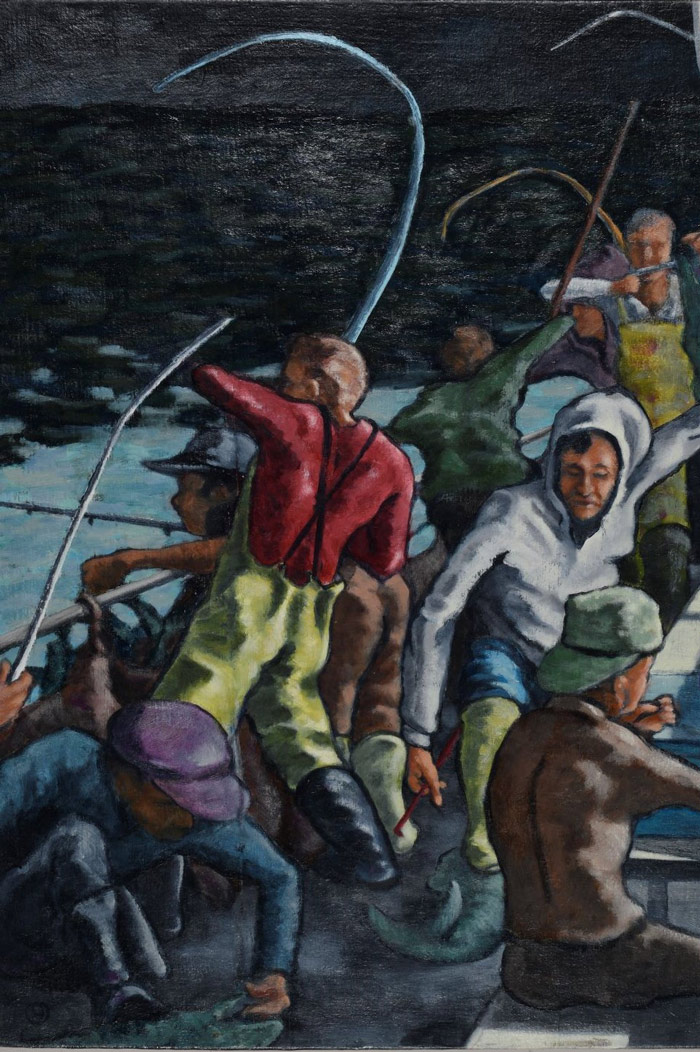 John Opulski: The Undercurrent
November 18-December 30, 2018
John Opulski's mission is to erase convention from his palette. Classically trained in renowned institutions, he has found his niche in magical realism. Creative use of shadows and light immerse one in the mystery of his work. Strong figures are prominent in many of his paintings.
Opulski trained at the Art Students League in New York City, and graduated in the top of his class at the Art Center College of Design. He trained and mentored under other established artists while working for advertising and graphic agencies.
Today, his art is found in private collections and gallery spaces in Vermont and in his studio. He offers workshops, classes and private instruction. He has a soft spot for teaching art to children and has collaborated with the Jericho Town Library on several projects.
(Text adapted from the gallery's press materials.)
Image: Fishing by Moonlight by John Opulski. Courtesy of the artist and Emile A. Gruppe Gallery.
---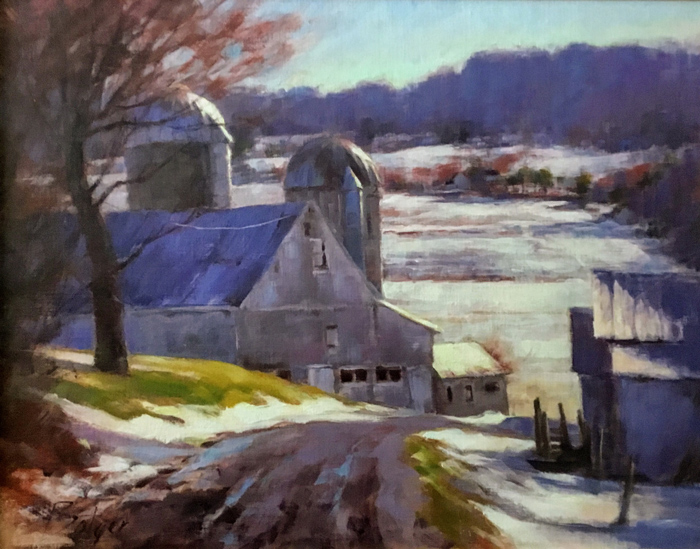 The Color of Light: Joe Bolger
October 4-November 11, 2018
Artist reception: Saturday, October 6, 4-6PM
"The Color of Light" is an exhibition of oil paintings by Shoreham artist Joe Bolger.
Bolger says, "In my work, the main focus is the light. I paint the shapes of color created by the light, the light key of nature. My path as an artist was positively influenced by the teachings of Emile A. Gruppe, although I was never fortunate enough to meet him." Bolger's description of Gruppe's work, that "they express the beauty of New England with a simplicity of design, natural light, bold color, and expressive brushwork", can definitely be applied to his own work. Bolger has a strong palette and his own voice in expressing the beauty of the world around him.
---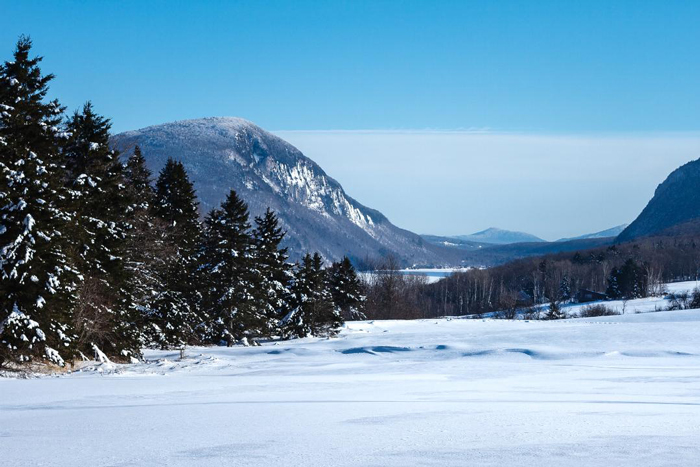 Luminous Landscapes of Vermont:
Mary Claire Carroll and Julie J. McGowan
June 7-July 15, 2018
"Luminous Landscapes of Vermont" presents paintings by Julie J. McGowan and photographs by Mary Claire Carroll. Both artists are from Richmond.
The exhibit is founded on a representational view of Vermont's landscapes, bringing together scenes from a naturalistic photographer and a disciple of the Hudson River School and luminism*, using the 19th century palette and techniques to create a vision of Vermont.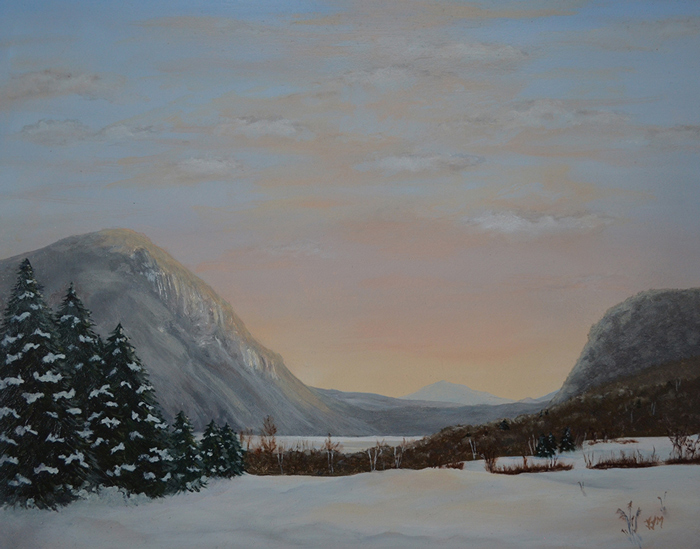 Julie McGowan's artist talk, "The Hudson River School and Me", is on Sunday, June 24, 1-2:30PM. McGowan will discuss the primary painters of the Hudson River School in a slide presentation and conclude with a discussion of the techniques that define these paintings.
*Luminism is an American landscape painting style of the 1850s-1870s, characterized by effects of light in landscapes, through using aerial perspective, and concealing visible brushstrokes. Luminist landscapes emphasize tranquility, and often depict calm, reflective water and a soft, hazy sky techniques to create a vision of Vermont.
Images:
top: Winter at Willoughby by Mary Claire Carroll
center: Willoughby Winter Morn by Julie J. McGowan
---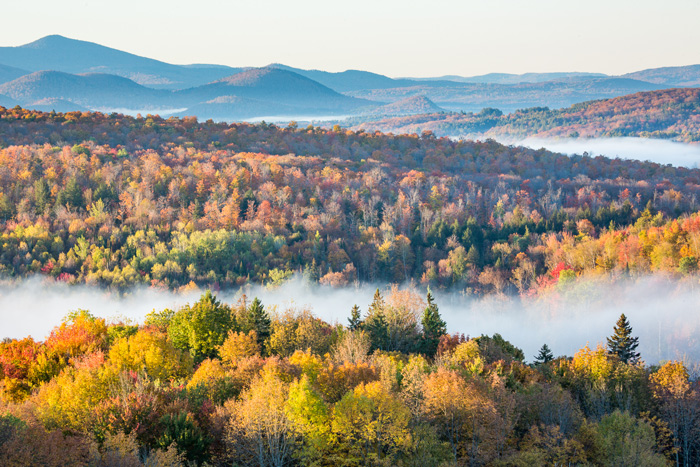 "Vermont and Beyond:
Landscapes, Macros & Abstracts"
May 10-June 3, 2018
Capturing the beauty of nature in the Vermont landscape is the goal of photographers Bernhard Wunder and Thomas Vogelsang
Wunder and Vogelsang refer to their work as photo-art, "a drifting away from capturing and presenting subjects as close to the reality as possible. It is more about an artistic vision." Today's cameras and post-processing techniques enable the photographer to augment the way a photo looks by adding one's own emotion and thought process to what was actually seen.
Images:
top by Thomas Vogelsang
center by Bernhard Wunder
---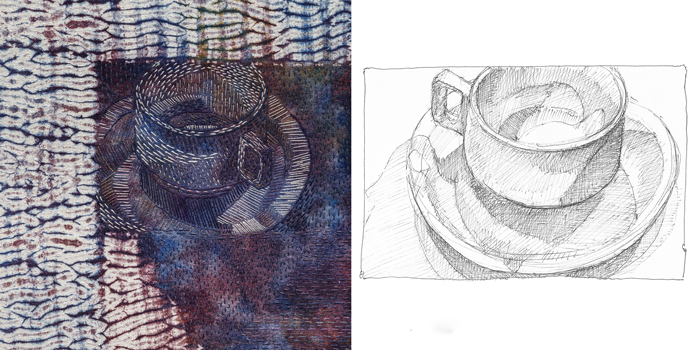 Elizabeth Fram: "Drawing Threads"
March 22-May 6, 2018
Elizabeth Fram says about her work:
Three years ago, in order to revive my drawing skills, I began sketching common household items and table-scapes daily. Concurrently, my textile work became increasingly more reliant on organizing space and manipulating the elements within it through pattern via Shibori-dyeing, color, and intensive fields of surface stitches.
It was a natural progression to look for ways to create overlap between these two separate areas of practice, such that they could challenge and complement each other. I am interested in investigating image and surface, separately and together, celebrating each for the qualities they contribute to elevate the other. The resulting pieces pay homage to the "every day", observing that quiet moments in life merit as much notice as those that are outwardly more momentous.
About Elizabeth Fram:
Born and raised on the coast of Maine, Elizabeth Fram received a BA with honors in Art from Middlebury College, later studying graphic design at the (now) Maine College of Art. She has worked as a graphic designer and as a freelance illustrator, concentrating her studio practice on art textiles for the past 20+ years. Fram's work has appeared and been written about in various publications, including Ellen Bakker's 2014 book TextileArt around the world and most recently in the Stampington publication Art Quilting Studio, Winter 2018. She exhibits nationally and is an Art in Embassies artist, with work currently on view at the US Embassy in Riga, Latvia. She is a juried artist member of Studio Art Quilt Associates, a member of the Surface Design Association, and lives in Waterbury Center with her husband and their pooch, Quinn.
(adapted from the artist's press materials)
Image (top right):
Afternoon Sun
by Elizabeth Fram
ink on paper
---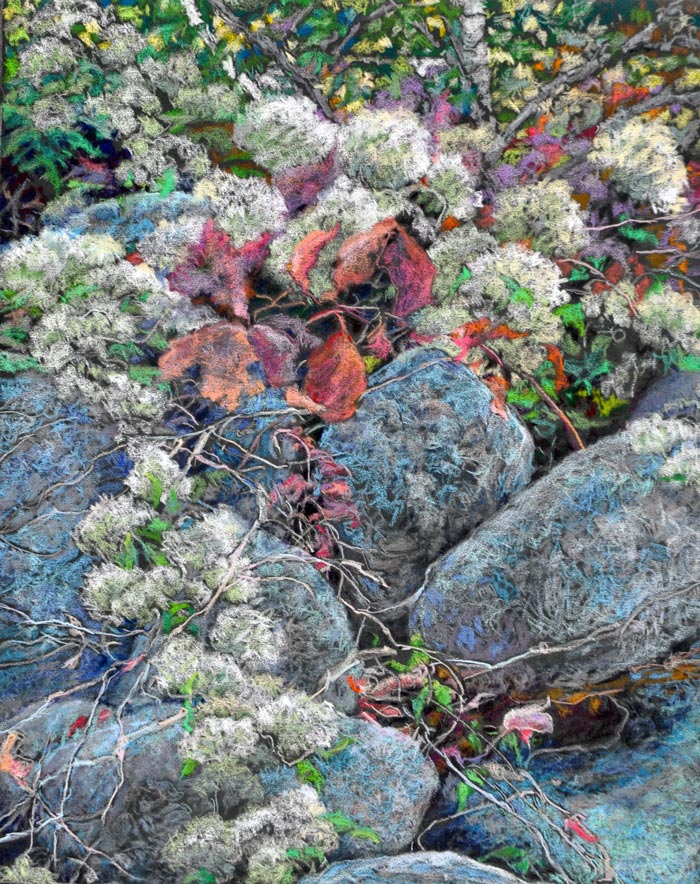 "What Did the Rock Say? Part 1":
Diane Shullenberger & John Snell
February 22-March 18, 2018
Artist Reception: Sunday, March 4, 2-4PM
Many of us who live in Vermont love being close to the natural world–mountains, rivers, woods and rocks. Nature inspires us as people and as artists. In all kinds of weather, through all the seasons, we are sustained by the landscape of this amazing Green Mountain state.
"What Did the Rock Say?" is a project that Dianne Shullenberger envisioned as a way to encourage young artists to be as inspired by the great out-of-doors as she is–by taking them on hikes to some of her favorite places. She realized that many of these hikes led her to rocks where, like muses, they had a good deal to say. When she shared the idea with her friends John Snell, also an avid hiker and a photographer, and poet Zoe Fowler, they quickly saw the power of the idea and hiked together several times to hear what these rocks had to say.
Part of the magic of living in Vermont is to be among and around rocks–from the bare bedrock top of Camel's Hump, to the riverbeds shaped by boulders the size of cars; from the granite quarries to the ancient stone fences now wandering through second-growth forests. We drive through magnificent road cuts and jump from rock ledges into cool summer waters. Rocks are part of our lives every day. They speak to us everyday when we listen.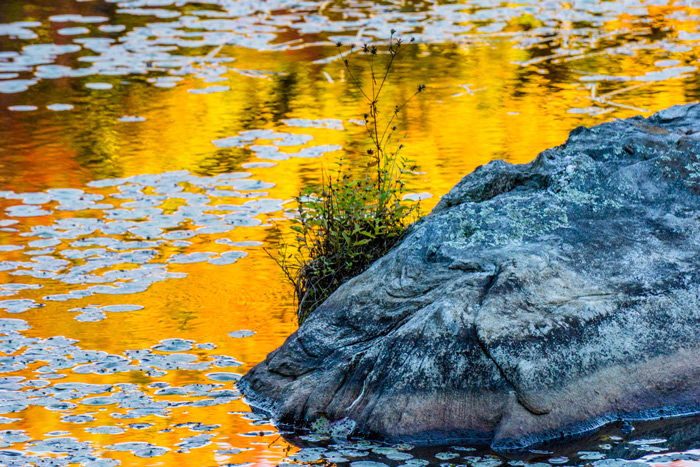 What did the rocks say? They told us to get the young artists and writers outside, hiking, seeing, exploring, laughing and being inspired! Next, we heard we should guide them so they find their own ways of seeing and listening, and then to find their voices so we can all better hear what they hear the rocks saying. And then, importantly, we need to find ways for these young artists to share what to rocks have said to them because the art they've learned about truly exists only when it is shared.
Not every hike leads to the top of the mountain, so to speak. And due to several unforeseen events our plans for "What Did the Rock Say?" fell short of our dreams when the reality of taking a dozen hikes with students throughout the year ended up being a single hike. But that one hike was an inspiration to us—these kids are amazing–and it was also a validation of the basic premise of the project: get these kids outside and they are not only inspired, but also inspiring!
We learned enough that we now are revising plans to try again, and this show is the next step up that hill to listen to what the rocks are saying.
(adapted from the gallery's press materials)
Image (top):
Don's Rock Wall
by Dianne Shullenberger
colored pencil
Image (centre):
Rock & Reflections
by John Snell
photography
---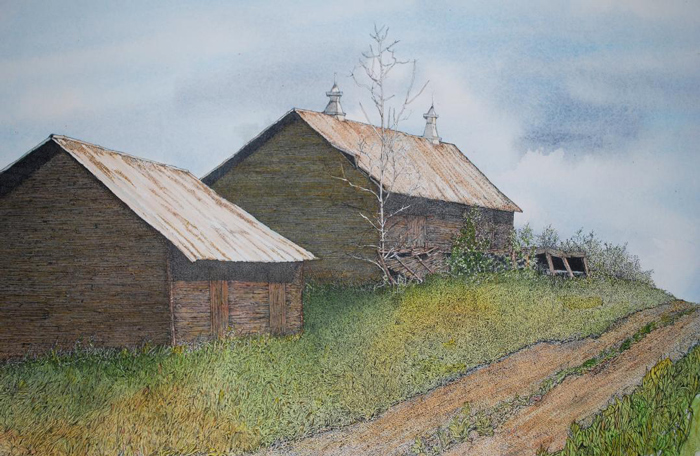 Harald Aksdal, Anne Standish, & Gil Myers
November 16, 2017-January 6, 2018
Opening reception: Sunday, November 19, 2017, 1-4PM
Artists Harald Aksdal, Anne Standish and Gil Myers use fiber, watercolor, and ink on two-dimensional surfaces to capture representational images of real objects, places and things.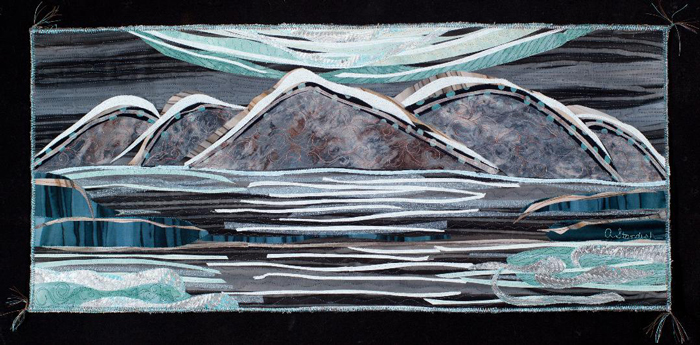 Anne Standish (image above: Emulation and Translation) is an emerging fiber artist. Her inspiration for her quilted art work comes from the natural world. Harald Aksdal's (image top: Sisters) architectural background provides an eye for detail in the everyday world, but his interpretation creates beauty from unlikely subjects. Gil Myers (image below: Goose) has been painting in watercolors for over 50 years and still discovers something new as he interprets the landscape.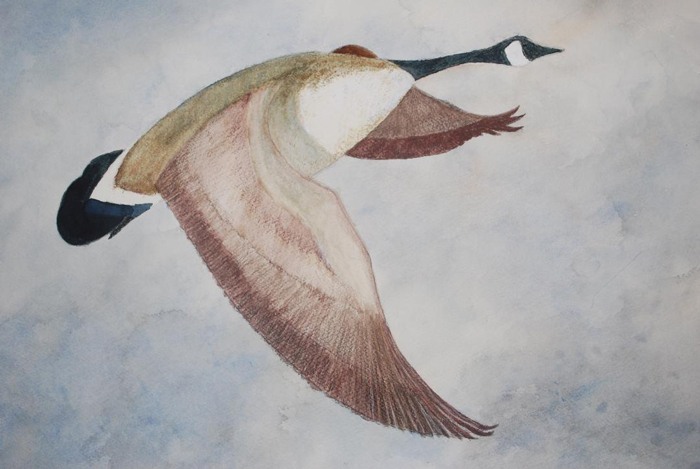 (adapted from the gallery's press materials)
---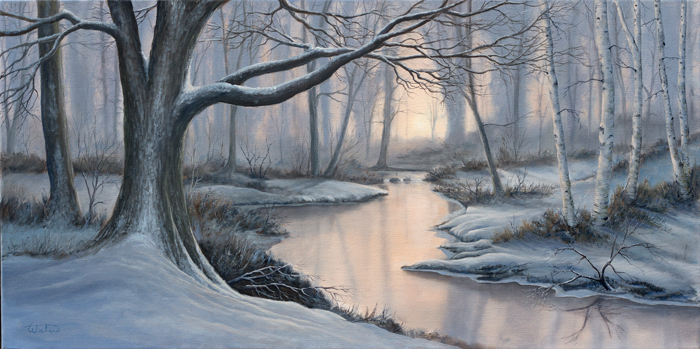 Tom Waters
October 12-November 12, 2017
Opening reception: Sunday, October 14, 1-4PM
Essex artist Tom Waters wants to take you to a landscape that you can see and feel; to a place you have been or imagined. After years in technology management, Waters' inner voice is emerging as he works to capture, in oils or acrylics on canvas, those feelings that "allow the viewer to momentarily forget everyday stress and escape to another place."
Waters says, "My technique is rooted in a love of Impressionism and its exploration of color and light, with a strong leaning towards realism." His inspiration is the outdoor world.
Learn more about the artist at his website: www.creativewatersart.com
(adapted from the gallery's press materials)
Image
Reflections in a Winter Wood
by Tom Waters
15″x30″x1.5″
oil on canvas
---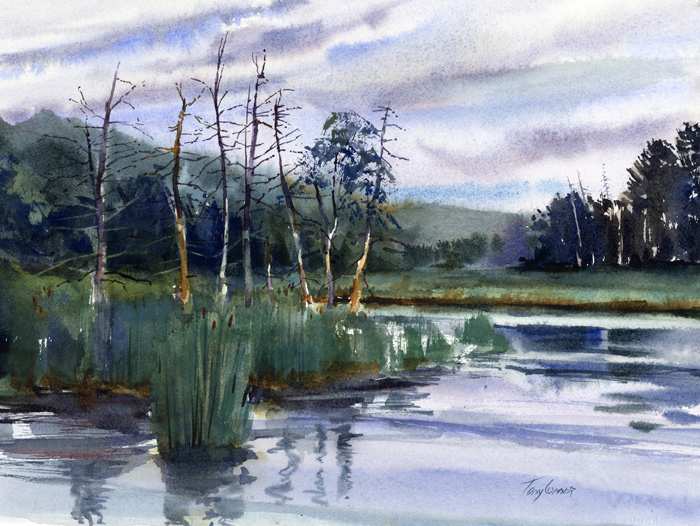 Tony Conner
August 31-October 8, 2017
Most of watercolor artist Tony Conner's work is focused on the quality of light itself and is drawn from direct observation.
He said, "My senses are particularly in tune with time as it passes through the cycle of seasons…Times of transition…are especially captivating. Watercolor is my main medium of choice. It is truly the medium of light."
About Underhill Swamp (above), Conner said, "This painting was done during the Jericho Plein Air Festival on July 16, 2016. The morning was quite overcast so there was little in the way of light and shadow to work with. On overcast days, I often look for water, since the reflections of the sky help light up the painting.
"Beyond the swamp water, there were a couple of other things that attracted me to this scene. There was a great sense of distance and the 'aerial perspective' would challenge my ability to mix the variety of greens needed to express the distance and keep the painting from being to monotonously green. The forlorn tree, desperately hanging on to its foliage in the midst of a group of already dead ones, also made the scene compelling.
"I like to mix my greens rather than rely on a tube green. This method usually results in a better, and more expressive, variety of greens in any landscape painting. For this painting, there were four different blues (ultramarine, cobalt, cerulean and indigo) mixed with three different yellows (raw sienna, quinacridone gold, areoulin). So, there are likely six or seven different greens mixed and mingled throughout the painting."
Tony Conner lives, works and teaches in Bennington.
(adapted from the artist's press materials)
Image
Underhill Swamp
by Tony Conner
watercolor
2016
---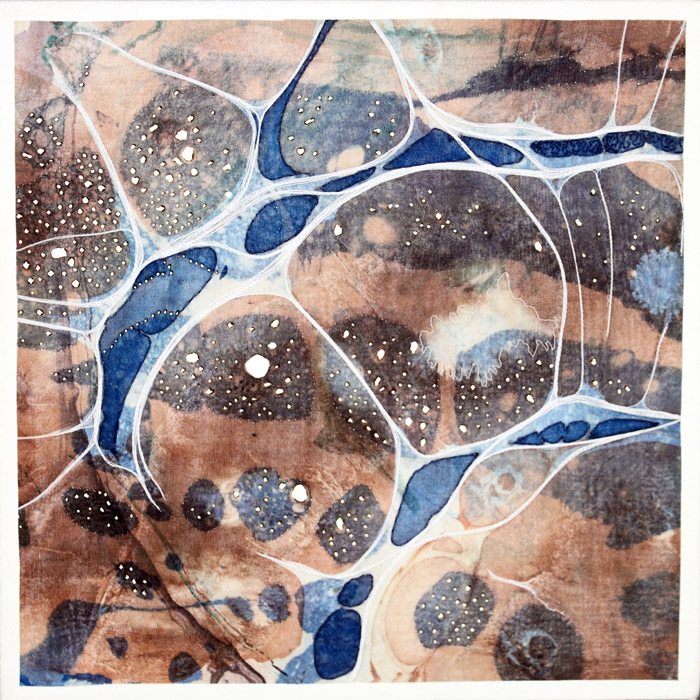 Wild Fibers
June 2-July 9, 2017
Artist Reception: Friday, June 2, 5-7PM
Artist Talk: "25 Years of Knitters Speaking Out" by Eve Jacobs-Carnahan, Friday, June 16, 6:30-7:30PM
"Wild Fibers" is exhibit of works by the Vermont members of The Surface Design Association, an international community of artists engaged in the creative exploration of fiber and fabric. The Vermont members featured in this exhibit have produced an eclectic selection of work in fiber, textile and mix media techniques in both two and three-dimensional disciplines.
From woven tapestries to painted, dyed, rusted and distorted fabric, the diversity and creativity evident in these works are a fine example of the exciting work being done in the field of textile art today.
Dianne Shullenberger is a well-known Vermont artist who incorporates natural fibrous materials such as red osiers twigs, bamboo, marram grass, pods and leaves. Many of these materials are cut open to expose different patterns, colors and shapes, and are then combined into elegant and intriguing collages.
The knitters in the group, Eve Jacobs-Carnahan, Leslie Roth and Mary Sawabini, have branched out from the traditional flat surface, employing various types of yarns to stitch 3-D shapes such as leaves, flowers, heads, or hands. With the support of armatures, these knitted bits become fantastical creatures or familiar natural forms.
The quilted works in the exhibit are not what you might expect. Judy Dale's curved shapes and subtle color shifts undulate across the quilted surface; Roz Daniels collages bold large-scale printed fabric to create dynamic modernistic designs; Mary Lowe creates colorful abstract designs that dance with color and movement.
Many works fall into the mixed media category such as Sharon Webster's assemblages created from a wide range of meaningful objects, Debra Kraemer's book created from painted and marbled fabric, or Elizabeth Fram's hand-dyed surfaces embellished with exquisite patterns of hand stitching.
(text adapted from the venue's press materials)
Image:
Cell Matrix 2
by Marilyn Gillis
12″x12″x1.5″
mounted on gallery canvas
---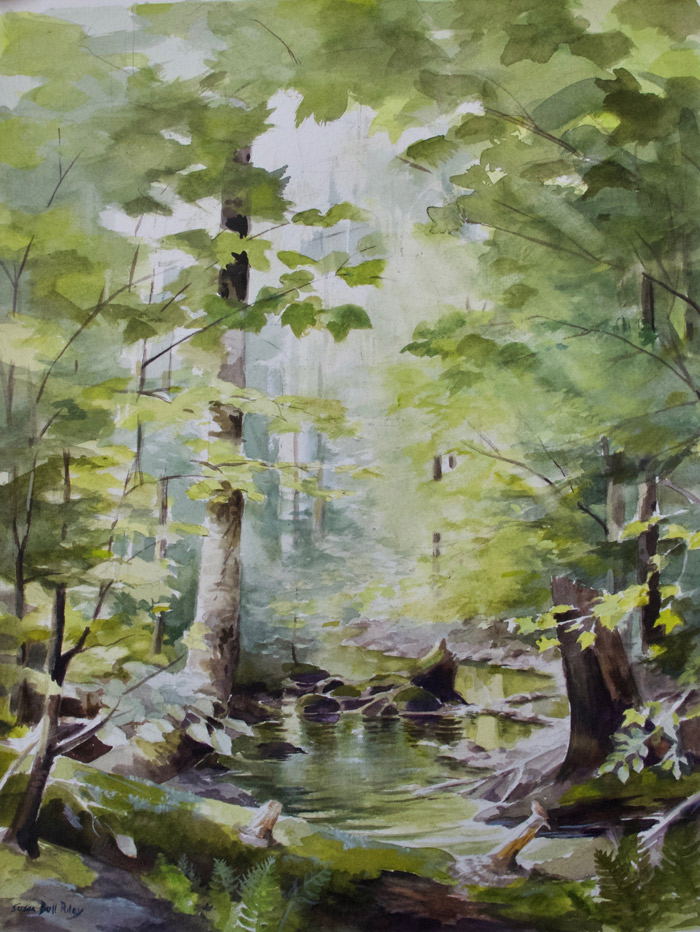 Duo Exhibit of Vermont Watercolors:
Amanda Amend & Susan Bull Riley
April 20-May 28, 2017
"Duo Exhibit of Vermont Watercolors" by Vermont artists Amanda Amend and Susan Bull Riley runs through Open Studio Weekend, May 27 and 28.
Susan Bull Riley's primary muse is Vermont's natural world (image above). The work reflects her "love of botanical watercolor, my bottomless affection for birds, and a need to release via art, the intensity of my affection for the landscapes of my native state." She has collaborated with a number of institutions that seek to protect the natural world such as The New York Museum, The National Science Foundation, The Vermont Community Foundation, the American Chestnut Foundation, Cornell Laboratory of Ornithology, and many local land trusts. She also has several paintings hanging in the Vermont State House.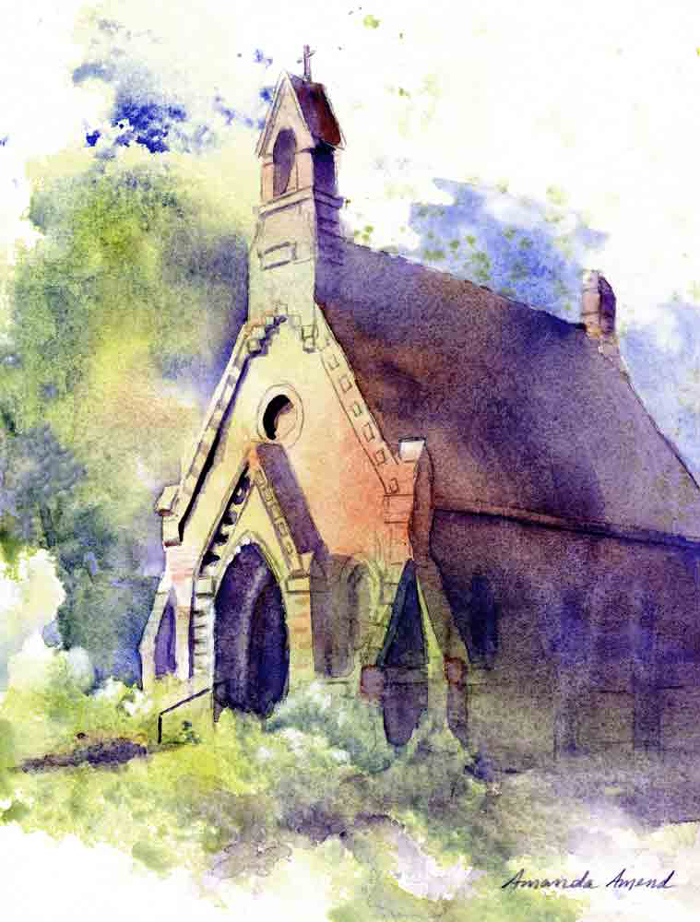 Amanda Amend (image above) calls her paintings "contemplations": "contemplations on the textures, colors, forms and sensory experiences of the world around me and on the thoughts that they inspire." She is a master at "lost and found edges", the exploration of the blending of edges between image and reflection. She says, "Watercolor is the perfect medium to explore the morphing of form". Amanda has participated in exhibitions around the state, is a signature member of the Vermont Watercolor Society and was recently featured in the Vermont Arts Council Spotlight Gallery in 2016.
(text adapted from the venue's press materials)
---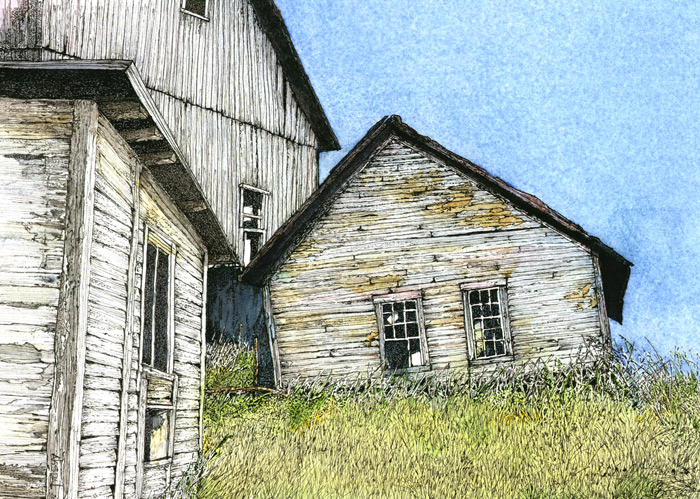 Harald Aksdal: Landscape Portraits and Other Things
November 27-December 30, 2016
Opening reception: Sunday, November 27, 1:30-3:30PM
Harald Aksdal's philosophy regarding his art: "I first remember really seeing a tree when I was eight or nine years old. The need to draw it was so strong I can still see the deep texture of the bark and the seemingly endless crisscrossing branches and twigs. Through detailed landscapes, I attempt to demonstrate my admiration for our natural world. Each piece begins with an on location sketch and is then completed in my studio, where I try to move beyond my architect's critical eye to incorporate touches of the abstract in an effort to convey a sense of presence and substance." Aksdal also says, "Each blade of grass is an individual and is to be treated with respect as any individual deserves."
(text adapted from the venue's press materials)
Image
Portrait of a Barn
by Harald Aksdal
watercolor and pen and ink
2016
Courtesy of the artist and Emile A. Gruppe Gallery, Jericho
---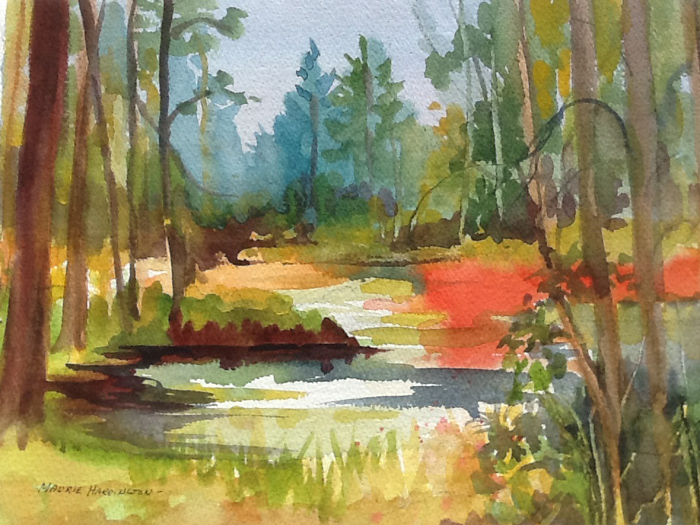 Group of Three:
Barbara Greene, Susan Larkin, and Maurie Harrington
October 20-November 20, 2016
Artist reception & talk: Sunday, October 30, 2-4PM, with live music by guitarist Jack Harrington
"Group of Three" features the plein air oil paintings of Barbara Greene and Susan Larkin and the watercolor paintings of Maurie Harrington. The group often paints together out of doors, each interpreting the same landscape in their style.
(text adapted from the venue's press materials)
Image:
Mud Flats
by Maurie Harrington
watercolor
Courtesy of the artist and Emile A. Gruppe Gallery, Jericho
---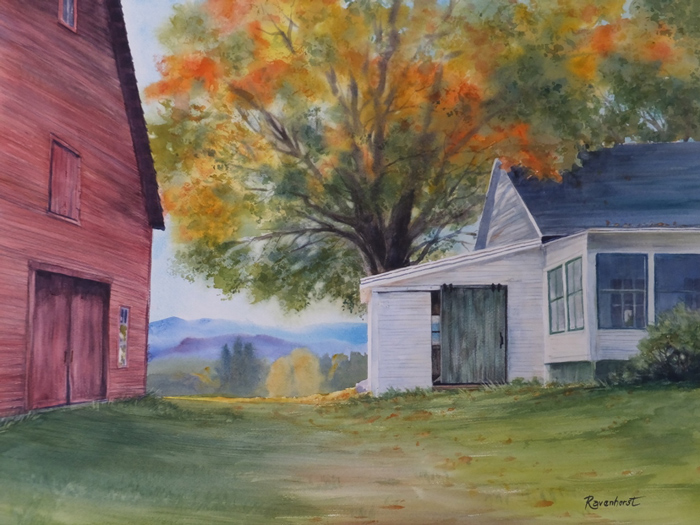 Kathrena Ravenhorst-Adams: "An Artist's Window on Nature"
September 8-October 16, 2016
"I wish through my art to celebrate the wonder and beauty of nature, to call attention to its intricate details, infinite variety, power and fragility. My expression of nature through art reflects the joy and peace and beauty of the natural world and my concern for it under the hand of humankind. It is my hope that through my art others may gain a similar appreciation for all of creation and realize and accept their responsibility for the care and protection of it."
Kathrena Ravenhorst-Adams is a fine artist residing in Northfield. She received her BA from Mary Baldwin College, and later studied watercolor under the late Mitsue Elston in Aberdeen, Maryland, and was an active member of the Harford Artists Association.
After moving to Vermont, she earned a Master of Arts in Art and Natural History through The Graduate Program at Vermont College of Norwich University, during this time spending many hours wandering the fields and woods, painting and drawing from nature, teaching classes in watercolor painting, nature drawing, pen and ink sketching and exhibiting in various shows.
(text adapted from the venue's press materials)
Image:
Vermont Homestead
by Kathrena Ravenhorst-Adams
watercolor
Courtesy of the artist and Emile A. Gruppe Gallery, Jericho