On Friday, November 3rd, Brattleboro and Burlington's art venues stay open late to welcome art lovers as part of monthly art celebrations.
---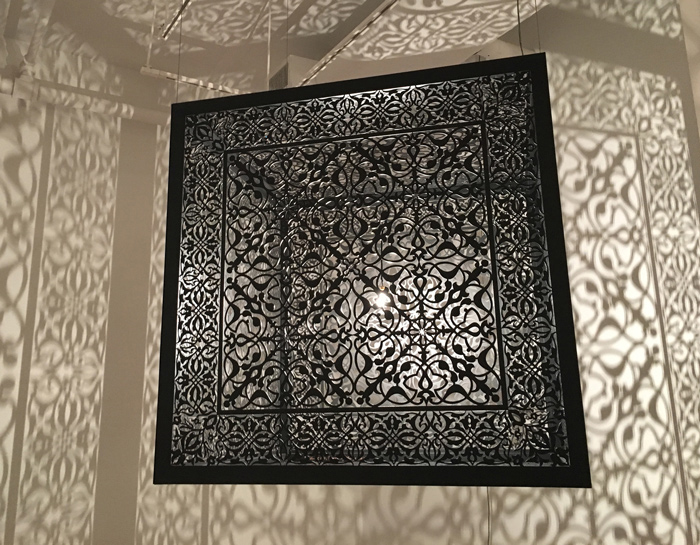 BRATTLEBORO
Gallery Walk
5:30-8:30PM
Brattleboro's monthly First Friday celebration of the arts offers 30 to 40 exhibit openings at galleries, eateries, and other venues in the downtown and a few satellite locations nearby. Many offer meet-the-artist receptions, some with refreshments, and a few present live music. Visit the Walk website for a map and complete listings with examples of the art on display as well as feature articles for the month; a printed version of the Walk guide is available at all venues, a number of other downtown locations, the I-91 Welcome Center, and many local lodging options. Official Walk hours are 5:30 to 8:30, but many venues are open earlier, and a few remain open later. Most exhibits run all month long; see listings for more details and venue contact information.
Vermont Artisan Designs features new acrylics by Marc Winnat and oil paintings by Michael MacTavish. At the Brattleboro Museum and Art Center, see "Touchstones, Totems, & Talismans: Animals in Contemporary Art", featuring prints by Andy Warhol alongside paintings, prints, drawings, and sculpture by Walton Ford, Bharti Kher, Colleen Kiely, Stephen Petegorsky, Shelley Reed, Jane Rosen, Michal Rovner, and Rick Shaefer. Anila Quayyum Agha's sculpture and light installation, Shimmering Mirage (image), "cover(s) and beautify(s) all within it, and suggesting the underlying orderliness of the cosmos revealed through the purity and symmetry of geometric design." Jane O'Beirne's The Scarf is a new work funded in part by a grant from the Vermont Community Foundation's Vermont Arts Endowment Fund, comprised of photographs, video, and a giant scarf fashioned out of bright orange industrial extension cords. "In-Sight Exposed" marks the 25th anniversary of Brattleboro's In-Sight Photography Project.
Gallery Walk WEBSITE
---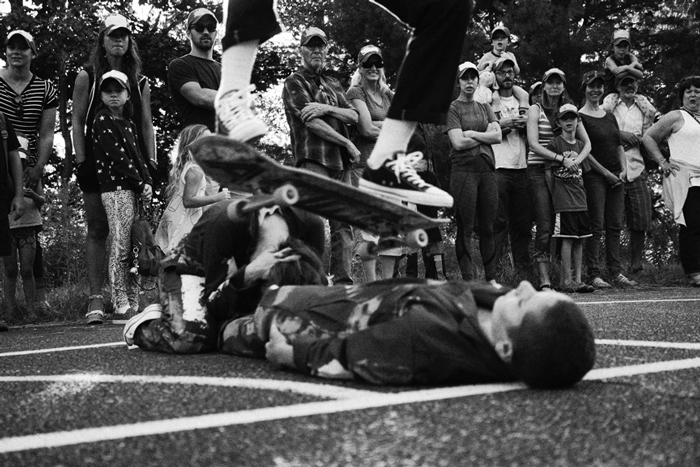 BURLINGTON
First Friday Art
5-8PM
First Friday Art is a monthly, community-wide event where dozens of art venues across Burlington host openings, exhibitions, and happenings. The event is free and open to anyone. Most venues are open from 5-8PM, but some are open earlier or later. Art Map Burlington is the official guide to First Friday Art, pick up your copy around town.
During First Friday Art, Sleeping Babies/Social Sculptures (image), a multimedia skate-based installation directed by Erika Senft Miller is presented in collaboration with Maven Skateshop at 128 Church Street, with music by Matt LaRocca & Graham Fisk, videos by Micah Dudash & Jon Portman, photography by Corey Hendrickson, Blotto, and many others. Special edition zines by Michael Jager and Solidarity of Unbridled Labor; t-shirts, hats, skateboard decks and more by Clark Derbes.
On Burlington's Waterfront, Art's Alive opens two shows (curated by SEABA). At the Art's Alive Gallery at Main Street Landing (Union Station, 1 Main Street) meet the artists of the Vermont Watercolor Society's Burlington Hub at the opening of their exhibition, "Boundaries". Over at the Gallery at Main Street Landing (60 Lake Street, Suite 2E), the Vermont Comic Creators Group opens a 2-month exhibition. The VCCG, a coalition of over 100 comic creators, is dedicated to the promotion and support of the VT comics scene, grassroots education and the comics medium in general.
Find out what else is going on during Burlington's First Friday Art at Art Map Burlington's WEBSITE.
---
Get your copy of Vermont Art Guide to get information on all the monthly art events in Vermont plus 138 other places to see art this winter. DETAILS