On Friday, May 4, Brattleboro, Montpelier, White River Junction, Rutland and Burlington's art venues stay open late to welcome art lovers as part of monthly art celebrations.
---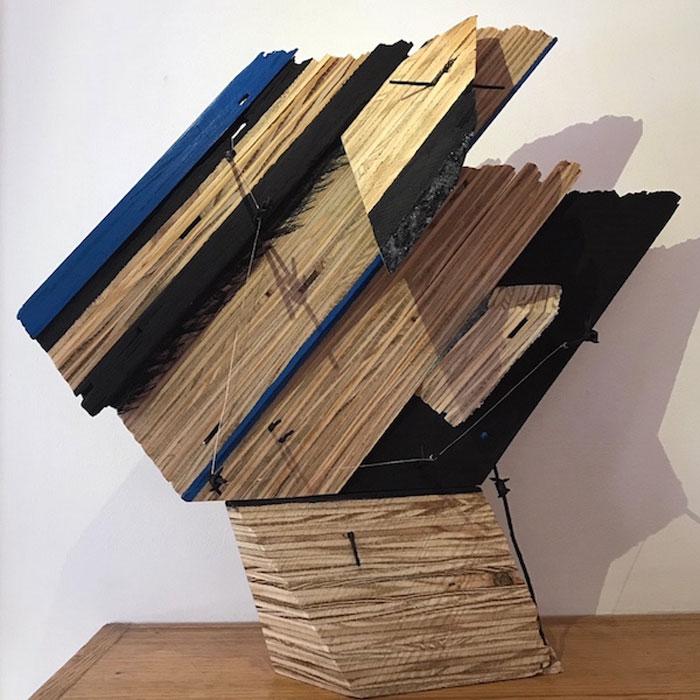 MONTPELIER
Art Walk
4-8PM
Downtown Montpelier showcases work by Central Vermont artists at over 20 venues. Pick up a guide book at any of the participating venues. Montpelier Alive produces the Montpelier Art Walk.
The T.W. Wood Gallery presents "Master of Watercolor", featuring the works of Works Progress Administration (WPA) artist Ronald Slayton (1910-1992). The exhibition highlights two watercolor murals The Last Supper (1985) and The Hunger Dream (1985). During the celebratory opening reception, the gallery will host a panel discussion at 6PM with Bobby Gosh, Tom Slayton and Philip Robertson.
The Vermont Arts Council, in partnership with Kasini House, presents "Artists to Watch, Part II," the second half of a survey of contemporary Vermont art in two exhibitions and in print. An opening reception and meet and greet with the editor of Vermont Art Guide, Ric Kasini Kadour, takes place 4:30-6PM, at the Vermont Art's Council's Spotlight Gallery. Artists featured include Robert Gold (Burlington), August Burns (Middlesex), Jean Cherouny (South Burlington), Caroline Tavelli-Abar (Rochester), Sam Talbot-Kelly (Montpelier), Vanessa Compton (Greensboro), Hannah Morris (Barre) (image: Subirdia (16″x24″; gouache, paper, glue, and varnish on wooden board; 2017)), Angelo Arnold (Montpelier), Erika Senft Miller (Colchester), Renee Greenlee (Burlington), and Rose Umerlik (Jeffersonville).
Mary Admasian was selected as the Guest Artist for The Front's "Show 25". Admasian will be exhibiting selected works from her latest collection "Marked", consisting of small wall and standing sculptures are made with layered plywood, wire, rusted metal, paint and graphite. This work will be shown alongside work with 17 other Vermont artists. Meet Mary Admasian and the other artists of "Show 25" during the opening reception, 4-8PM. (image: No Sanctuary by Mary Admasian)
Learn more about the Art Walk and the 28 venues open for visitors at Montpelier Alive's Art Walk WEBSITE.
---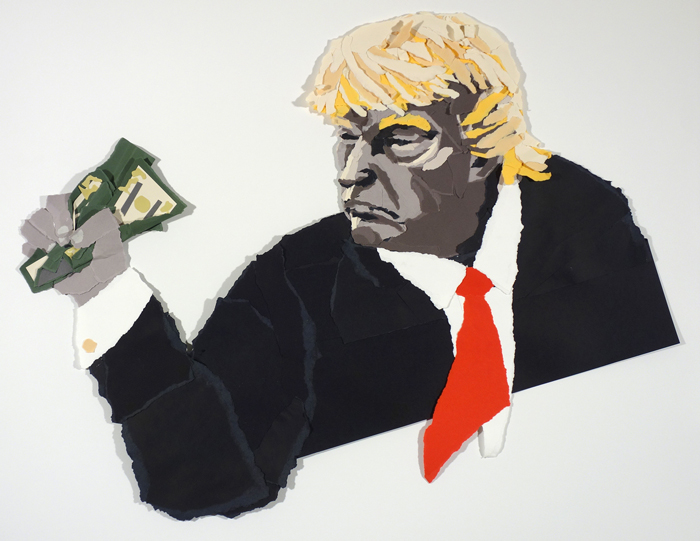 BRATTLEBORO
Gallery Walk
5:30-8:30PM
Brattleboro's monthly First Friday celebration of the arts offers 30 to 40 exhibit openings at galleries, eateries, and other venues in the downtown and a few satellite locations nearby. Many offer meet-the-artist receptions, some with refreshments, and a few present live music. Visit the Walk website for a map and complete listings with examples of the art on display as well as feature articles for the month; a printed version of the Walk guide is available at all venues, a number of other downtown locations, the I-91 Welcome Center, and many local lodging options. Official Walk hours are 5:30 to 8:30, but many venues are open earlier, and a few remain open later. Most exhibits run all month long; see listings for more details and venue contact information.
"Raised Voices: Local Artists Resist!" opens at the Gallery at the River Garden, 5:30-8PM. The exhibit features the work of 38 area artists who responded to an open call to stand up and express their hopes, their outrage, their vision in the face of the current political climate in our country today. All the work on display is for sale with either 50% or 100% of proceeds going to three organizations: the American Civil Liberties Union of Vermont, Planned Parenthood of Northern New England, and the Vermont Worker's Center. (image by Barbara Milot)
The Brattleboro Museum & Art Center welcomes you its continuing exhbitions: "3D Color" is Gloria Garfinkel's interactive sculptural installation. "100 Views Along the Road" is selections from Albert Leslie's black-and-white watercolors of American scenes. "Hereandafter" is Susan von Glahn Calabria's paintings in gouache on paper. "Bottle in the River" presents Richard Klein's glass sculptures. "We Walk in Their Shadows" is Gowri Savoor's meditation on the processes of migration and belonging. "Best of 'Springs, Sprockets & Pulleys'" is Steve Gerberich's show of blinking, whirling, humming, buzzing sculptures.
Gallery Walk WEBSITE
---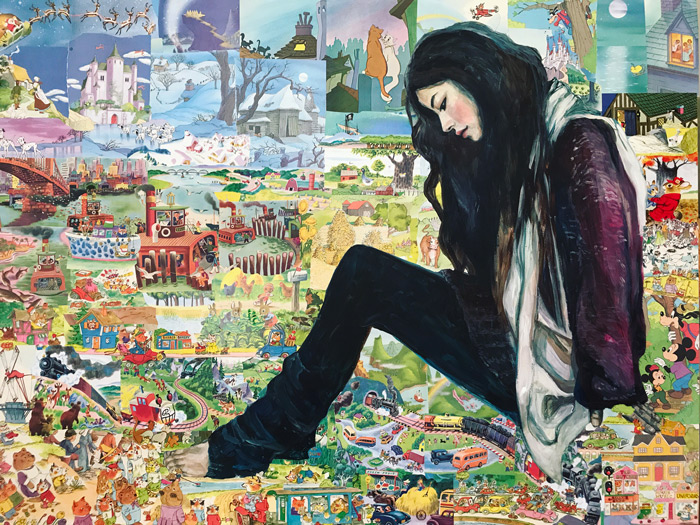 BURLINGTON
First Friday Art
5-8PM
First Friday Art is a monthly, community-wide event where dozens of art venues across Burlington host openings, exhibitions, and happenings. The event is free and open to anyone. Most venues are open from 5-8PM, but some are open earlier or later. Art Map Burlington is the official guide to First Friday Art, pick up your copy around town.
At the BCA Center, "Vox Populi" captures the character and inner psyche of people through contemporary portraiture with work by Vermont artists Catherine Hall, Misoo Filan, Harlan Mack, Nathaniel Moody, Ross Sheehan, and Susan Wilson. "From Across the Distance: Select Video Works from the Barjeel Art Foundation" features the work of London-based Palestinian artist Larissa Sansour, Iraqi-Finnish artist Adel Abidin, and Jordanian-born artist Lawrence Abu Hamdan. (image: The Giant Asian Girls #4 by Misoo Filan (36″x48″; acrylic paint and collage on panel; 2017))
At The Gallery at Main Street Landing (60 Lake Street, Suite 2-E), curated by SEABA, is the opening for Tatiana E. Zelazo's "UnderCurrent" show of paintings & photographs, including work from the series "HomeComing" (military family), "BlindSpot" (bipolar illness), "RoughCut" (women's choice & reproductive health), and "Fish" (just keep swimming…).
Find out what else is going on during Burlington's First Friday Art at Art Map Burlington's WEBSITE.
---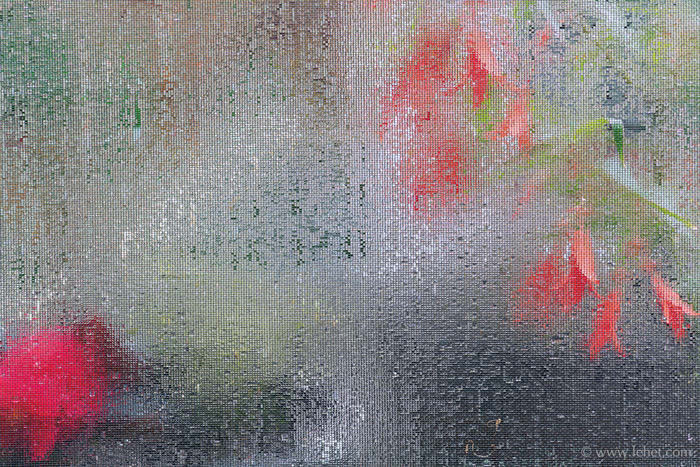 White River Junction
First Friday
5:30-8PM
First Fridays are a regular, ongoing series of events each month in White River Junction. Musical events happen all over town, most starting at 5:30. Many galleries and art venues are open as well, including Lampscapes, Zollikoffer Gallery at the Hotel Coolidge, Northern Stage, the Main Street Museum, Steven Thomas, Inc., and many more along South Main Street and Gates Street.
The Tip Top Media Building at 85 North Main Street has a dozen artist studios and venues. On First Friday, Two Rivers Printmaking Studio opens "Momenta IV", a juried exhibition of prints created within the last twelve months, open to artists working in Massachusetts, New Hampshire and Vermont. The juror was artist and master printmaker, James Stroud of the Center Street Studio in Cambridge, Massachusetts.
The Long River Gallery & Gifts at 49 South Main Street hosts "Photography from Near & Far" by Hartland photographer John Lehet. The works capture the essence of Vermont and New Hampshire, and places further flung like Chicago and Iceland. Their musical guests for the evening are Meadowlark (with Bonnie and Howard), 5:30-8PM. (image: Wet Screen, Red and Pink Begonias by John Lehet (courtesy of the artist))
To find out what else is going in White River Junction on First Friday, go to @WRJctFirstFriday on Facebook.
---
Rutland
Spring Art Walk & Tour
5-8PM
Seven art venues stay open for one night. At 6PM, start at the Castleton University Bank Gallery for a guided tour with Oliver Schemm, "The Tour Guide with the Top Hat".
The Alley Gallery hosts a closing reception for Kate Longmaid's "Hear Our Voice" (image). Through a contemporary approach to portraiture, Longmaid explores the rich terrain of individual identity and what is revealed in the intimate moments of seeing and being seen. Working in the alla prima tradition, she works mainly from life, seeking to capture a sense of immediacy, freshness, and depth in her portraits. From the privileged position of witnessing the other, she seeks to convey the unique presence of each subject as well as our shared humanity.
"MASS/MATTER", a show of work by former artists-in-residence at MASS MoCA, is on view at 77 Gallery. The gallery, says, "Artist Residency programs bring artists into dialog.They present new experiences that inform the artist's work. They facilitate an exchange between visiting artists and the community and allow for a discourse of working ideologies. They give artists the time and space to reflect and develop new work."
Other venues open for the evening are the RUVT Gallery (formerly the Opera House Gallery), showing Bill Ramage's Rutland Ideal City drawing installation; the Castleton University Bank Gallery, hosting an open reception for "Hold Me, Pet Me, I'm Crying About Something" by Nina Dubois; the TimCo Art Gallery with work by Rutland area artists; Rutland City Hall showing work by Mareva Millarc; and the Chaffee Art Center with the 2018 Student Art Show.
Keep up to date with the Rutland Spring Art Walk & Tour by visiting the event's Facebook page.
---
Get your copy of Vermont Art Guide to get information about Vermont's art scene plus 138 other places to see art this winter. DETAILS