On Friday, November 2nd, art venues in Burlington and Brattleboro stay open late to welcome art lovers as part of monthly art celebrations.
BURLINGTON
First Friday Art
5-8PM
First Friday Art is a monthly, community-wide event where dozens of art venues across Burlington host openings, exhibitions, and happenings. The event is free and open to anyone. Most venues are open from 5-8PM, but some are open earlier or later. Art Map Burlington is the official guide to First Friday Art, pick up your copy around town.
Burlington City Arts presents two installations at the BCA Center: Tectonic Industries: Dreams Can Come True (If It's Not Working For You, You're Not Doing It Right) creates an installation of instructional videos, surveys, and interactive activities that explore the impossibility of our collective, endless endeavor for self-improvement. In BCA's second installment of Project Vermont, Pauline Jennings debuts Becoming Human, a three-channel video and sound installation seeking to identify and dissolve barriers between human and wild in the age of the Anthropocene. Burlington artist Brendan Bush opens a solo show of paintings at the Magic Hat Artifactory in South Burlington. Bush's paintings convey and examine his discomfort "with the fundamental dualities of freedom and confinement, of acceptance and rejection, of clarity and confusion, of anger and exaltation." (image: Another Morning by Brendan Bush)
---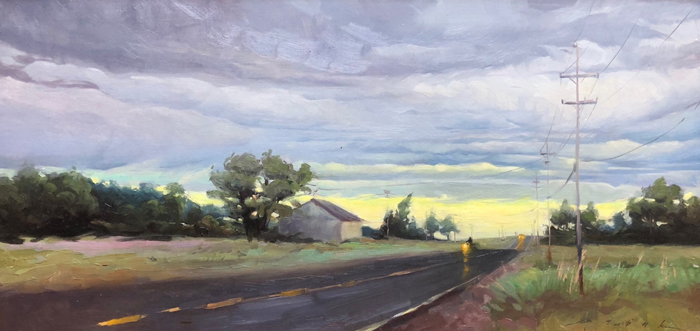 BRATTLEBORO
Gallery Walk
5:30-8:30PM
Brattleboro's monthly first-Friday celebration of the arts offers 30 to 40 exhibit openings at galleries, eateries, and other venues in the downtown and a few satellite locations nearby. Many offer meet-the-artist receptions, some with refreshments, and a few present live music. Visit the Walk website for a map and complete listings with examples of the art on display as well as feature articles for the month; a printed version of the Walk guide is available at all venues, a number of other downtown locations, the I-91 Welcome Center, and many local lodging options. Official Walk hours are 5:30 to 8:30, but many venues are open earlier, and a few remain open later. Most exhibits run all month long; see listings for more details and venue contact information.
Painters Will Moses, Olena Babak, and Andre Lucero are the featured artists at Vermont Artisan Designs. The Brattleboro Museum & Art Center welcomes Gallery Walkers with five exhibitions, as well as the last chance to view Angelo Arnold's installation, Displaced, on the grounds of the museum. "Heaven, Earth, Home" is by sculptor Elizabeth Turk, who uses diamond-tipped pneumatic and electric grinders to reshape solid marble blocks, sometimes weighing hundreds of pounds, into "refined objects characterized by dynamic surface movement or astonishing delicacy," writes curator Mara Williams. (image: Storm Clouds by Olena Babak. Courtesy of Vermont Artisan Designs)
---
Get your copy of Vermont Art Guide to get information on all the monthly art events in Vermont plus more than 100 places to see art this fall. DETAILS