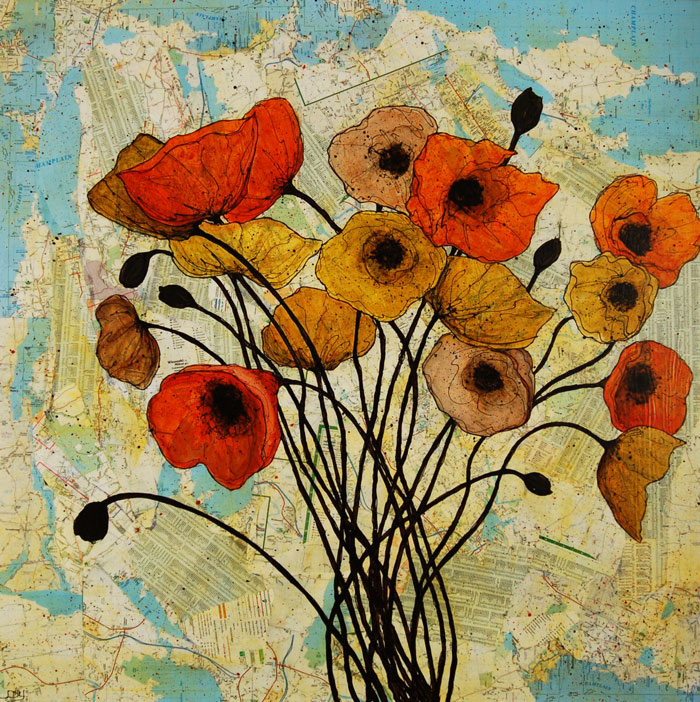 FROM VERMONT ART GUIDE #5
Johanne Durocher Yordan's Mobile Gallery
When the 14 artists of Brickworks Art Studios in Burlington's South End Arts District were evicted earlier this year, there was a scramble to find new studio space. Burlington artist Johanne Durocher Yordan moved back to her home studio, but to get the work in front of the public, she created a Mobile Gallery. The Mobile Gallery is a trailer with two doors, lights and a canopy that visitors may enter and browse Yordan's artwork. During Burlington's First Friday Art between July and October of this year, find Yordan parked in front of the Farrell Vending building at 405 Pine Street (near the driveway to 377 Pine Street), as well as at other art events during the season and by appointment. She said, "I have decided after being knocked down that I was getting up and fighting harder than ever for what I believe in, creating Art…No longer do I want to be bound by a landlord who could decide at anytime that they had other plans for the space. The possibilities are endless."
Each issue of Vermont Art Guide has over a hundred places to see art around the state. The full-color, printed magazine has artist and venue profiles as well as articles and news about Vermont Art. Our goal is to document and share the state's incredible art scene.
ORDER YOUR COPY OF VERMONT ART GUIDE TODAY!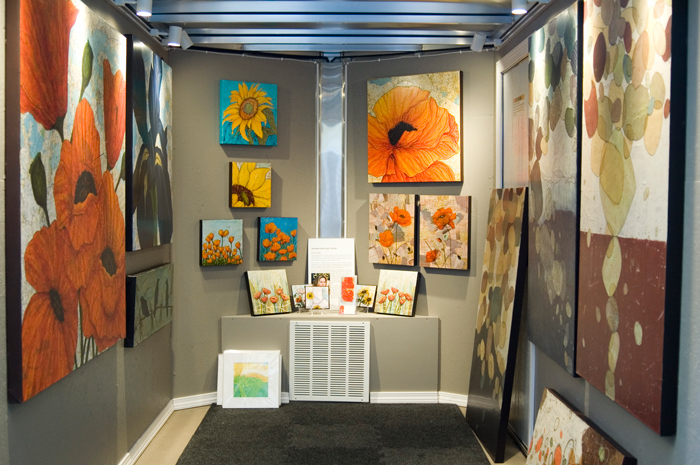 Since 2001, Johanne Durocher Yordan has presented her work extensively in Vermont. She has exhibited in Burlington's South End Art Hop eight times since 2001, including the juried show in 2013. She was also juried into Burlington's Art's Alive Festival of Fine Arts in 2007 and 2013. Solo exhibitions include Vermont National Country Club (South Burlington, 2006); the SEABA Gallery (Burlington, 2012 and 2014); and VCAM/RETN Art Space (Burlington, 2013). Group exhibitions include shows at the West Branch Gallery & Sculpture Park (Stowe, 2016); Burlington City Arts' Vermont Metro Gallery (2014 and 2016); Axel's Gallery & Frame Shop (Waterbury, 2015); UVM Medical Center (Burlington, 2013 and 2014); Burlington International Airport (2014); Vermont Institute of Contemporary Arts (Chester, 2012, 2013, 2014); Chaffee Art Center (Rutland, 2013); and the BCA Center (Burlington, 2012-2013).
SPECIAL NOTE: Vermont Art Guide is a quarterly, printed magazine about contemporary art in Vermont. We have three goals: 1) To connect the entire state's art community by sharing information about exhibitions and events. 2) To present a picture of Vermont art and art in Vermont, to tell our story. 3) To build an audience for Vermont art inside the state and out. We hope you will join us by subscribing to the print edition today!
ABOUT VERMONT ART GUIDE #5
GET A COPY | SUBSCRIBE
Images (top to bottom):
Destination Unknown
by Johanne Durocher Yordan
40″x40″
mixed media
2016
Display view of Johanne Durocher Yordan's Mobile Gallery, courtesy of the artist