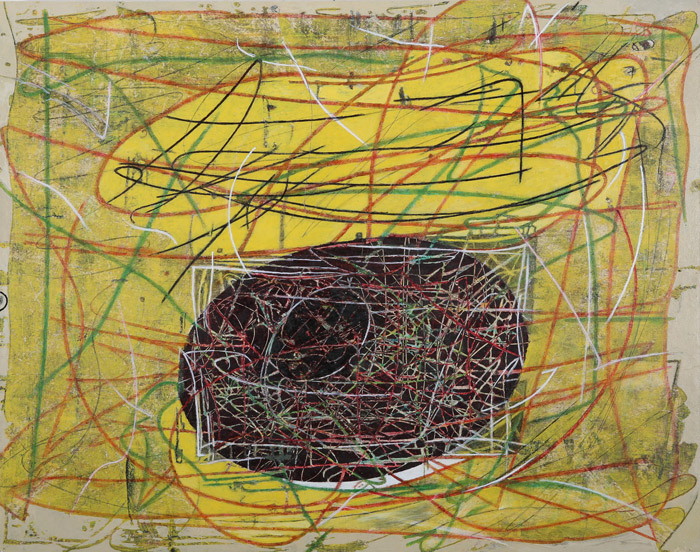 Gatherum of Quiddities: Paintings by Pat Adams
April 1-June 18, 2017
Pat Adams (b. 1929) has been creating rich, lovingly wrought abstract paintings for well over six decades. "Gatherum of Quiddities" presents a selection of twenty-nine works surveying her entire career. Championed for decades by notable critics, collectors, and her New York gallerist Virginia Zabriskie, Adams has always been guided by an inner vision. With sumptuous colors and richly encrusted surfaces built up with stone dust, crushed eggshells, and mica, Adams seeks to bring from the "gatherum of quiddities"–that stew of unnamable visual and emotional qualities of the world–a visual situation intended to generate both intense engagement and quiet contemplation in the viewer.
Growing up in Stockton, California, during the Depression-dogged 1930s, Adams was first exposed to art through the WPA Artists-in-Schools program and its affiliation with the city's Haggin Museum. When she was 12, the gift of a professional paint set from her grandmother encouraged her growing interest in the visual world. As an art student at the University of California at Berkeley from 1945 to 1949, she began to explore the connections between the abstract qualities of art and new discoveries in the fields of anthropology, paleontology, psychology, and physics. After moving to New York City in 1950, Adams took a "materials and techniques" course at the Brooklyn Museum Art School from artist Charles Seide, who introduced her to a new, unique binder, isobutyl methacrylate. He impressed upon her that paint consisted of two factors: pigment and binder. An engagement with the material of paint itself, coupled with the proto-formalism of her Berkeley education–the focus on the intrinsic nature of formal elements of visual art—became primary concepts within the direction of her work.
Adams' small-scale work of the 1950s and 1960s revealed a "refined, sophisticated approach to mark-making and composition," states Jamie Franklin, Curator of the Bennington Museum. He describes these early works as an "intimist's Abstract Expressionism," drawing as much inspiration from the dense patterning of the medieval Book of Kells as from the allover painting of Jackson Pollock. These works initiated a distinctive, independent course through the postwar era which was dominated by a succession of style–Abstract Expressionism, Color Field, and Minimalism. In 1964, Paul Feeley invited Adams to join his venturesome mix of artists at Bennington College. In her new, larger studio on campus, Adams expanded forms from her earlier paintings. Shapes became more spare and hard-edged, and organic and geometric features were explored anew in these shifts of scale. In the 1970s, Adams turned to more diaphanous forms, with complex, layered surfaces and elemental ur form–circles, squares, ovals–floating in indistinct space. In the 2000s, her art took a new direction, with agitated swirling scribbles augmented with brighter and purer colors.
"What to paint?" is an overriding concern for the abstract painter. "Gatherum of Quiddities" refers to particulars in the visual and emotional world which catch the artist's eye and stir her mind, and from which she draws substance for her imaginative proposals.
A fully illustrated catalogue, Gatherum of Quiddities: Paintings by Pat Adams, is available from the Bennington Museum Store as of mid-May.
(text adapted from the museum's press materials)
---
INFORMATION
Bennington Museum
75 Main Street
Bennington 05201
(802) 447-1571
Hours (June-October):
Daily, 10AM-5PM
Hours (November-May):
Thursday-Tuesday, 10AM-5PM
Image:
That is to Say
by Pat Adams
19″x24″
oil, isobutyl methacrylate, pencil, and crayon on paper, mounted on wood
2010
Courtesy of the Artist