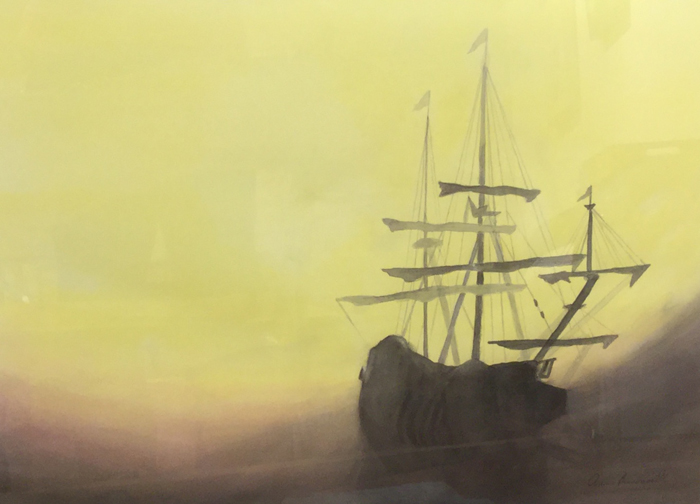 ART ON VIEW
Featured Artists for August
at the Milton Art Center & Gallery in Milton
August 2018
Artist reception: Thursday, August 9, 4-6PM, with young artists who participated in the Community Promise Mural Project at Bombardier Park and live music by folk and contemporary artist Jim Brtalik
The Milton Art Center & Gallery's featured August artists are photographer Jessica Remmey and painter Ann Bissonnette.
Ann Bissonnette had the good fortune to have a high school art teacher who opened the door to art for her and said, "Come on in." By her senior year, she had been teaching junior high art for two years and, as an art major, had been introduced to countless art projects that ranged from painting to weaving to pottery to papier mache. Bissonnette chose to go into professional recreation, with art being an integral part of what she did. As a young adult, when she couldn't afford to furnish her house with art that she loved, she decided to make her own. She had been painting in acrylics then but longed to learn more about watercolor and finally took a course with Kathy Berry Bergeron, who constantly encouraged her to offer her paintings for sale. Since then, she has been trying this, trying that, doing it over, trying it again. And it never grows old. Sometimes she returns to work in acrylics, sometimes in pottery, and then, back to watercolor.
Jessica Remmey is a self-taught photographer who looks for beauty in ordinary settings. Her photography style evokes serenity and healing. A Vermonter, Jessica was raised in Milton and now lives in the Champlain Islands. Photos have always played a large part in her life. Following her parents' example of having a camera available makes it possible to document travel, outings, and the small moments of daily life. Many of her most memorable photos are captured by chance; having the camera available and coming upon the perfect scene. Remmey hopes to convey to others appreciation of the natural beauty that surrounds us. Remmey's primary subject began with Vermont landscapes. Her photos have been on display at Northwest Medical Center, Milton Public Library, Apollo Diner, Uncommon Grounds, Mirabelles, The Daily Planet, the Champlain Valley Fair, U.S. Attorney's Office, the Village Cup, NBT Bank, Pine Street Deli, Matthew Little Law Office, Merchant's Bank, Georgia Public Library, and Union Station. She is also a cover artist for the Islander newspaper.
On June 23rd, Jon Young, a Milton Artists' Guild member and muralist, led the Promise Community project creating large outlined, paint-by-number-style colorful images to be painted on each dugout in Bombardier Park. Younger artists created their designs on canvases which are on exhibit at the Milton Art Center & Gallery in August. This project was made possible with funding from Milton Promise Community.
---
INFORMATION
Milton Art Center & Gallery
199 US 7 North
Milton 05468
Hours:
Wednesday-Saturday, 11AM-6PM
Sunday, 11AM-3PM
Image:
Ghost Ship
by Ann Bissonnette