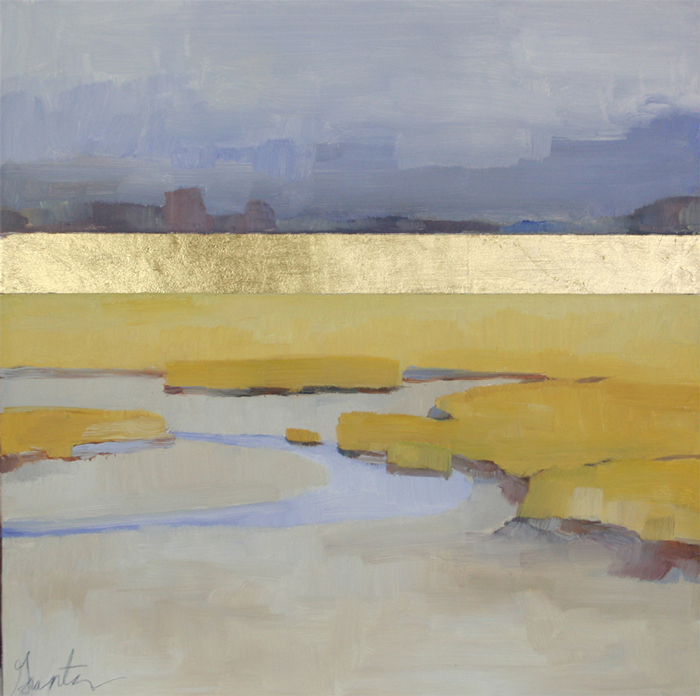 ART ON VIEW
High Tide: Ellen Granter
at Edgewater Gallery at the Falls in Middlebury
August 2018
Opening reception: Friday, August 20, 5-7PM
Ellen Granter's new work migrates from the subject of birds to the environments they inhabit. Her paintings of coastal wetlands offer a tranquil escape into an endless horizon where the water meets the land fading into sky.
Granter's work strives to capture the essence of her subject matter with plenty of space for emotional undercurrents and trascendental moments. The artist states "I get inspiration from the changing colors, patterns, and atmosphere of the landscape around me. In each painting I am searching for an elegant balance of sparse compositions over large fields of luminous color."
Granter currently lives in Brookline, Massachusetts, and grew up outside of Rochester, New York. In 1984, she received a BA from the University of Vermont and then went on to study Chinese in Hong Kong, Beijing, and Middlebury College, returning to UVM to finish her Chinese studies, where she earned a MA in Chinese History in 1988. Granter's preference for minimalism and flat perspective are inspired by traditional Chinese art.
---
INFORMATION
Edgewater Gallery at Middlebury Falls
1 Mill Street
Middlebury 05753
(802) 458-0098
Hours:
Tuesday-Saturday, 10AM-5PM
Sunday, 11AM-4PM
Image:
Gold Ocean No. 6
by Ellen Granter
12″x12″
oil on panel
Courtesy of the artist and Edgewater Gallery, Middlebury