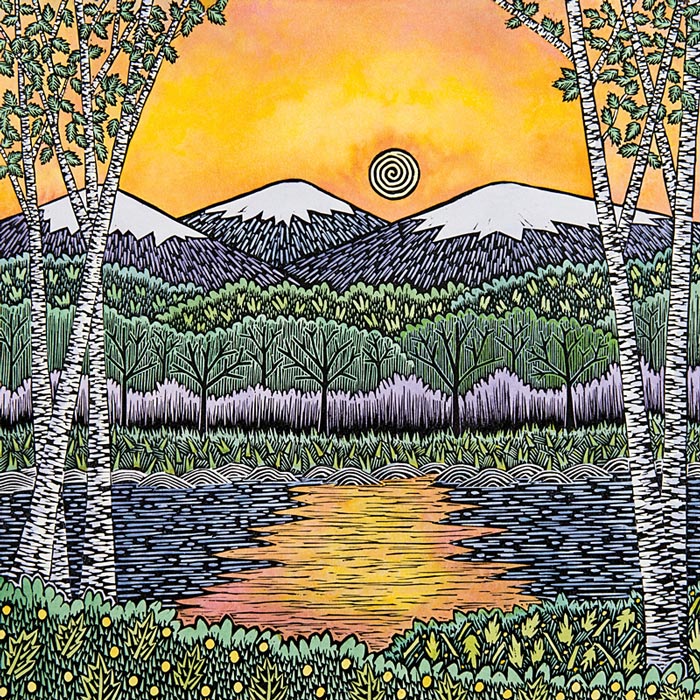 ART ON VIEW
Impressions: Block Prints by Daryl V. Storrs
at Edgewater Gallery at the Falls in Middlebury
May 2018
"Impressions" is a new collection of prints by Vermont woodcut and linocut artist Daryl V. Storrs.
Storrs' block prints are the results of drawings and pastels that the artist has made while observing the landscape of Vermont. She seeks to capture a sense of place in her work as well as emphasizing the layers and dimensions of the natural vistas she experiences everyday. The artist's use of rich and vibrant color combined with the stylized interpretations of her surroundings convey the affection she feels for the land and the energy she derives from it.
About the work, Daryl Storrs writes:
"This collection of prints is a reflection of my travels and time in Vermont looking through the lens of color woodcuts and linocuts. I often use pastel drawings, which I've painted outside, as the basis for the block prints. Each image takes time to plan and may go through many permutations before completion. Unanticipated results are part of the process and I try to embrace 'mistakes'. A separate wood or linoleum block is cut for each color and if well planned, two to three colors may be arranged on the same block. Each of the blocks is printed in succession on one piece of Japanese paper to create the finished print. I am able to make multiples but each print is individually hand made and slightly different from the next. From backyard vignettes to views of Camel's Hump, I hope to create a fresh vision which reflects the surrounding Vermont landscape."
Storrs has been a printmaker for 35 years. Her development as an artist was enriched by working with Middlebury College's David Bumbeck and Sabra Field, a well-known Vermont woodcut artist. She holds a Masters in Printmaking from University of Massachusetts at Amherst. Daryl Storrs lives and works in Huntington. Her block prints are created in a renovated barn that serves as her studio.
INFORMATION
Edgewater Gallery at Middlebury Falls
1 Mill Street
Middlebury 05753
(802) 458-0098
Hours:
Wednesday-Saturday, 10AM-5PM
Sunday, 11AM-4PM
Image:
Stitched in Fiction II
by Daryl V. Storrs
12″x12″
hand-painted linocut
Courtesy of the artist and Edgewater Gallery, Middlebury