Located on the lower level of Town Hall Theater, this gallery has regular exhibitions of Vermont artists.
Jackson Gallery at Town Hall Theater
lower level
68 South Pleasant Street
Middlebury 05753
(802) 382-9222
Hours:
Monday-Saturday, Noon-5PM
and an hour before any public events in the building
---
ART ON VIEW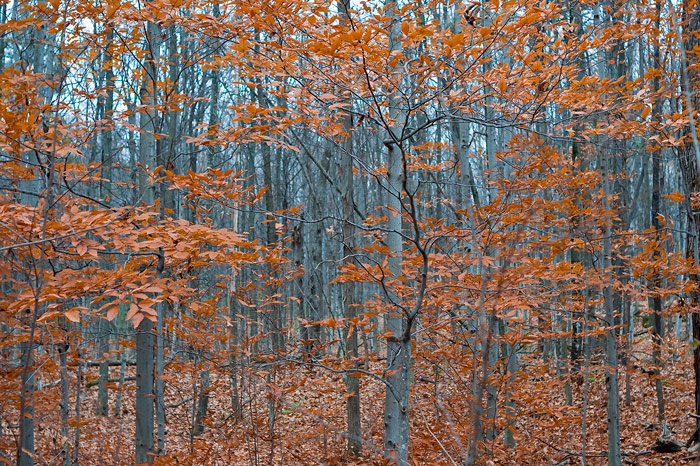 Eric Nelson:
Photographs of Vermont Landscapes & Patterns in Nature
March 29-May 5, 2019
Opening reception: Friday, March 29, 5-7PM
Middlebury artist Eric Nelson's exhibition of color photographs features images whose common themes are pattern, rhythm, and the interaction of color and light in nature. His sources are landscapes, large and small, that include trees, plants, bodies of water, and geological formations. The images range from bold compositions of delicate flowers in close-up view to intricately patterned scenes of the forest and its floor, capturing the texture and subtle tones in each.
Nelson states, "I am particularly focused on revealing the record of growth, competition for survival, and decay and regeneration found everywhere in nature. For me photographs almost always uncover details, hidden objects, and alignments that are not noticed at the outset but become, through processing and acceptance, an essential part of making and viewing photographs. These unanticipated aspects of producing a photograph give my images an element of surprise that enhances every intentional characteristic that I have for them."
Nelson also works in the mediums of wood and watercolor. Retired from Middlebury College, he taught sculpture and drawing there for thirty-three years. Most recently he exhibited at the Henry Sheldon Museum in Middlebury in a group photography show, the Courthouse Gallery in Lake George, New York in a one-person sculpture show and the Fleming Museum of the University of Vermont in a group sculpture show. Other exhibitions of his sculpture have been installed in public sculpture parks at James Madison University in Harrisonburg, Virginia, Navy Pier in Chicago, and the DeCordova Museum and Sculpture Park in Lincoln, Massachusetts. He has been a visiting artist at the Edinburgh College of Art in Edinburgh, Scotland, the School of the Museum of Fine Arts in Boston, Trinity College in Hartford, Connecticut, and the Vermont Studio Center in Johnson. Nelson has been awarded several residencies and has received awards and fellowships including two from the Vermont Council on the Arts.
(text adapted from the gallery's press materials)
Image: Beech Trees in Late Autumn by Eric Nelson. Courtesy of the artist.
---
PREVIOUS EXHIBITIONS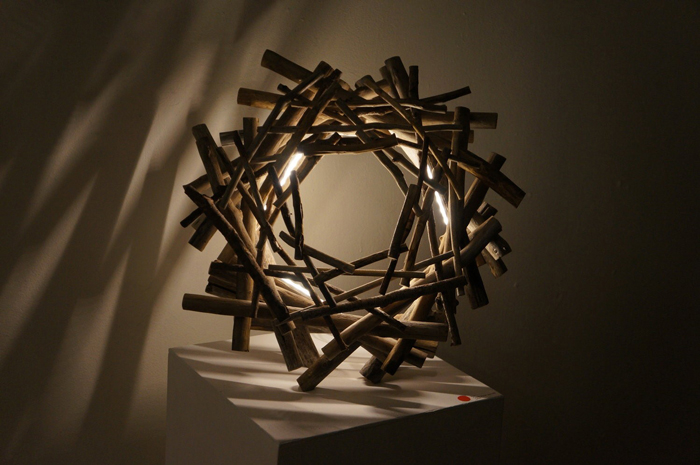 The Light Show
February 15-March 24, 2019
Opening reception: Friday, February 15, 5-7PM
"The Light Show" is an exhibit of unique lamps and lanterns created by Vermont artists. Among the group are Clay Mohrman, Kristian Brevik, York Hill Pottery artisans Elizabeth Saslaw and Susan Kuehnl, and Cindi Duff. The exhibit features artful and surprising choices of design and materials to decorate each source of illumination.
Clay Mohrman of Clay Mohr Lighting creates sculptural lamps out of wood from the forests and shores surrounding Lake Champlain. The Burlington artist uses lighting to connect interior spaces with nature through the combination of LED lighting technology and the found wood. Using geometric form, function and materials, the sculptures exist at the intersection of nature and the built environment. Mohrman designs floor lamps, sconces, table lamps, as well as larger commissioned illuminated sculptures including two public art works completed for Spruce Peak Lodge in Stowe, VT.
Kristian Brevik earned a B.A. in Biological Sciences and Evolutionary Biology and also Sculpture, and is currently a Ph.D. student of Plant and Soil Science. His art is definitely informed by his study of science and nature. Using wood, paper, cloth, bone, and glue, many of his lamps take the form of whales whose skeletal structure is revealed upon illumination. He states that his art "explores the interactions between humans and other-than-humans, by highlighting the commonalities of form shared by ships and whales, by wondering about the ways we shape each other; through domestication, eating each other, and changing each other's experience of the world, increasingly through extinction."
Additional works include table lamps from York Hill Pottery, whose carefully crafted stoneware has been exhibited widely. Each piece of pottery is hand-thrown on an electric wheel by Lincoln artist Elizabeth Saslaw who founded the studio in 1980. Many are hand-decorated by Susan Kuehnl, who has a fine mastery of Oriental brush work. Lamps by Cindi Duff are made of recycled parts using a "retired" musical instrument as the base. Cindi often researches the origins of the instruments she finds, many of which are well-used brass and woodwinds, though one lamp is built around a ukulele. Her creations are surprising and delightful.
(text adapted from the gallery's press materials)
Image: Skye Lamp by Clay Mohrman. Courtesy of the artist.
---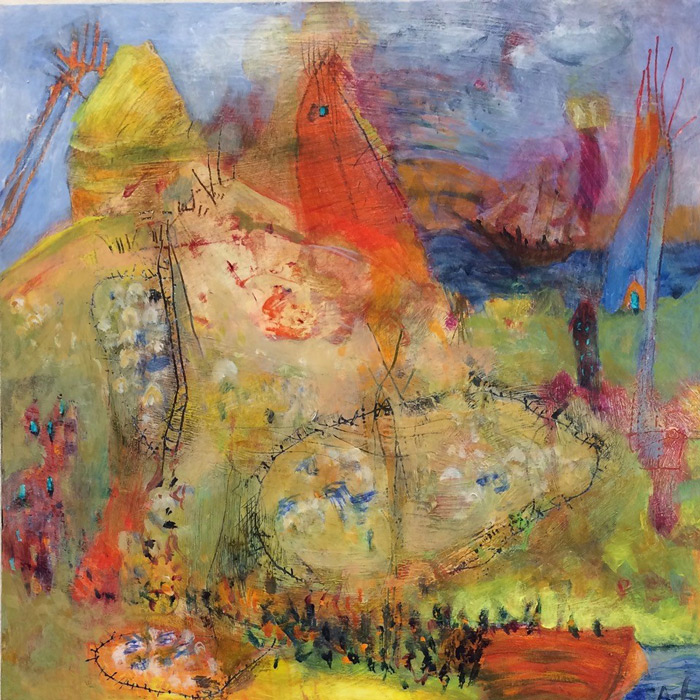 Eleventh Annual Holiday Exhibit
November 16-December 31, 2018
The Jackson Gallery is filled with original, handmade and hand printed art, fine crafts and jewelry. This exhibition features twenty-five regional artists whose work represents a wide variety of media and styles. All have been recognized for their individual approaches to design and image.
Cristine Kossow works in pastel and has exhibited widely, though she has just recently moved to this area. Phoebe Stone exhibits small pastel paintings in her own unique and colorful style and Patricia LeBon Herb shows paintings that reflect her thoughtful approach to image design. Karla Van Vliet brings jewelry along with her fascinating paintings created in layered multiple media. Wood worker Rich Steele returns with his unusual small cabinets. Hope Johnson displays her expertly crafted "bee" quilts along with Deanna Shapiro's fanciful fabric collages.
Karen Lynch brings her delicate pencil drawings. Recent exhibitor Don Perdue displays miniature sculptures representing a variety of his many techniques. Their works join paintings and drawings by returning artists Sarah Ashe, Judy Albright, Gabrielle McDermit, Joan Curtis, Gayl Braisted, Lyn DuMoulin, Mimi Love, Molly Hawley, Lily Hinrichsen, Mike Mayone, Barbara Nelson, Sarah Wesson, Catherine Palmer, Carol Calhoun and Yinglei Zhang.
This holiday season show has become a tradition at Town Hall Theater and features unique and affordable works available for immediate purchase.
(text adapted from the gallery's press materials)
Image: Seeking Shelter by Sarah Ashe. Courtesy of the artist.
---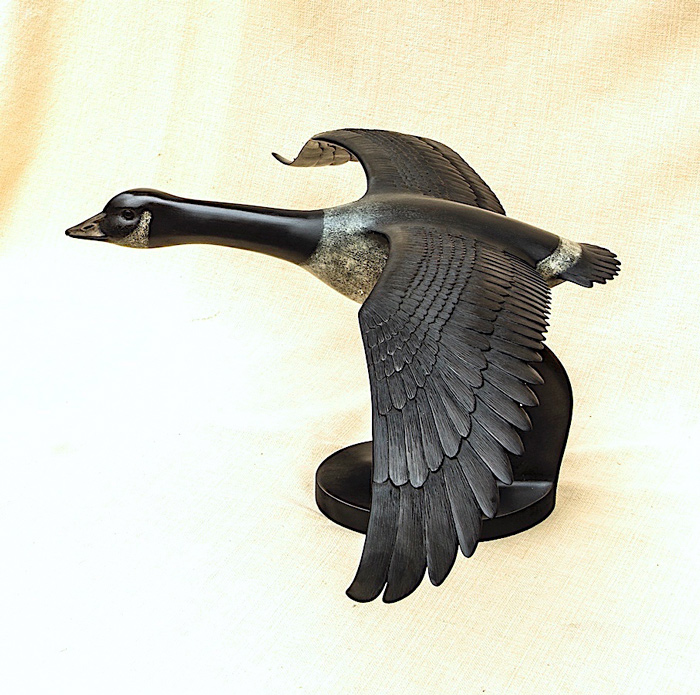 "Dimensional Dialogues": Sculpture and paintings by Don & Justin Perdue
October 5-November 11, 2018
"Dimensional Dialogues" is an exhibition of Donald Perdue's modernist, abstract, and figurative sculpture, and Justin Perdue's paintings, collages, and mixed-media constructions. As father and son, the two Vermont artists display a complementary sense of design as both create works that range from abstract to figurative genres, inspired by cultural observations, jazz music, contemporary dance, and creative explorations of the artists' respective visual experiences.
Don's work (image above) includes wood carvings and constructions, cast stone pieces, bronze and aluminum castings, relief works in fired clay and carved foam with faux stone surfacings, plus maquettes and photos of a variety of his large format, site-specific commissions. Don has been studying, practicing and creating sculpture as well as the related visual arts for fifty-five plus years. His work has been widely exhibited in art centers, galleries, museums and is included in private and public collections.
In parallel to his creative work, Don has taught fine arts and humanities for more than fifty years in a broad variety of venues ranging from early childhood learning opportunities, artist residencies in grade schools and art centers, middle and high school fine arts teaching positions, as well as a BFA college faculty position. In addition, for thirty plus years he has conducted adult sculpture classes in his studio.
Justin Perdue's visual art draws inspiration from his professional work as a jazz musician/composer and related work with modern dance. Working in acrylic, powdered bronze, gold, aluminum, and other metals, his modernist, abstract, contemporary, figurative art works range from 15-foot multiple canvas paintings to mixed-media works. These constructions, collages and paintings also incorporate colored tissue and construction papers, mylar, styrofoam and foamcore, cast plaster, powdered metals, and plywood.
Justin has played guitar professionally since the late 1980s, appearing at venues from NYC's Knitting Factory and Vision Festival to the Burlington Jazz Festival and the University of Wisconsin-Madison. He has also recorded and performed with Arthur Brooks, the So-Called Jazz Sextet, Jack Wright, and has worked and toured with the Middlebury College Dance Company.
(text adapted from the venue's press materials)
Image courtesy of the artist
---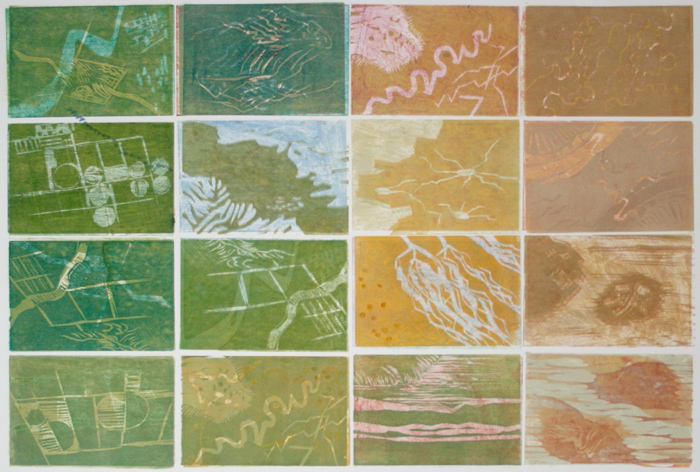 Land Marks…The Land We Mark, Marks Us
at the Jackson Gallery at Town Hall Theater in Middlebury
July 13-September 9, 2018
Janet Fredericks looks out the airplane window observing meandering rivers, wetlands, forests, and deserts as she sketches the human interaction with the ever-changing landscape. Continuing her interest in mark-making, these works on paper and canvas reveal the artist's invented vocabulary of marks as they meet the marks of the land and the human marks we leave upon it. Part map, part conversation, these drawings invite us to look with new eyes as the land we mark, marks us.
A Vermont artist for over 30 years, Fredericks' drawings and paintings follow her lifelong interest in her native environment, the seen and unseen worlds; spirit and matter. She is a Vermont Council on the Arts and New England Foundation for the Arts Fellowship recipient and has been awarded artist residencies at the Virginia Center for the Creative Arts, Vermont Studio Center, UCROSS Foundation, The International School of Art and others. Her work is exhibited nationally and internationally and is in many corporate and private collections.
Image: Land Marks by Janet Fredericks
---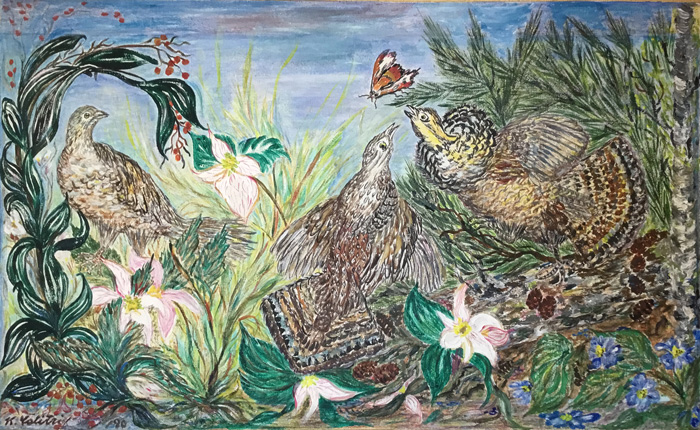 Birds, Bees and Butterflies in the Land of Milk and Honey
June 1-July 8, 2018
Klara Calitri is a prolific artist whose work in multiple media has included painting, monotype prints, ceramics, sculpture, and more. As a nonagenarian, she has spent decades creating art that is informed by her Austrian heritage and inspired by nature, filled with flowers, birds, and living things of all types. She surrounds herself with the things she loves. Her home and gardens offer a sanctuary for the pollinators and migratory flying fauna she cares about so deeply. (image above: Still Life with Bees)
It is this passion that inspired Klara to propose an exhibit of art and poetry on the theme of birds, bees and butterflies. Her desire is to raise awareness for these creatures and their importance in our ecosystem, while warning of the potentially adverse effects of environmental change to their habitats. Klara invited artist friends to participate, and included a group of poets who have submitted works on the same theme. Several of the artworks, as well as books and notecards, have been donated by the artists to benefit the Otter Creek Audubon Society.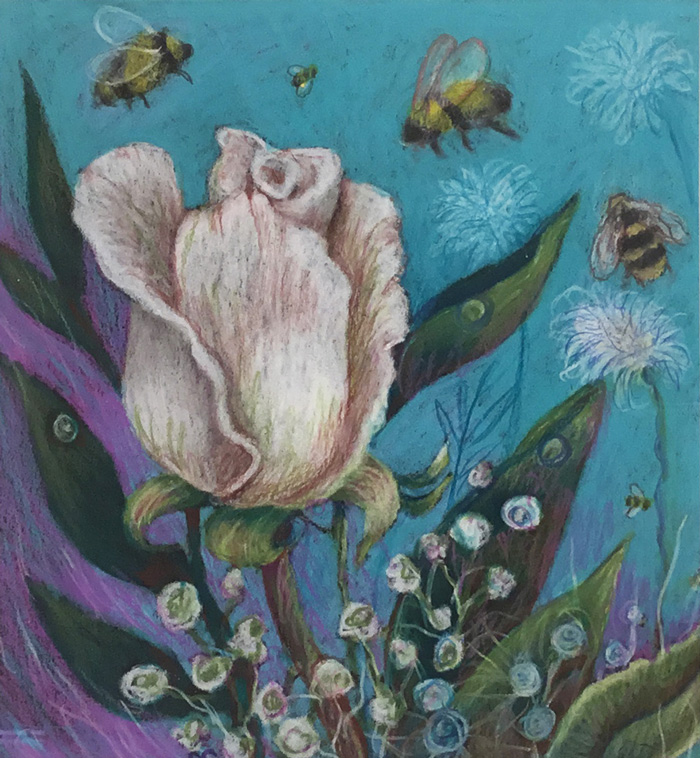 Along with several works by Klara Calitri, the exhibit includes paintings, photographs, mixed media and cards by Rachel Elion Baird, Susan Humphrey, Lisa Calitri, Patty LeBon Herb, Sarah Wesson, Deanna Shapiro, Karla Van Vliet, Molly Hawley, Yinglei Zhang and Phoebe Stone (image above: Still Life with Bees). Poems have been contributed by Rachel Elion Baird, Lisa Calitri, Ann Cooper, Susan Jefts, Patricia LeBon Herb, Kathleen McKinley Harris, Thea Calitri-Martin, Deanna Shapiro, Karla Van Vliet and Nancy Means Wright.
---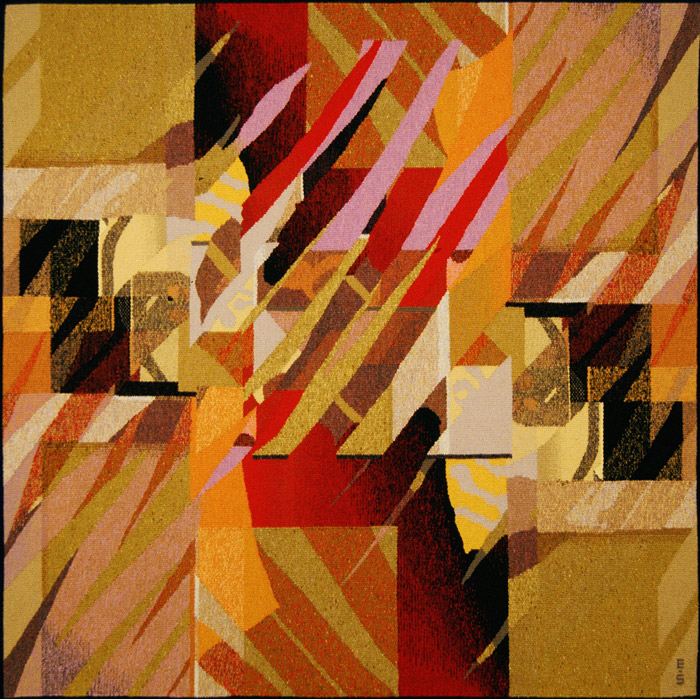 Elinor Steele Tapestry
February 10-March 31, 2018
Vermont designer/weaver Elinor Steele Friml displays examples representing forty years of dedication to the art of contemporary hand-woven tapestry. The exhibit will include works from several of her series, including abstract and impressionistic images, landscapes, and geometric compositions.
Steele combines a strong sense of color and composition with meticulous craftsmanship to create her tapestries. Working from a small scale printed color drawing and a full sized "cartoon" or line pattern she interprets her designs while weaving by hand on a high-warp loom using traditional tapestry techniques. Combining several strands from a large palette of wool yarns to achieve the desired colors and gradients, she takes full advantage of the rich tone and texture that are inherent in the medium.
The award-winning artist has been represented in national and international exhibitions and has been commissioned to create numerous works for corporate, healthcare, and residential settings. She studied Fine Art at the University of New Hampshire and Tapestry at the Edinburgh College of Art in Scotland. With creative interests in music and theater as well as art, she currently manages the Jackson Gallery and THT Box Office, and is scenic artist for the Opera Company of Middlebury.
(text adapted from the venue's press materials)
Image:
Reconstruction II by Elinor Steele Friml
---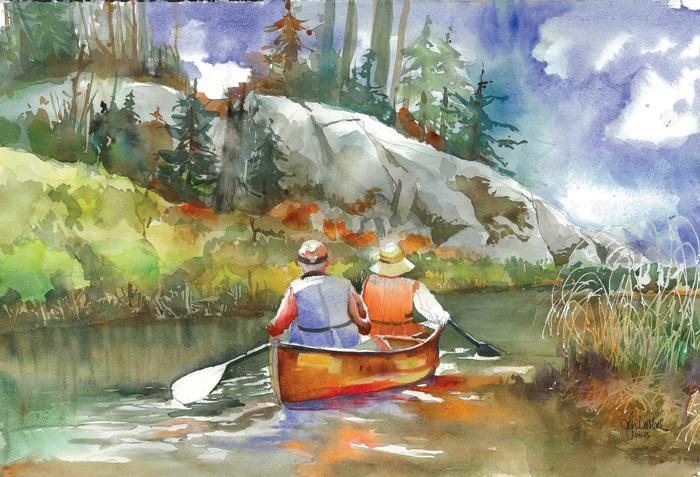 "Places of the Heart": Lyn DuMoulin
October 6-November 12, 2017
Lyn DuMoulin spends her summers canoeing, bicycling, bird watching and hiking the deep country, the Adirondack mountains. Watercolors by the Middlebury artist reflect her passion for nature and outdoor activities with scenes from Vermont and the Adirondacks. She loves to paint people, canoes, mountains, and the back waters of the great North Country.
She says that "the natural world and those places where it seems 'God's only been t'once' grow in importance for me. Reflections in water seem to mirror a deep, watchful presence in my life and often appear in my work. My work reflects my world; colorful and full of life."
DuMoulin paints full time since retiring from a college teaching career and additional diverse professions. Though she does not have "formal art training" she has developed a high level of skill in watercolor techniques through study with several well-known established artists. Her work has won an award for excellence from the Vermont Watercolor Society in which she is a signature member. She has exhibited in several juried shows and Vermont galleries. An original painting hangs in the lobby of the Nature Conservancy at Keene Valley in the Adirondacks.
(text adapted from the venue's press materials)
Image:
High Rock on the Oswegatchie
by Lyn DuMoulin
---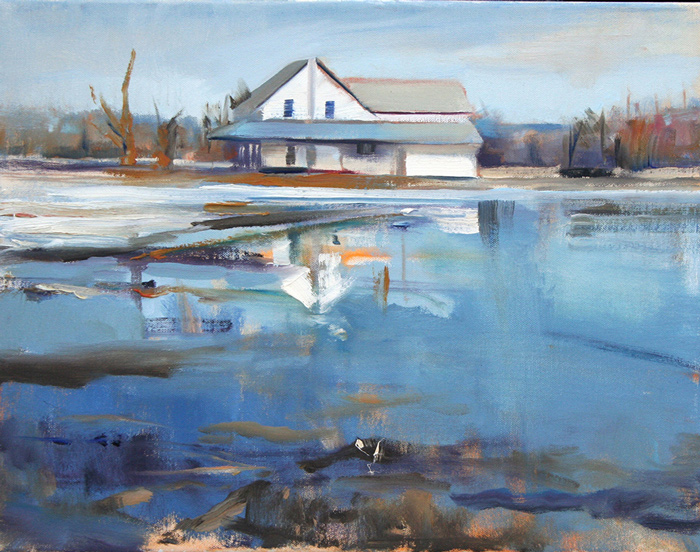 Fred Lower: Paintings
April 7-May 11, 2017
Fred Lower paints the landscape of Addison County. His deft strokes and distinctive color choices capture the essence of the light and shadow, and the texture of his scenery. He likes to paint directly from the subject, and states that "the motifs that I find most engaging are often the easiest to find because they are right out my back door. I live a short distance from where the Middlebury River joins Otter Creek. It is, quite simply, a plethora of compositions, a feast of forms for an artist."
Two things had a profound influence on Lower as a young art student in the 1970s: the intensity of the California light and the teaching of Bay Area painter Elmer Bischoff. "A fluid brush stroke and gestural improvisations were a starting point for my search for composition and expressive possibilities of color in my large abstract paintings. After almost 20 years in New York City and a move to Vermont, I have found in this landscape an attachment to place. Now I paint smaller paintings that somehow try to feel big."
In addition to painting the landscape, Lower continues to pursue the practice of portraiture and painting and drawing the figure. Originally from Seattle, he studied at the University of California, Berkeley and earned an MFA at Pratt Institute of Fine Art in New York. An educator for many years, he teaches art at Rutland High School. He maintains a studio at his home in Middlebury along with his wife Mary Lower, who is also an artist. A talented musician, Fred has performed for many years around Addison County and beyond with his popular band, The Doughboys.
(text adapted from the venue's press materials)
Image:
Charlie's House, flood by Fred Lower
---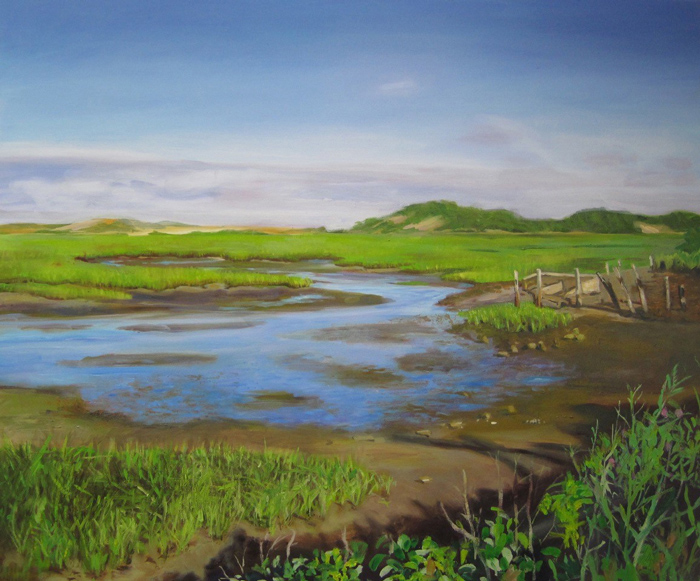 Molly Watson Hawley
January 13-February 28, 2017
Molly Watson Hawley works in a number of media to explore how the surface images of the visible world represent a deeper reality.
Hawley studied for a number of years with the plein air masters Cedric and Joanette Egeli at the Cape Cod School of Art in Provincetown. Her portraiture has been informed by her work with portrait masters Jose Cintron and Burt Silverman. In addition to her continuing portrait commissions, she is actively at work on an extended series of Cape Cod and Vermont landscapes. Her home and studio are in Ripton, where she lives with her husband, the writer Richard Hawley.
She began her undergraduate studies at Middlebury College, then went on to specialize in graphic art at the Boston Museum School and The Cleveland Institute of Art where she majored in printmaking. She has since worked extensively in other media, including pastel and oil painting, and more recently has produced a number of multi-media works combining fabric, photography, painting and drawing. For years she has painted commissioned portraits for private clients and institutions. Her work hangs in the permanent collections of Baldwin Wallace College, Cleveland's University School and in a number of private collections. Her work has been widely exhibited in juried shows, including at the Butler Gallery in Youngstown, Ohio and in The Cleveland Museum's annual May Show.
(text adapted from the venue's press materials)
Image:
painting by Molly Watson Hawley
---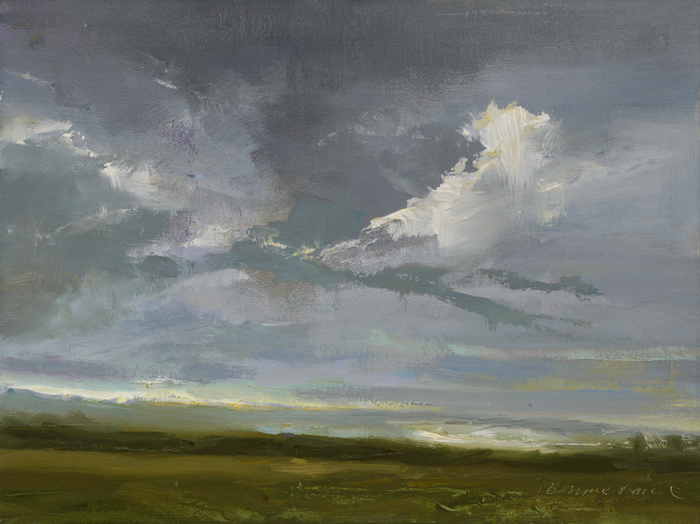 Bonnie Baird: "As the Crow Flies"
August 12-September 25, 2016
Bonnie Baird paints the landscape that surrounds and holds her. She was raised on a 730-acre dairy farm in Vermont. She and her husband Robert are the third generation to own and work their dairy and maple farm. This outdoor experience has given her a deep connection with the land. Working in the natural environment every day in every kind of weather allows her to truly feel the horizon; warm or cool, dark or light, intimate or expansive.
Baird's oil paintings are filled with an emerging fullness of heart, where light infuses life into air, becoming the magic that conjures a personal memory. Her paintings simultaneously evoke a simple lament and heartfelt joy. Using a limited palette and large simple shapes, Baird composes more than a visual observation. Her work is a perceptual experience: an intrinsic vivid memory.
Bonnie Baird studied at the University of Vermont and The Art Students League of New York. She has taken master classes with Eric Aho, Robert Liberace, Sherrie McGraw, and Thomas and Elizabeth Torak.
Image:
As the Crow Flies
by Bonnie Baird
oil on canvas
Courtesy of the artist