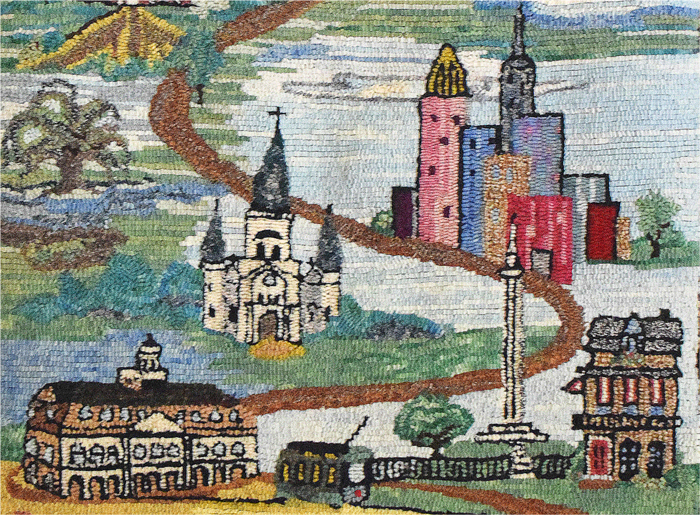 Judy Dodds Retrospective
September 11-December 30, 2016
Valley Arts' retrospective celebrates Judy Dodds' 60+ year creative career with work in a variety of media. The pieces tell the story of Dodds' creative, colorful and beautiful life well-lived.
Dodds' textile creations in the show include pieces with hand-dyed and woven fabric, appliqued and quilted wall hangings, and more recent works of hooked rugs. Her fabric landscapes and still lifes often mimic stained glass, and she devised a special technique to create her "windowscapes" in which she layers the fabric then cuts away the backing to leave a translucent piece.Judy has won numerous awards and honors for her work.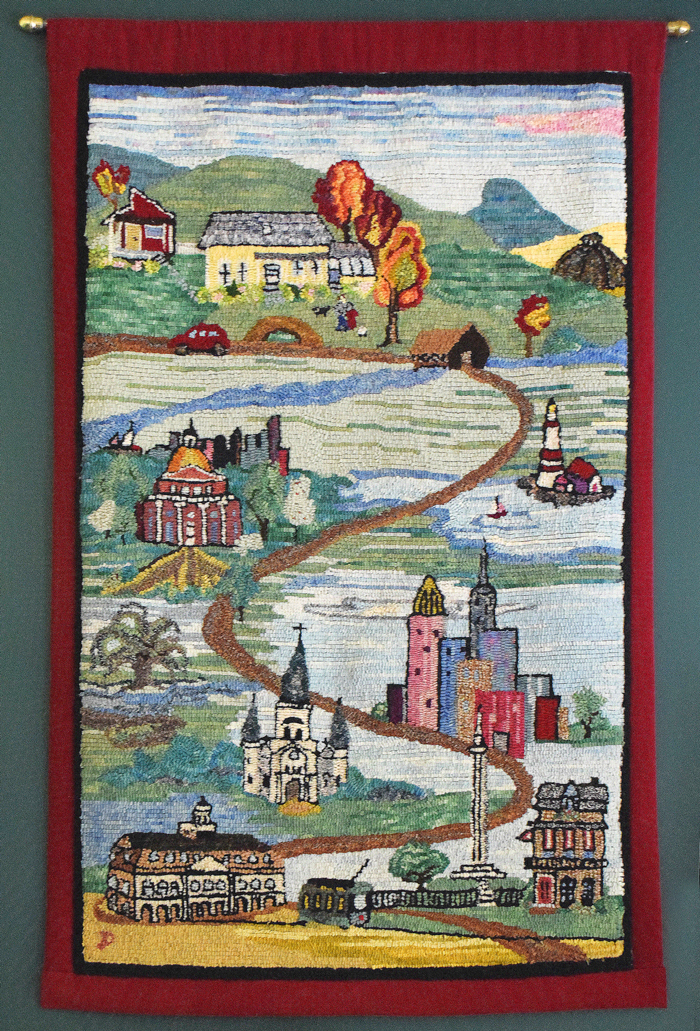 Dodds began creating hooked rugs in the late 1990s, after seeing an exhibition at the Round Barn in Waitsfield. She was also fascinated by the local artists and their stories. In 2007, the 60-minute video, The Heart of Hooking, that she and husband Jim made, tells the stories of rug hooking artists, won the Vermont Historical Society award for excellence.
From 1979 until 2003, Judy Dodds owned a gallery called Tulip Tree Crafts in the space now occupied by Valley Arts' Festival Gallery. Her winding path to Vermont is depicted in her hooked rug My Life Story: She was born in New Orleans, and studied art at Tulane University there; she then moved to New York, then Cambridge, Massachusetts, where she worked as the curator at the Boston Children's Museum after the end of her first marriage. Her connection to Vermont began in the 1960s, when she spent summers in the Mad River Valley with her first husband, sculptor Jean Seidenberg. Preferring the natural beauty and openness of the Mad River Valley, she bought a house in Waitsfield in 1970 with her husband, Jim Dodds, and moved with her children to the Mad River Valley. Judy opened Tulip Tree Crafts in 1979, where she sold her work and that of other Vermont artisans. When she sold Tulip Tree Crafts, she turned her attention to rug hooking projects and starting a rug hooking group in which she is still active. Dodds is now 88 years old.
(text adapted from the gallery's press materials)
---
INFORMATION
Festival Gallery
5031 Main Street (next to Tempest Books)
Waitsfield 05673
(802) 496-6682
Hours:
Preview: Sunday, September 11, 3-5PM
September 15-October 29: Thursday, Friday, Saturday, 1-4PM
November: by appointment only
December 1-30: Thursday, Friday, Saturday, 1-4PM