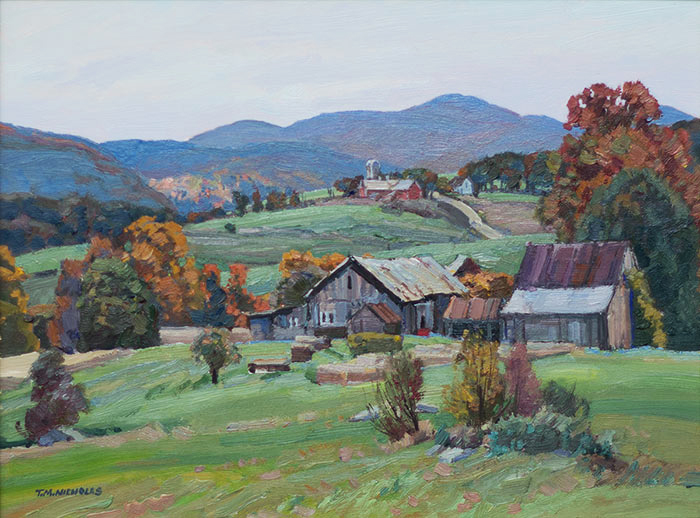 2016 Legacy Collection
January-December 2016
Both Alden Bryan (1913–2001) and Mary Bryan (1906–1978) were painters who moved to Jeffersonville in 1939. Their legacy is the Bryan Memorial Gallery gallery, founded in 1984, which promotes the work of Vermont and New England artists.
Through December 30, "2016 Legacy Collection" features thirty-eight artists whose works continue the legacy of Alden and Mary Bryan. Paintings in oils, watercolors, acrylics, photographs, pastels and mixed media are on view. The exhibition is organized in three parts: "Hidden Treasures" is a collection of works by deceased artists. A section is dedicated to providing a fresh look at works by founders and namesakes, Mary and Alden. And third section presents work by artists who were recognized with awards the previous year. These selections reflects the aesthetics and life work of the founders. This year the focus is on William B. Hoyt, Tom Nicholas, and T.M. Nicholas. All of the work in the "2016 Legacy Collection" is for sale. The exhibition provides a unique opportunity to collect historic work as well as artwork by vetted and established artists at the top of their career.
A spotlight about the Bryan Memorial Gallery appeared in the print edition of Vermont Art Guide #2. Purchase Vermont Art Guide #2 or subscribe to get news about Vermont art venues.
---
INFORMATION
Bryan Memorial Gallery
180 Main Street
Jeffersonville, Vermont 05464
(802) 644-5100
Hours starting October 11:
Thursday-Sunday, 11AM-4PM
Image:
Last Bit of Sun
by T.M. Nicholas
11″x14″
oil on canvas