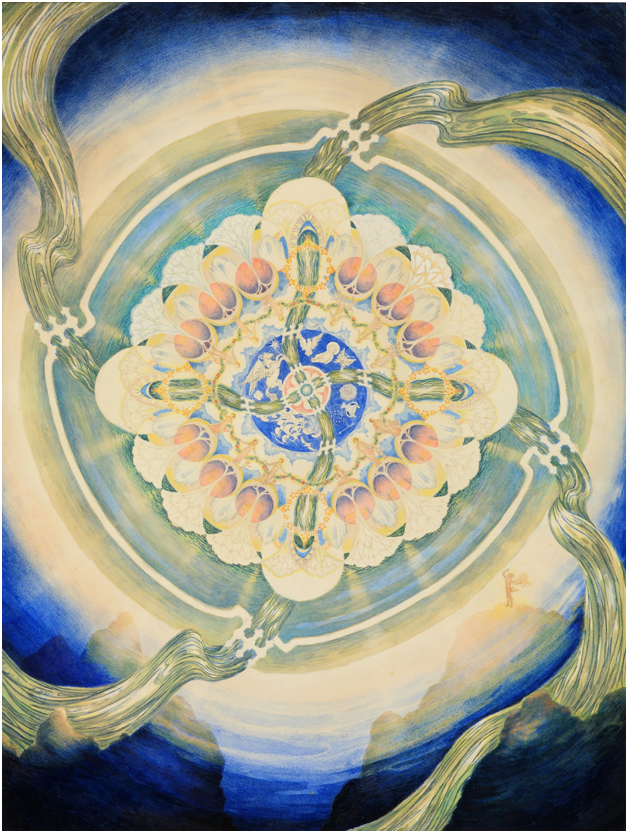 Mandalas and Visions:
the Art of Martha Stringham Bacon
October 21-November 15, 2016
The mandalas and other works by Martha Stringham Bacon illustrate the artist's experience with mental illness and recovery and the profound connection between the creation of art and healing of the human psyche. The exhibition springs from the memoir Martha's Mandala by Stringham Bacon's granddaughter, Martha Oliver-Smith.
Martha Oliver-Smith was born in Rhode Island into a family of writers, artists and scholars. She spent most of her childhood moving between her grandmother's home in Peace Dale, Rhode Island and living in New York City. In 1972, she moved to the West Coast to begin her teaching career and raise her family. She returned to the East in 2002 to live and work in Vermont. She earned an MFA in writing from the Vermont College of Fine Arts in 2006. After 36 years of teaching college and high school literature and writing courses, Oliver-Smith retired to complete the biographical memoir Martha's Mandala based on her grandmother's life as an artist who struggled with mental illness. Oliver-Smith lives with her husband, two cats, and six chickens in Albany, Vermont, where she is working on a second memoir.
(text from the venue's press materials)
---
INFORMATION
MAC Center for the Arts
158 Main Street
Newport, Vermont 05855
(802) 334-1966
Hours:
Monday-Saturday, 10AM-5PM
Sunday, 11AM-3PM
(Closed Mondays, January-May)
Image:
Mandala by Martha Stringham Bacon