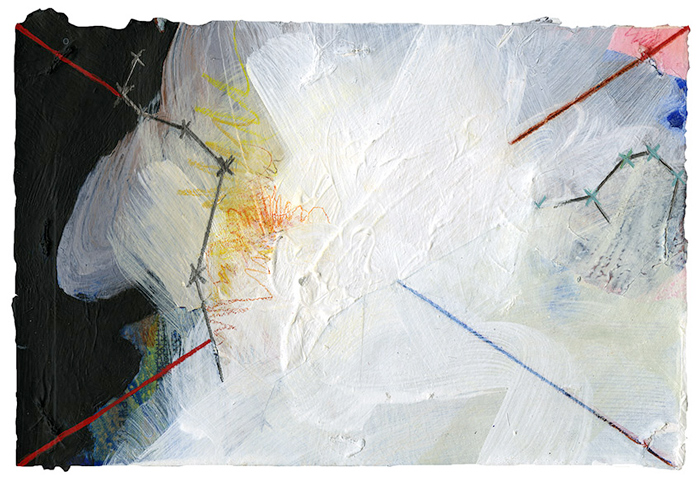 ART ON VIEW
More Light: Small Works Exhibit
at Northern Daughters in Vergennes
December 1, 2017-January 28, 2018
Opening reception: Friday, December 8, 5-8PM
"More Light" features small works from six artists who work in a range of media, including watercolor, oil painting, encaustic and collage. The show will include new works from Anne Cady, Pamela Smith, and Sobelman Cortapega, all of whom are regularly exhibited at Northern Daughters, as well as three artists exhibiting with NoDa for the first time: Edward Holland, Julia Jensen, and Molly Bosley.
Edward Holland is an abstract artist based in New York City who works in a wide variety of materials including acrylic and oil paint, colored pencil, graphite, and collage. Holland received his BFA from Syracuse University and his MA from New York University. His artwork has been exhibited nationally and internationally in galleries including Peter Marcelle Gallery in Bridgehampton, New York, Gerald Peters Gallery in Santa Fe, New Mexico, and New York City, and Phyllis Weston Gallery in Cincinnati, Ohio. Edward's artwork may be found in private collections nationwide.
Julia Jensen is a Vermont-based landscape artist working in encaustic. A graduate of Tulane University with a BA in Art History, Jensen has been painting for 20 years.
Molly Bosley is a mixed media artist based in Vermont. At first glance, her patterned paper-cuts are decorative and nostalgic, only after closer examination do the modern elements and unexpected stories layered into the details emerge. Bosley is a graduate of the University of Vermont, with a BA in Studio Art. She has exhibited nationally and gained recognition in online publications, as well as landing the cover of the Random House book, The Aviary.
(text adapted from the venue's press materials)
---
INFORMATION
Northern Daughters
221 Main Street
Vergennes 05491
(802) 877-2173
Hours:
Thursday-Sunday, 10AM-5PM
and by appointment
Image
The Fish (Version 7)
by Edward Holland
6″x9″
acrylic, colored pencil, and graphite on paper with collage
Courtesy of the artist and Northern Daughters, Vergennes