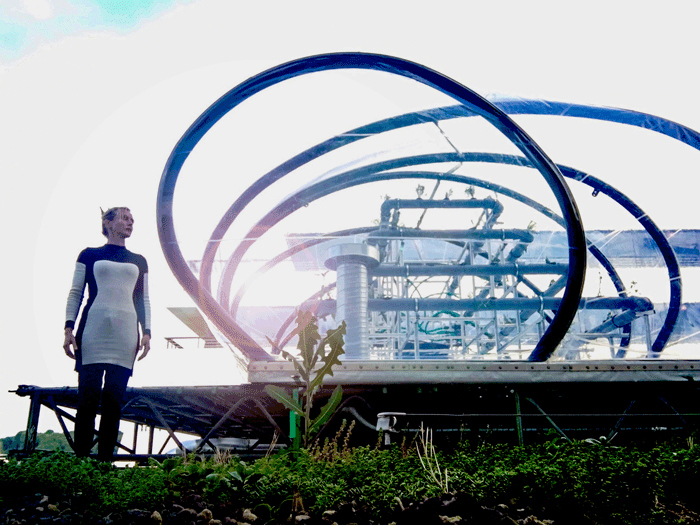 Natalie Jeremijenko: A Solo Exhibition
January 20-April 8, 2017
Natalie Jeremijenko is an international artist, engineer and inventor specializing in environmental and urban issues. Her work in Helen Day Art Center's galleries is a blend of new initiatives and past work with a focus on activating the space through environmentally conscious projects.
In 2014, VIDA Art and Artificial Life International Awards Pioneer Prize was awarded to Natalie Jeremijenko "for her consistently brilliant portfolio of work over the past two decades" (a prize only awarded once before to Laurie Anderson). She was also named one of the Most Innovative People at World Summit on Innovation and Entrepreneurship in 2013, one of most influential women in technology in 2011 by Fast Company, and one of the inaugural top young innovators by MIT Technology Review in 1999. Jeremijenko directs the Environmental Health Clinic at New York University, facilitating public and lifestyle experiments that can aggregate into significant human and environmental health benefits.
Jeremijenko is an Associate Professor in the Visual Art Department at New York University and is affiliated with the NYU Computer Science Department and Environmental Studies program. Jeremijenko's practice develops the emerging field of socio-ecological systems design (or xDesign) crucial in the Anthropocene, using attractions and ongoing participatory research spectacles that address the C21st challenge to reimagine our collective relationship to natural systems. This integrates diverse strategies to redesign energy, food and transportation systems that can contribute to the common good, increase soil, aquatic and terrestrial biodiversity, and improve human and environmental health.
The Art Center is simultaneously curating a large scale site specific project on the grounds of Spruce Peak at Stowe, January-September 2017.
(text adapted from the venue's press materials)
---
INFORMATION
Helen Day Art Center
90 Pond Street
Stowe, Vermont 05672
(802) 253-8358
Hours:
Tuesday-Saturday, 10AM-5PM
Image:
Natalie Jeremijenko in front of her Urban Space Station at the Emscherkunst Triennial, 2016. Courtesy Helen Day Art Center, Stowe.