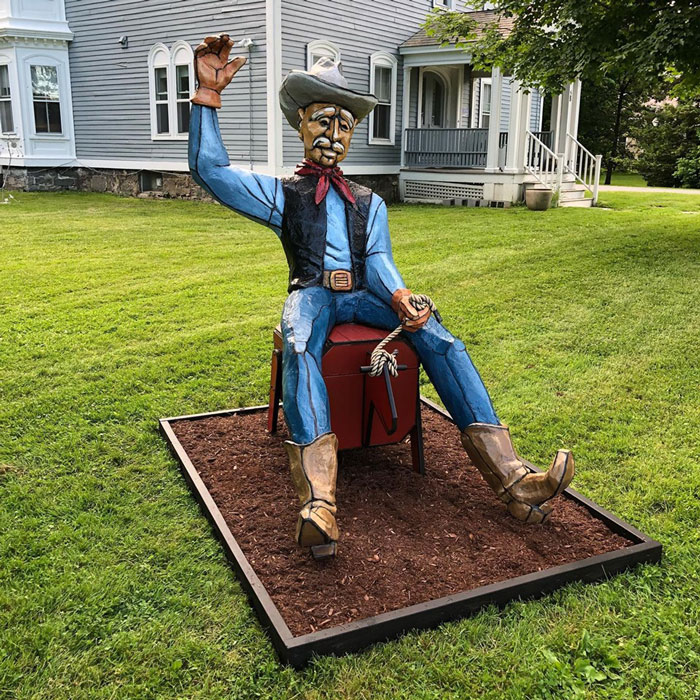 ART ON VIEW
22nd Annual North Bennington Outdoor Sculpture Show
throughout the village of North Bennington
June 29-November 3, 2019
The 22nd Annual North Bennington Sculpture Show is on view throughout the village of North Bennington at various locations from June 29 to November 3, 2019.
The show has been curated by area sculptor Joe Chirchirillo for the 7th year in a row. NBOSS is sponsored by the Fund for North Bennington, Sage City Syndicate, Paran Recreations, Bennington College, Kevin's Restaurant, Marigold Kitchen, Powers Market, Pangaea Restaurant, Art Whitman, Joe McGovern, GVH Studio, Stuart Aldrich and the Vermont Arts Exchange. It is also a Vermont Arts 2019 Event, a project of the Vermont Arts Council highlighting the stunning array of arts events; concerts, festivals, exhibits, and openings that take place all across the state.
NBOSS is one of the area's longest running consecutive outdoor sculpture exhibitions. The 22nd anniversary show features over forty internationally recognized and emerging artists from the surrounding area.
In addition to showing seasoned and celebrated artists' work, one of the aims of the show is to make art accessible. The 22nd annual NBOSS features collaborative community sculptures that were created as part of a workshop with school-age children from the Village School of North Bennington, Bennington College sculpture professors Jon Isherwood & John Umphlett, Bennington College students and Matthew Perry from Vermont Arts Exchange (VAE).
Another important addition this year a $500 prize from the Village of North Bennington, chosen by the village trustees. This year's prize was awarded to Bob Keating, whose work will remain in front of the train station until April.
An indoor show of NBOSS artists takes place at Left Bank Gallery, August 9-Sepember 27, 2019.
Sculptures are available for purchase. The 2019 artists are: Lisa Barthelson, Peter Barrett, Michael Biddy, Bill Botzow, Jo-Ann Brody, Raneece Buddan, Dave Carrow, Cameron Chalmers, David Channon, Joe Chirchirillo, Charlet Davenport, Denise Dorr, Walter Dunnington, Walter Early, Gary Humphreys, Brian Johnston, Bob Keating, Justin Kenny, Darryl Lauster, Peter Lundberg, Phil Marshall, Jay Mead, James Payne, Chris Plaisted, Michelle Post, Sam Rathbun, Angelina Radocchia, Andrew Hamilton Reiss, Chantel Schultz, Michael Scupholm, David Skora, Mariam Shah, Gregory Smith, Phil Thorne, Michael Tillyer, Jackson Tupper, Bob Turan, miChelle Vara, Griffin Sinclair-Wingate, Max Yawney, Zac Ward and students from the Village School of North Bennington.
The show had its beginnings when local mason, Joe McGovern, asked Willard Boepple, local sculptor, to install a few works on open land next to his shop and garage. Willard was also a sculpture professor at Bennington College and thought it would be a great opportunity to showcase the works of his students. Anthony Cafritz, founder of Salem Art Works, was a student at the time, and took over curating duties for several years. The students brought a sense of fun to the exhibit, siting experimental sculpture and performance pieces. Other area sculptors involved during the early years included John Uphlett, Fred X Brownstein, and Stephan Fowlkes. The openings were typically big and raucous affairs with students past and present and local artists showing their work, enjoying hot dogs and cheap beer.
For more information, visit NBOSS' Facebook page HERE.