"We strive to be a space that merges the aesthetic of blue chip galleries with the familiarity and authenticity of a Vermont general store," says this contemporary art gallery.
Northern Daughters
221 Main Street
Vergennes 05491
(802) 877-2173
Hours:
Thursday-Sunday, 11AM-7PM
and by appointment
---
ART ON VIEW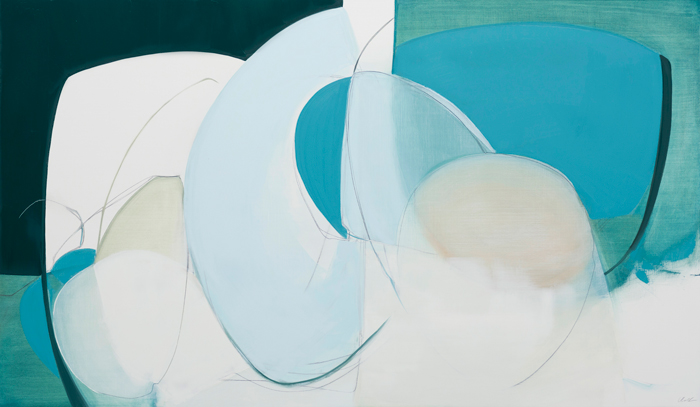 Rose Umerlik: The Human Experience
July 18-August 31, 2019
Rose Umerlik's work is abstract with a focus on form and line. Working in graphite and oil on panel, she explores the complexity of what it is to be human by mirroring that complexity in the interaction and layering of forms and lines in her work.
Eight large pieces make up this body of work, each accompanied by a written narrative offering a window into the emotional process behind these beautiful abstract paintings. "Although the pieces encompass a depth of human experience, the visual remains calm and that emotional depth is expressed subtly that allow the viewer to enter over time.
Among other awards and residencies, Umerlik has received a grant from the New Hampshire State Council on the Arts to participate in the Takt Kunstprojektraum Residency in Berlin, Germany; a fellowship to participate in the Sam and Adele Golden Foundation Residency. She received her Bachelor of Fine Arts from Syracuse University's College of Visual and Performing arts. Her work has been reviewed in Art New England and Artscope. She has also published two books, Intimacy of Forms and Histories. Umerlik lives in Jeffersonville, where she maintains a full-time studio practice.
---
PREVIOUS EXHIBITIONS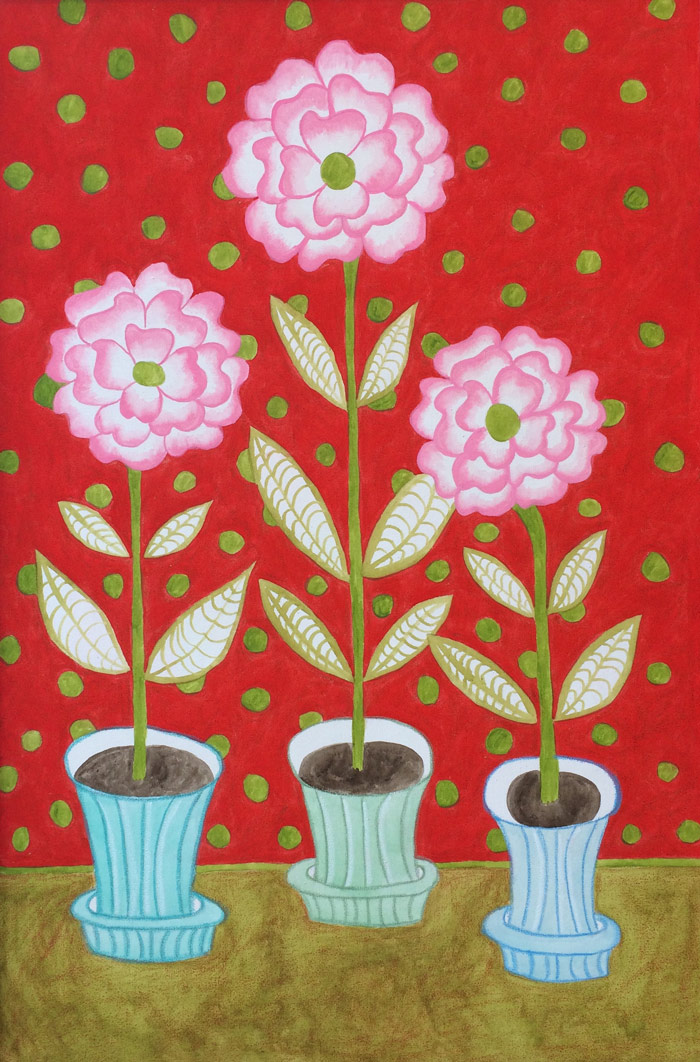 Moving Still: Pamela Smith
October 4-November 30, 2018
"Moving Still" is a solo exhibit of new work from self-taught, Bristol-based artist Pamela Smith. Smith draws from a background in textiles, years of living abroad and studying folk art from around the world. These influences are beautifully evident in her work. Smith's paintings are rich in pattern and floral elements, and exhibit the liberty experienced by an outsider artist who plays with perspectives, dimensions and mediums freely.
Smith first started painting as part of a family painting night when her two children were young. Once a week, her family would sit around a still life on the kitchen table and paint together. Smith soon began painting women usually accompanied by their relations; children, men and animals, and continued to do so for the last 25 years.
The family tradition of artistic expression did not start with Smith, her mother, who was a painter, often pushed her towards being an artist. "I resisted it a really long time because that's what I had always been told to be," Smith said. Eventually, in the context of her own family, she found her way to painting.
For this exhibit, Smith is returning to still life, the new work is recognizably steeped in rich pattern, vibrant colors, and bold organic forms. When asked about the shift in subject, Smith said "I wanted to push myself to reflect my inner world in a more direct way without the narrative support. And to perhaps soften the illusion of inner and outer. It's been exciting to see what appears!"
(text adapted from the venue's press materials)
Image:
Lucinda by Pamela Smith
31″x21″; mixed media; 2018
---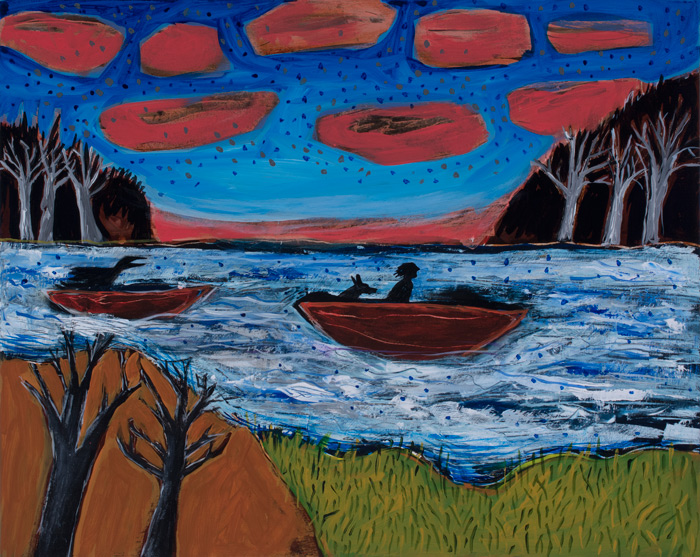 A Crossing Place: Anna Dibble
August 2-September 30, 2018
"A Crossing Place" is a solo exhibit of new work from Anna Dibble.
Dibble's work is always based in the wild. "It's about the time of life on earth: from early Ordovician oceans, through the layers of rocks and fossils, to the current dysfunctional ecosystem we've managed to create during our march of folly. Non-linear, circular time. The past in the present," the artist states. Her work is driven by her love of and place within the natural world, and her deep concern for its future. The artist's working process is a search, as she says "A daily reach towards progress, a shuffle, an excavation and a strange hope."
The current series began at a crossing place. The paintings bring the viewer into a world of beauty and new found solitude illustrative of a new uncertain life under construction. The animals Dibble is so well known for are still present in her current paintings, now inhabiting the wilderness through which the artist seems to be traveling. This body of work is evidence of a personal mythology the viewer is privileged to experience.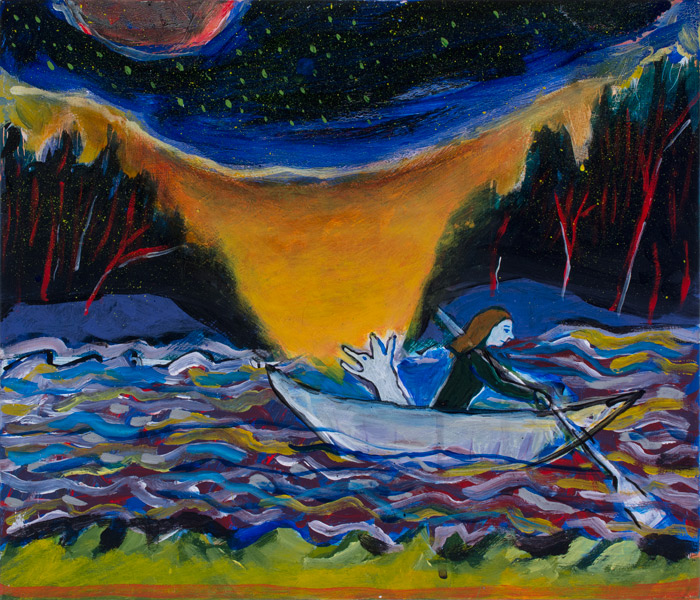 Dibble's vibrant works are composed through a combination of shape, color and continuous exploration with a diverse range of mediums and artistic tools. The artist mixes acrylic and gouache paints, and inks with substances like beach sand, aluminum oxide grit and flakes, powdered graphite, cold wax. Dibble uses a variety of tools–old and new, bad and good brushes, palette knives, razor blades, toothbrushes, clay tools, wood sticks, pens, knives, sandpaper, her hands and fingers.
Dibble has been painting, drawing, making sculpture, and writing for over forty-five years. She has designed and created sets for opera and theater, taught workshops in both visual art and writing in Vermont schools and art organizations. Her paintings have been featured in solo, group, and invitational exhibitions in museums, cultural centers, and galleries, including the Southern Vermont Arts Center in Manchester; the Sarah Doyle Gallery at Brown University; the Atrium Gallery of Bard College in Great Barrington, Massachusetts; the Strathmore Gallery in Bethesda, Maryland; the Helen Day Art Center in Stowe; and the A.P.E. Gallery in Northampton, Massachusetts.
(text adapted from the venue's press materials)
Image (top):
Gates of Dawn
by Anna Dibble
acrylic and flashe on Baltic birch panel
24″x30″
Image (center):
Gold of Sunshine
by Anna Dibble
acrylic and flashe on Baltic birch panel
12″x14″
Images courtesy of the artist and Northern Daughters, Vergennes
---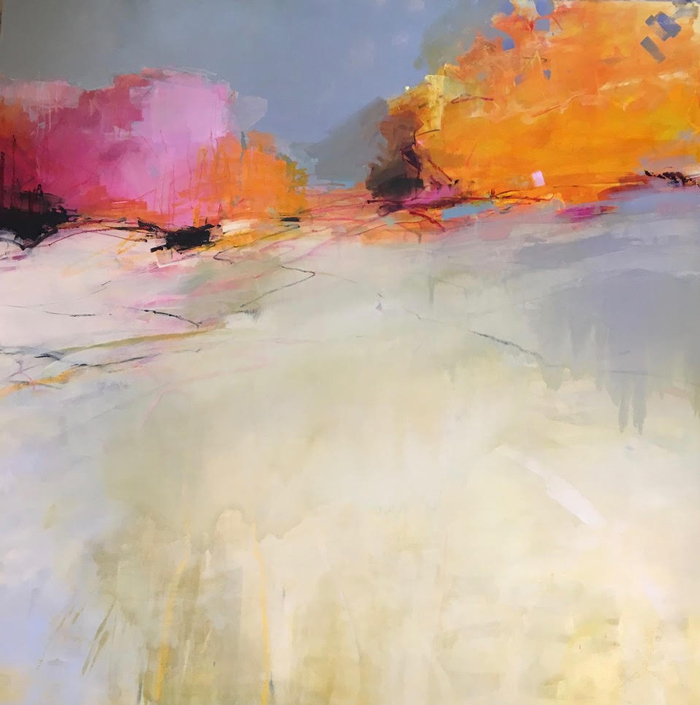 Blades Will Sprout: Anne Cady, Julia Jensen, and Jessica Smith
June 14-July 29, 2018
Opening reception: Friday, June 22, 5-8PM
"Blades Will Sprout" features the work of Anne Cady, Julia Jensen and Jessica Smith, three artists who use familiar landscapes as an entrance point to creating art, but have very little else in common.
Though quite a departure stylistically, Julia Jensen's work is also a rich collision of the external and internal world of the artist. Her work brings blurred, lush, almost dreamlike visions of landscape to the viewer. She says, "When I am working, I try to leave the surface as open as I can for as long as I can, turning the panel this way and that, trying to keep subject out of it and work just with color and shape. Inevitably, somehow, a place begins to emerge." A graduate of Tulane University with a BA in Art History, Jensen has been painting for 20 years. (image above: Unnamed by Julia Jensen (40″x40″; oil on panel; 2018))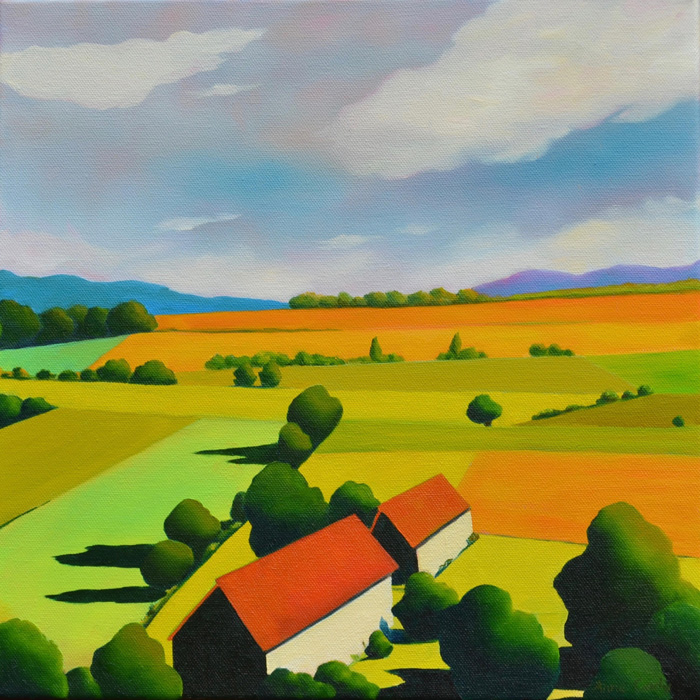 Anne Cady's distinctive oil paintings are inspired by the Vermont countryside that surrounds her. Her paintings are playful and bold, full of vibrant color and spirit. This body of work features all new paintings, include works filled with the brilliant green of the first growth of Vermont's early spring, and the lush brilliance of fields after the first cut. She also mixes in pieces wild with color, red mountains and rolling hills stretching back into open sky's typical of her local valley landscape. (image: Someday to Return by Anne Cady (14″x14″; oil on canvas; 2018))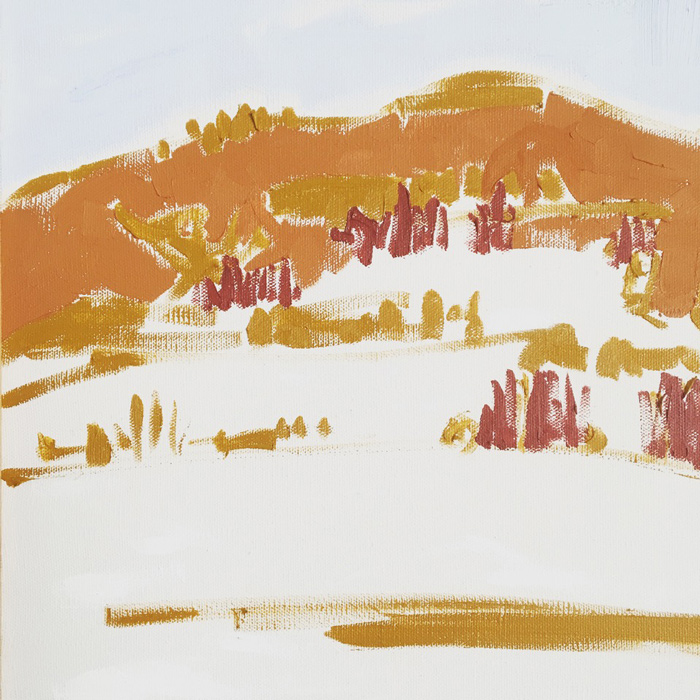 Sense of place is certainly a cornerstone of Jessica Smith's work. Many of her paintings in this exhibit feature landscapes viewed near or directly from her farm in Southern Vermont. The profile of familiar mountains and hills dominates the her work compositionally, while her sparse paint application and muted color palette show the viewer the Vermont landscape through a lens unique to Smith. Her work, she says, is a way of processing comings and goings, and this group particularly is inspired by the seasons of change in the mountains. (image: The Currier Fields by Jessica Smith (14″x18″; oil on canvas board; 2017))
(text adapted from the venue's press materials)
---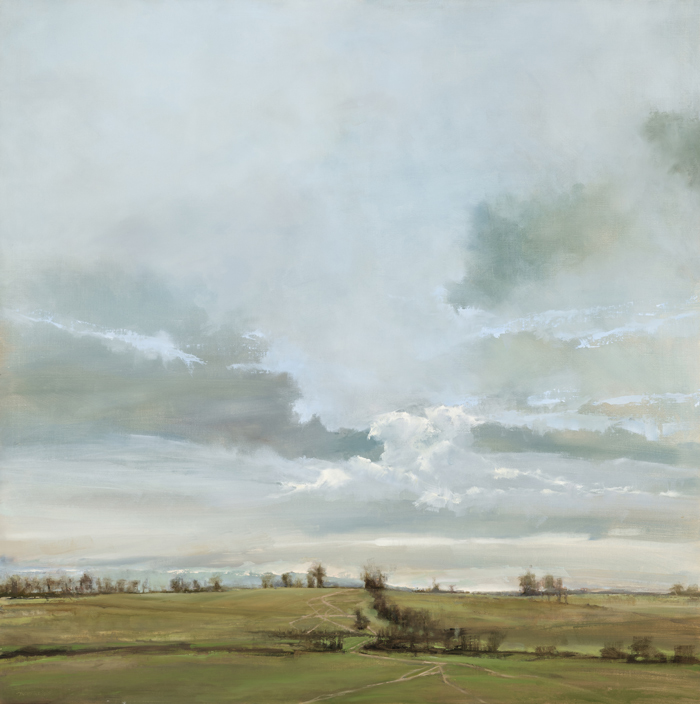 Where to Land: Bonnie Baird
May 3-June 10, 2018
"Where to Land" is a solo exhibit of oil paintings by Bonnie Baird. Baird is known for her authentic, personal paintings of the Vermont landscape. Her work possess a subtle drama, depth and detail that pays homage to her relationship with the land, one that has developed throughout her life as a farmer. Baird says "My work gives the environment a breath, a body through which viewers acknowledge the breadth of emotions evoked by our surroundings."
Raised on a 730-acre dairy farm in Vermont, she and her husband Robert are the third generation to own and work their dairy/maple farm. This outdoor experience has given her a deep connection with the land. Working in the natural environment every day in every kind of weather allows her to truly feel the horizon; warm or cold, dark or light, intimate or expansive.
Baird's work brings the viewer directly to that experience, that intimate relationship with the land. Baird's work is filled with an emerging fullness of heart. In her paintings, light infuses life into atmosphere, becoming the magic that conjures a personal memory. Her work simultaneously evokes a simple lament and heartfelt joy. The pieces featured in this exhibit are the largest the artist has painted to date. Her minimalist approach is spare but warm and creates a perceptual experience – a vivid place. The larger format fits Baird's work, which often features expansive horizons and the low lying flood plains of her home county.
"My paintings are a reaction to what I see and my palette is my color response to what I am experiencing. Building with layers of color that I add to–and subtract from–I compose large and simple shapes to suggest and reveal an enlivened reality."
Bonnie Baird was selected one of the Artists to Watch 2018 and is featured in Vermont Art Guide #7. GET A COPY OF THE ISSUE.
Her painting, Line Dance, was part of the exhibition "Artists to Watch, Part I" at the Vermont Arts Council Spotlight Gallery, March 9-April 29, 2018.
(text adapted from the venue's press materials)
Image
Origins Are Everything
by Bonnie Baird
36″x36″
oil on linen
2018
Courtesy of the artist and Northern Daughters, Vergennes
---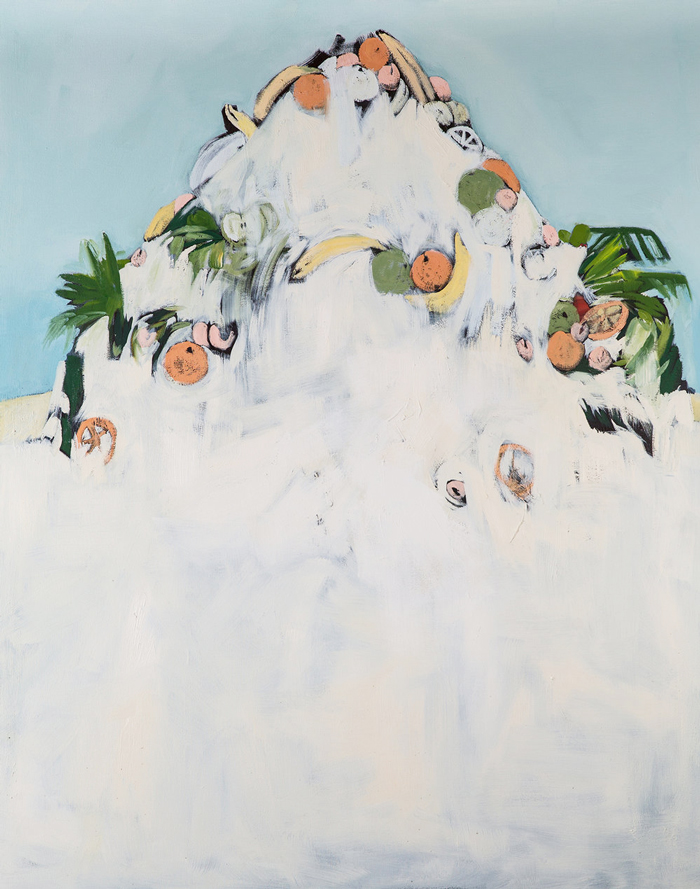 "Everything All Together": Hannah Secord Wade
March 15-April 29, 2018
"'Everything All Together' began as a hoarding of landscape, with scraps of earth and debris gathered into large mounds, and contained for a time. Each piece depicts an action, as land is moved and shifted, contained and then cleansed," Hannah Secord Wade explains. She describes a cycle through which the mounds decompose or wash away and must be continuously rebuilt. Her work stirs a feeling of constant motion as things are piled, buried, submerged, washed away and then piled again.
Hannah Secord Wade received her MA Fine Art from Chelsea College, London, and her BA from Hampshire College in Amherst, Massachusetts. Her work has been shown in London and Paris, and throughout the United States. In 2016, she was a resident at the Arteles Creative Center in Finland. She has been featured in various publications including Boooooooom!, and was once named as a Saatchi Art One to Watch. She lives and works in Maine.
(text adapted from the venue's press materials)
Image
Everything All Together
by Hannah Secord Wade
60″x48″
oil on canvas
Courtesy of the artist and Northern Daughters, Vergennes
---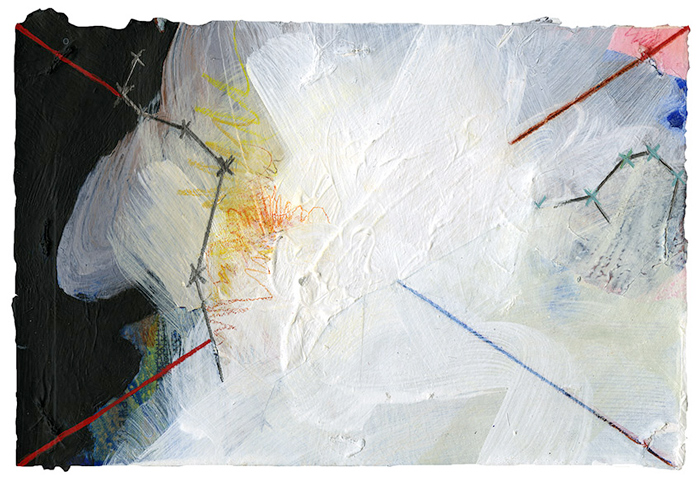 More Light: Small Works Exhibit
December 1, 2017-January 28, 2018
Opening reception: Friday, December 8, 5-8PM
"More Light" features small works from six artists who work in a range of media, including watercolor, oil painting, encaustic and collage. The show will include new works from Anne Cady, Pamela Smith, and Sobelman Cortapega, all of whom are regularly exhibited at Northern Daughters, as well as three artists exhibiting with NoDa for the first time: Edward Holland, Julia Jensen, and Molly Bosley.
Edward Holland is an abstract artist based in New York City who works in a wide variety of materials including acrylic and oil paint, colored pencil, graphite, and collage. Holland received his BFA from Syracuse University and his MA from New York University. His artwork has been exhibited nationally and internationally in galleries including Peter Marcelle Gallery in Bridgehampton, New York, Gerald Peters Gallery in Santa Fe, New Mexico, and New York City, and Phyllis Weston Gallery in Cincinnati, Ohio. Edward's artwork may be found in private collections nationwide.
Julia Jensen is a Vermont-based landscape artist working in encaustic. A graduate of Tulane University with a BA in Art History, Jensen has been painting for 20 years.
Molly Bosley is a mixed media artist based in Vermont. At first glance, her patterned paper-cuts are decorative and nostalgic, only after closer examination do the modern elements and unexpected stories layered into the details emerge. Bosley is a graduate of the University of Vermont, with a BA in Studio Art. She has exhibited nationally and gained recognition in online publications, as well as landing the cover of the Random House book, The Aviary.
(text adapted from the venue's press materials)
Image
The Fish (Version 7)
by Edward Holland
6″x9″
acrylic, colored pencil, and graphite on paper with collage
Courtesy of the artist and Northern Daughters, Vergennes
---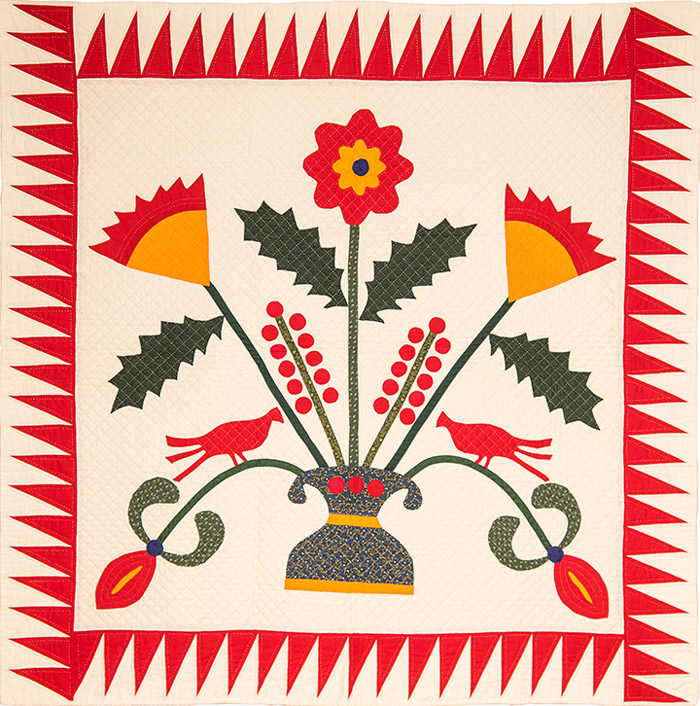 Gwen Marston: "Rose and Pomegranate"
October 19-November 26, 2017
Gwen Marston is a renowned quilter, author, and teacher. She has been exhibiting her liberated quilt making nationally and internationally for over three decades. She lives and works in Beaver Island, Michigan.
Marston has published several books on her liberated quilt making process, including 37 Sketches (winner of the 2012 New York Book Award), Liberated Quiltmaking, Liberated Quiltmaking II, Artful Improv, Improvising Tradition, Minimal Quiltmaking, and A Common Thread.
(text adapted from the venue's press materials)
Image
Basket with Two Red Birds
by Gwen Marston
44″x44″
Courtesy of the artist and Northern Daughters, Vergennes
---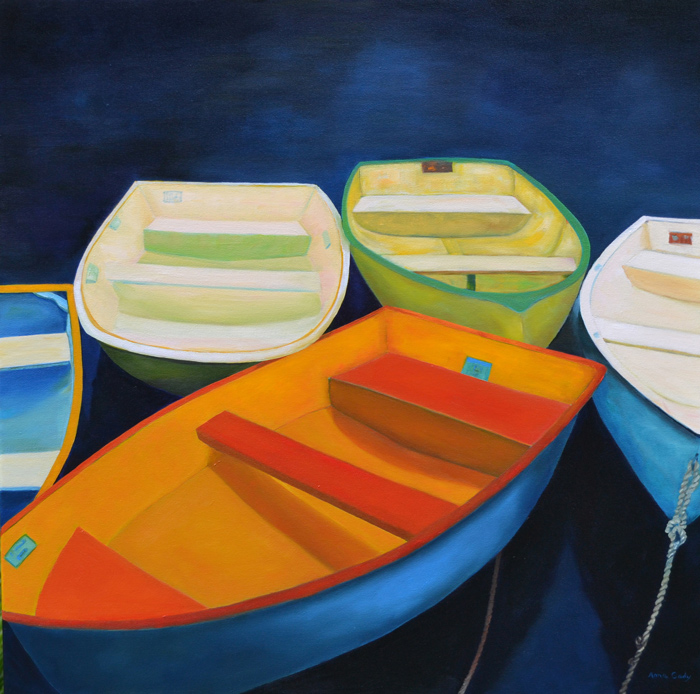 Anne Cady: "See You at the Lake"
July 13-August 27, 2017
Opening reception: Friday, July 21, 5-8PM
"See You at the Lake" is a solo exhibit of new work from Anne Cady.
Cady is best known for her lyrical Vermont landscape paintings. Her work is characterized by luminous saturated color, simplified forms and strongly contrasting values depicting the open pastures, farms, hills and mountains of the Champlain valley. This show marks a departure from landscapes, shifting the focus to boats. Cady says "It has been a long time coming, 25 years in fact. I imagine for every painter there is an early painting that says, 'Yes. You can do this. Go for it.' The painting that gave me the go ahead to become a full time painter was one of rowboats by a dock. I have spent 25 years painting landscapes always knowing I would go back to boats."
Just as in her landscapes, her boat paintings share a certain nostalgia for her childhood, when life moved at a slower pace. "There are certain memories that fill you up, and when you're painting they just come through the work, that's when it really flows." Anne Cady grew up visiting Vermont every summer, living on a horse farm and spending time with her family on a small lake. We've often seen that very same horse farm, along with so many other Vermont farms and fields in Cady's work, but only occasionally caught a glimpse of her lake. "See You at the Lake" visits an environment where Cady felt a great deal of freedom, in her boat with her dog by her side, and nothing but the lake all around. This boat show is significant because it's her first body of work set on the water and revisits the painting which initially emboldened her to become an artist.
Boats provide an opportunity for Cady to explore color relationships and geometric forms as she builds a composition. Her work compels the viewer to develop their own narrative, often evoking a personal emotional response. Even with a canvas dominated by blues, color plays an active role in "See You at the Lake". Cady explains, "As I paint I allow the colors to have their say and lead me where I need to go. I love the process of discovery, and the good mistakes."
The serenity and quiet of the pieces in this show are quite distinct from Cady's expansive landscapes. "There is a tranquility of still boats waiting" Cady says, "With the color and the forms there is a simplicity – a welcome contrast to the chaos of the world we live in today"
Cady has exhibited in many juried, solo and invitational exhibitions throughout her career. Her paintings are held in private collections throughout the United States, Canada, United Kingdom and New Zealand.
(text adapted from the venue's press materials)
Image
Merrily, Merrily, Merrily II
by Anne Cady
36″x36″
oil on canvas
Courtesy of the artist and Northern Daughters, Vergennes
---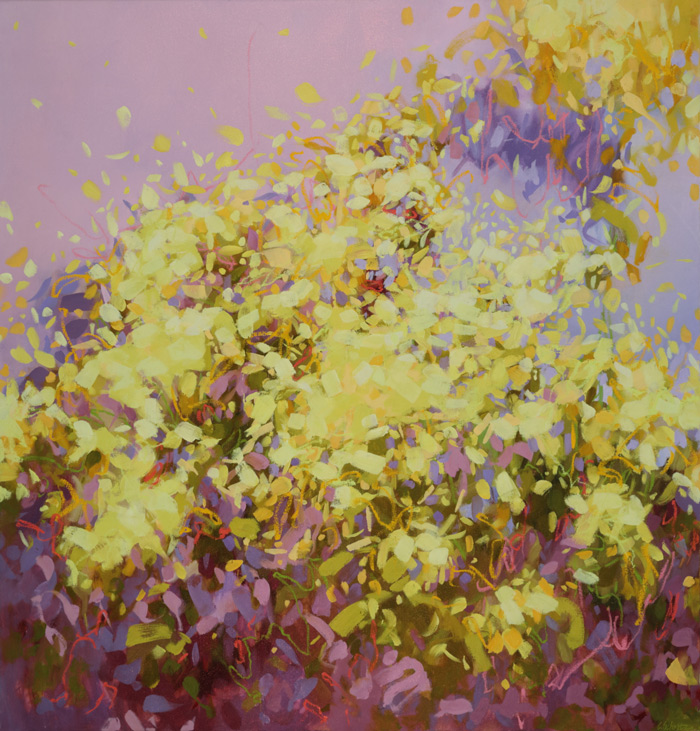 "Cameron Schmitz: Suspended Moments"
April 13-May 28, 2017
Opening reception: Friday, April 28, 5-8PM
"Suspended Moments" a solo exhibit of new abstract oil paintings from Cameron Schmitz.
"Suspended Moments" features new abstract paintings with Schmitz's dynamic brushwork and a lush color palette that already has us feeling the excitement of spring's unfolding. "I use mark-making to express the constantly moving, changing, and morphing of life and nature, leaving observers certain that they are witnessing merely a fleeting moment in time." Through Schmitz's vibrant pieces you can stay in those transitory moments of high energy, movement, and expansion and walk through them as you travel through the composition of her abstract work. The viewer to permitted to pause and take in something that would otherwise be fleeting, almost invisible. The title of the show, "Suspended Moments", is a tribute this concept.
Schmitz has a background in landscape and figurative painting, but moved to primarily painting abstract work after the birth of her first child 3 years ago. Schmitz says "I have found that being a parent has heightened my senses and my desire to move beyond literal forms and clarified my artistic motivation to express joy, wonder, and a contented unknowing about life, which is messy and intense but always potent with exceptional beauty."
Schmitz's education includes a Master's of Fine Arts in Painting from the Pennsylvania Academy of the Fine Arts, Bachelors of Fine Arts in Painting & Drawing from the University of New Hampshire, and studies in Art and Art History at Studio Arts Centers International in Florence, Italy. Following a month-long artist residency at the Vermont Studio Center in 2006 and meeting her now husband, Schmitz moved to Vermont. She, her husband and three children currently reside in Bernardston, Massachusetts. In addition to her art practice, Schmitz is also a painting instructor at the River Gallery School in Brattleboro.
(text adapted from the venue's press materials)
Image
Reaching for Delight
by Cameron Schmitz
46″x44″
oil on canvas
Courtesy of the artist and Northern Daughters, Vergennes
---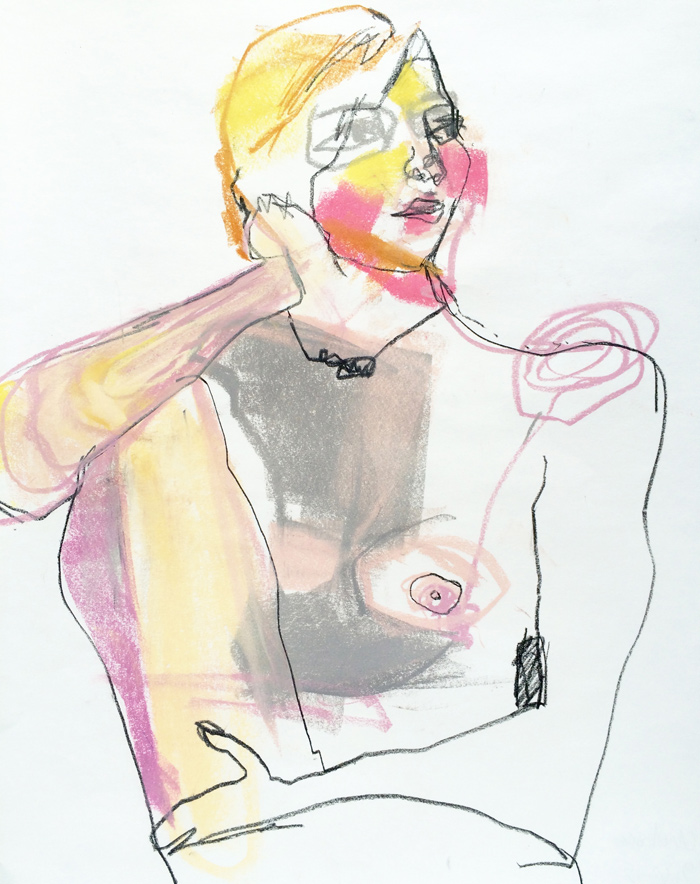 "Grace Mellow: Not for Show"
March 2-April 9, 2017
Opening reception: Friday, March 10, 5-8PM
"Grace Mellow: Not For Show" features a selection of Mellow's more experimental figurative drawings.
The work was created in New York City. Mellow uses gouache and pastel, plays with line weight and blocks of color to capture what feel like intimate and passing moments. "These drawings were never intended to be shown," says Mellow. She describes this body of work as "visual amusements, inspired by the burlesque and cabaret performers who sat for them–quirky individuals with a rare joie de vivre and a talent for remaining motionless for 20 minutes at a time." At a time of year when Vermonters may have a bit of cabin fever, this show provides a taste of the funk and sass of New York City.
Grace Mellow was born in Rutland. She earned a Diploma from the Boston Museum School and a BFA from Tufts University, with additional studies at The Art Students League of New York and Cooper Union. Most recently, she completed a residency at the Vermont Studio Center. She currently divides her time between Poultney and New York City.
(text adapted from the venue's press materials)
Image
Chelsea
by Grace Mellow
gouache and pastel
Courtesy of the artist and Northern Daughters, Vergennes
---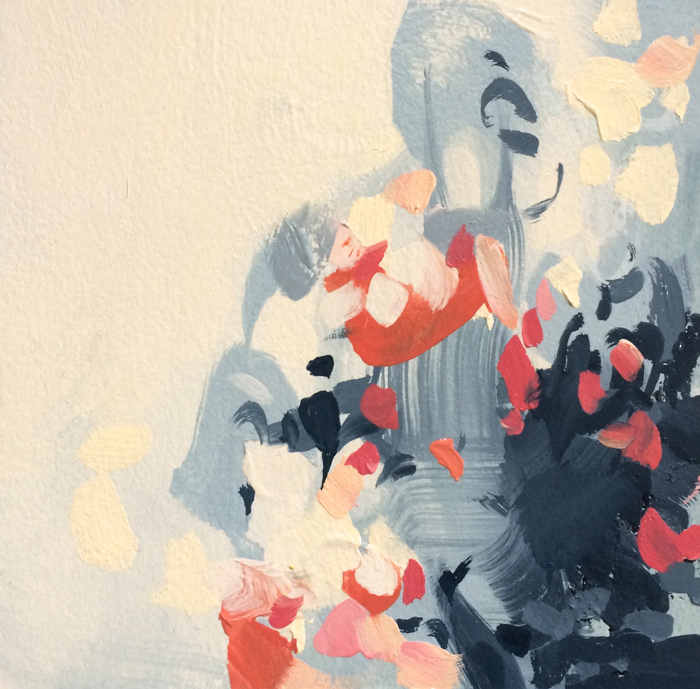 "more light"
December 1, 2016-January 15, 2017
Artist Reception: Friday, December 9, 5-8PM
"more light" features small works from seven artists working in watercolor, monoprint, oil painting and collage. Anne Cady, Pamela Smith and Cameron Schmitz have been exhibiting at Northern Daughters since the opening of the gallery in August. Rebecca Kinkead, Sobelman Cortapega, Katie Loesel, and Bonnie Baird are showing at NoDa for the first time.
Rebecca Kinkead features a body of work created during her recent artist residency at Baer Art Center in Hofsos, Iceland. The small watercolors depict land and animals with tender abstraction.
Sobelman Cortapega is a collage artist and illustrator from Spain. With scissors, old books and magazines in hand, she constructs her world of imagery.
Katie Loesel's monoprints are subdued abstractions of microscopic surfaces and rocky formations. Her interest in plastic as a distinct marker of our current era prompted the creation of this body of work.
Bonnie Baird's oil paintings have a subtle drama and quiet details that pay homage to her relationship with the land, one that developed through her life as a dairy farmer.
Regarding the title of the show, gallery owner Sophie Pickens says "the winter solstice lands in the middle of the show, the name more light is in honor of this transition that we are hoping for. Light is also what makes everything visible." Justine Jackson, gallery owner, adds "these small works provide a moment of that visibility during times of darkness and can allow us to carry that light into the world around us."
(text adapted from the venue's press materials)
Image
Fairy Tale Daydreams
by Cameron Schmitz
5.25″x5″
oil on Arches Oil paper
Courtesy of the artist and Northern Daughters, Vergennes