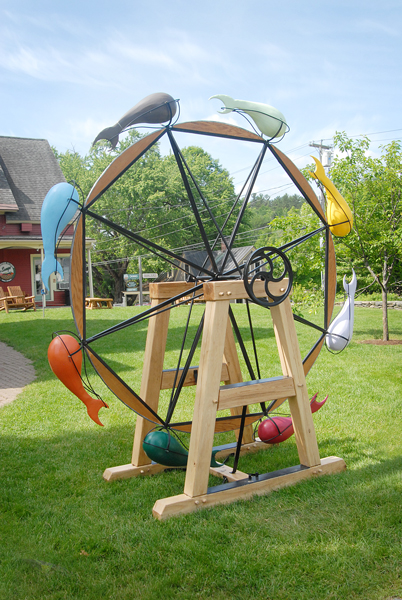 Oliver B. Schemm & Jessica DiClerico are part of Exposed 2011. They live in Southern Vermont.

The Fishwheel is a collaboration between the artists Jessica DiClerico and Oliver Schemm.  The inception of The Fishwheel began when the artists stumbled upon a digital photo archive of historic images from the Pacific Northwest: an arresting black and white photo of a processing wheel in a salmon cannery.  The large mechanical wheel that efficiently disemboweled the majestic, shimmering salmon fish was strangely horrific and beautiful at once. There was a desire to create a similar wheel, but eliminate the element of industrial consumption and instead pay homage to the shape of the wheel and the cycles and colors of migration, seasons, and life. Similarly, the wooden base of The Fishwheel is modeled upon a medieval catapult.  Looking beyond its purpose as a war machine, there lies in the form and mortise and tenon construction a rhythm and unity much like that of the wheel.  The Fishwheel brings the old forms of these two machines together to create a whole new function. It is not a function of consumption or destruction that The Fishwheel offers, but one of celebration.
The artists Jessica DiClerico and Oliver Schemm have been collaborating for fifteen years, a majority of that time while living in southern Vermont.  They met on the streets of Florence, Italy, as exchange students, and have been creating together ever since. DiClerico's work incorporates painting, collage and objects within a composition. Recently she has expanded her practice to include sculptural pieces.  Schemm has been focusing on assemblage sculpture, using a full range of materials. Since receiving his MFA, Schemm has been teaching studio art at Castleton College. Fish Wheel is their first major collaboration, aside from their three growing daughters.
---
ABOUT EXPOSED
For the past twenty years, the Helen Day Art Center has hosted an outdoor public art and sculpture exhibition called Exposed in Stowe, Vermont.  Exposed hosts sculptures, site-specific installations, and participatory work from twenty-three national and international artists. the 2011 edition offers a series of Thursday night events by 12 video artists, writers, performers, and musicians accompany the exhibit. This exhibition and series of events is accompanied by cell phone audio tours, QR codes, walking tour maps, walkabouts, and a catalogue of the exhibit published by Kasini House Books. The exhibition will take place July 8th to October 8th, 2011.