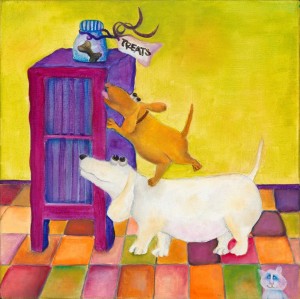 Saturday, July 13, 11AM-5PM
Sunday, July 14, 11AM-5PM
A joyful exhibit in celebration of dogs featuring the work of artist Liz Le Serviget.  Dogs are honored in a variety of media including fine art on canvas, stone assemblage, fiber art, painted ceramics and furniture. All dogs are cordially invited.
During July and August, sweet and savory platters are served outdoors on the patio,  prepared with fresh edibles from the garden along with local products and fine specialty teas from the Vermont Liberty Tea Company in Waterbury. The Tea Garden is open from Thursday through Saturday, 11:30AM-4PM. Reservations are required.