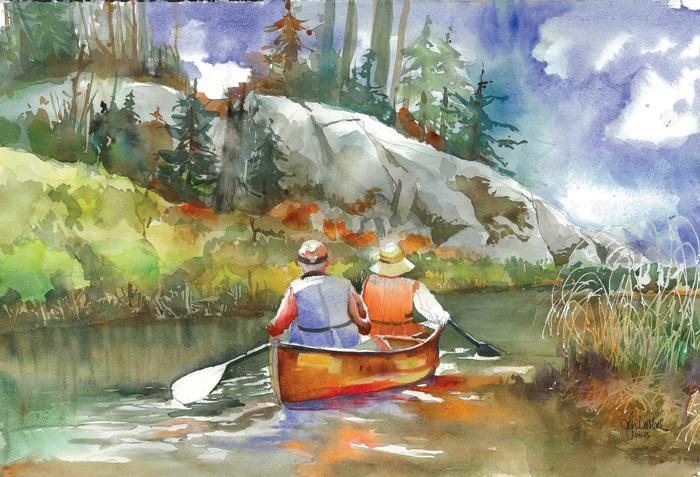 ART ON VIEW
"Places of the Heart": Lyn DuMoulin at
the Jackson Gallery at Town Hall Theater
in Middlebury
October 6-November 12, 2017
Lyn DuMoulin spends her summers canoeing, bicycling, bird watching and hiking the deep country, the Adirondack mountains. Watercolors by the Middlebury artist reflect her passion for nature and outdoor activities with scenes from Vermont and the Adirondacks. She loves to paint people, canoes, mountains, and the back waters of the great North Country.
She says that "the natural world and those places where it seems 'God's only been t'once' grow in importance for me. Reflections in water seem to mirror a deep, watchful presence in my life and often appear in my work. My work reflects my world; colorful and full of life."
DuMoulin paints full time since retiring from a college teaching career and additional diverse professions. Though she does not have "formal art training" she has developed a high level of skill in watercolor techniques through study with several well-known established artists. Her work has won an award for excellence from the Vermont Watercolor Society in which she is a signature member. She has exhibited in several juried shows and Vermont galleries. An original painting hangs in the lobby of the Nature Conservancy at Keene Valley in the Adirondacks.
(text adapted from the venue's press materials)
---
INFORMATION
Jackson Gallery at Town Hall Theater
lower level
68 South Pleasant Street
Middlebury, Vermont 05753
(802) 382-9222
Hours:
Monday-Saturday, Noon-5PM
and an hour before any public events in the building
Image:
High Rock on the Oswegatchie
by Lyn DuMoulin