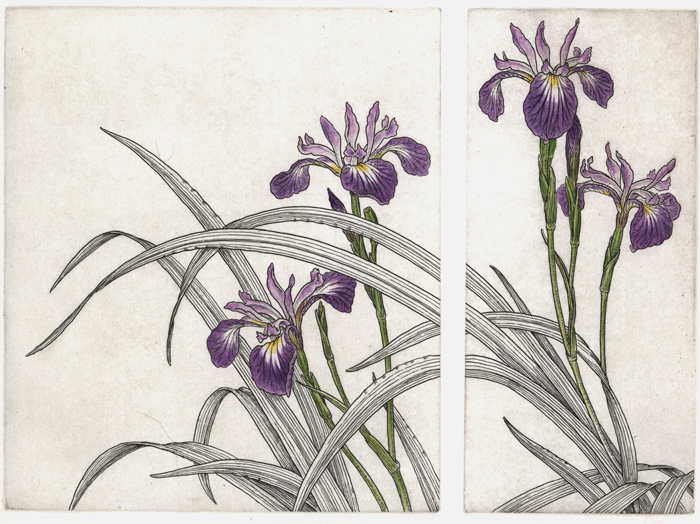 Prelude to Spring: Botanical Art in Vermont
February 17-April 1, 2017
Opening reception: Friday, February 17, 4-7PM
Artists often focus on the elegance and beauty of plants and flowers, depicting them in a spectrum from abstraction to the minute, scientific detail of botanical illustration. Through the centuries, botanical art has combined precise observation of plant life with the balance and beauty of original compositions. "Prelude to Spring: Botanical Art in Vermont" presents the work of three of Vermont's finest botanical artists, Bobbi Angell, Susan Bull Riley, and Stephanie Whitney-Payne. These artists create watercolor paintings and etchings derived from careful observation of plants and flowers.
The work of Angell, Riley, and Whitney-Payne all show an obvious love for the subject. Creating botanical work is a slow art form, where hours or even days can be spent on a single bloom, intently observing botanical details and faithfully recording them as buds open into flowers and blossoms fade, wither, and die. The artists clearly have a passion for the plants as well as the work, revealing a relationship with the subject that is intimate and deeply focused.
The three artists are members of the American Society of Botanical Artists (ASBA) and the New England chapter (NESBA).
(text adapted from the venue's press materials)
---
INFORMATION
Compass Music and Arts Center
Park Village
333 Jones Drive
Brandon, Vermont 05733
(802) 247-4295
Hours:
Daily, 10AM-5PM
Image:
Blue Flag
by Bobbi Angell
diptych: watercolor
Courtesy of Compass Music and Arts Center