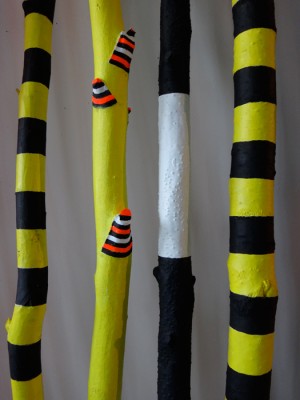 Friday, March 14, 6PM
Andrea Lilienthal: Roundabout (site-specific installation of stripped saplings)
Andrea Lilienthal is a Brooklyn-based mixed media sculptor. Her use of materials derives from nature, then becomes transformed: long brightly painted branches propped against a wall, striped trees with their roots still intact, and pussy willow buds suspended in space resembling a swarm of bees.
Roundabout transforms the East Gallery into an environment of nearly 140 tall, brightly colored saplings. Arranged in a circular formation and responding to the architecture of the room, the work creates an immersive experience for the viewers.
Andrea Lilienthal grew up in the San Francisco Bay Area and now lives in Brooklyn, New York. This year her outdoor site specific installation, Six Ladders, has been on exhibit at the Katonah Museum in New York. During the past three years, she has had a one-person exhibit at The Gallery at Kingsborough Community College in Brooklyn, a two-person show at Mountain Fold Gallery in New York City and a group show at Wave Hill in the Bronx. Andrea curated numerous exhibitions including shows at the Rotunda Gallery in Brooklyn and The Hudson River Museum in Yonkers, New York. She taught art and art history for ten years at Pace University and Farleigh Dickenson University.
Curated by Rachel Moore.