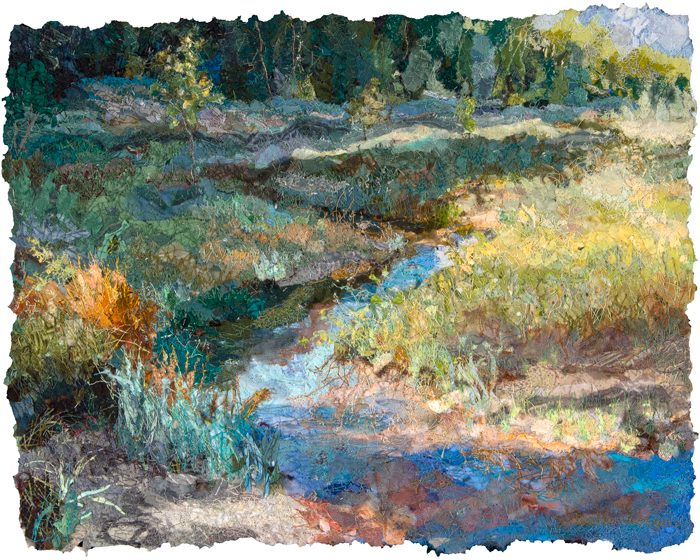 ART ON VIEW
"Refuge: Vermont Artists Respond"
at The Kent Museum in Calais
through October 8, 2017
The Kent Museum in Calais only hosts one exhibition each year. The time is now. Through October 8, 2017, "Refuge: Vermont Artists Respond" is on view. The exhibition fills the rooms of the historic Kent tavern and general store in the tiny crossroads hamlet of Kent's Corner, a 10-mile drive north of Montpelier. "After ten years of outstanding contemporary art exhibitions, the annual month-long show has developed a devoted and enthusiastic following from throughout New England," says State Curator David Schutz.
Two and three-dimensional works as well as site-specific installations, including sound, fill the museum's eighteen unique gallery spaces. "This year's exhibition will introduce audiences to the astonishing works of nearly two dozen Vermont painters, sculptors, and clay artists whose work explores the concept of refuge–including family and community, natural habitat, home and place, sleep and dreams, food and sustenance, spiritual pursuits, and the making of art itself," said Schutz. Exhibition artists include Eric Aho, Dmitri Andreyev, Angelo Arnold, Jeanne Bisson, Ray Brown, Sam Colt, Kate Emlen, Herb Ferris, Diane Fitch, Stephen Lloyd, Janet McKenzie, Hannah Morris, Linda Mirabile, Evan Premo, Stephen Schaub, Peter Schumann, Dianne Shullenberger (image), Phoebe Stone, Ikuzi Teraki, Meg Walker, Susan Jane Walp and Andrea Wasserman.
A closing reception takes place 3-5PM on Sunday, October 8, 2017.
The Kent Museum
The museum is a crossroad in the hamlet of Kents Corner in Calais, a 10-mile drive north of Montpelier. With a historic tavern and general store, the museum "allows easy appreciation of Vermont in the 19th century." The site is a collaboration between the Vermont Division for Historic Preservation and Historic Kents' Corner, Inc., the local group of volunteers who bring produce events at the site.
7 Old West Church Road, Calais 05648
(802) 223-6613
www.kentscorner.org