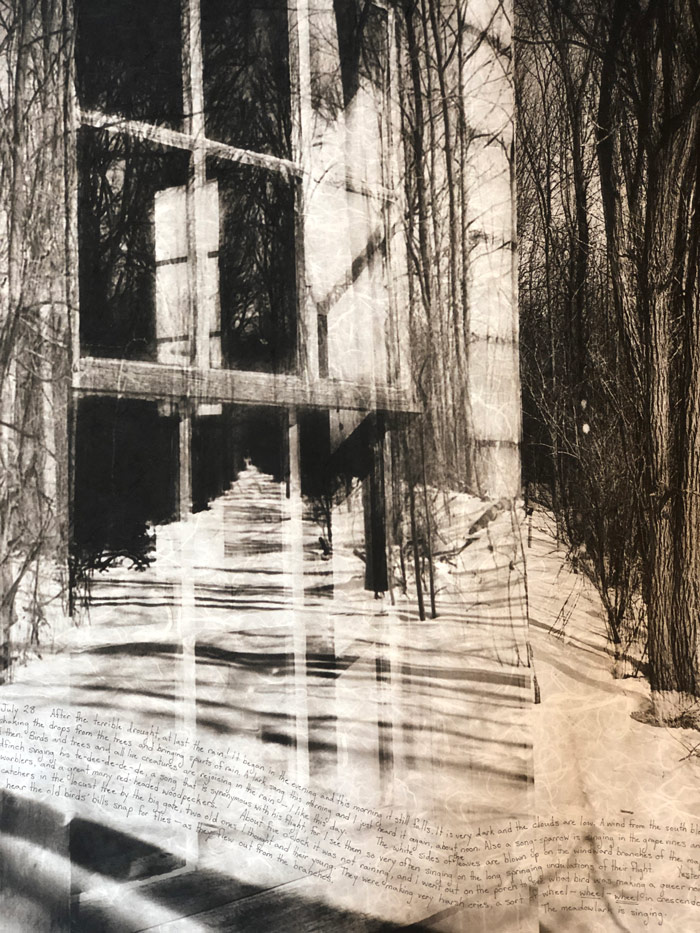 ART ON VIEW
Rokeby by Eve N Steve
at Helmholz Fine Art in Manchester
June 22-29, 2019
Reception: Saturday, June 22, 5-7PM
Combining in-camera collage on film with handwritten text and depicting scenes from the historic radical Quaker homestead and Underground Railroad site, Rokeby is the product of a new collaboration between acclaimed artist Stephen Schaub, and his wife, noted author Eve Schaub, who work under the name Eve N Steve.
Rokeby, in Ferrisburgh, was an active site on the Underground Railroad as well as a homestead and working farm to four successive generations of Vermont Quakers. In the artwork, Stephen employs a 140-degree Noblex panning-lens camera, which creates individual panoramas that mimic human vision. The resulting in-camera college on film expresses a total combined reality of 840 degrees–a scene rooted in reality, yet which does not actually exist.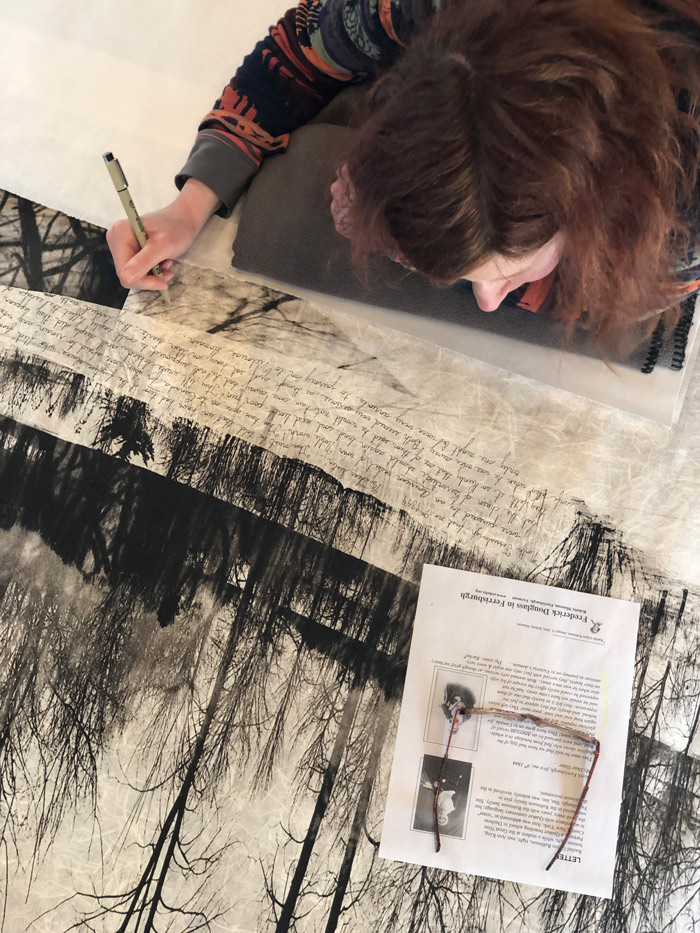 This imagery is then overlaid and interwoven by texts handwritten into the work by Eve, drawing from the Rokeby Museum's vast material archive. Working with museum curators, Eve selected for inscription sixteen different passages ranging in date from 1843 up to the present day, written by the farmers, abolitionists, artists, and writers who made Rokeby their home.
The artwork was featured in the exhibition "Rokeby: Through the Lens" at the Rokeby Museum, and on the WCAX evening news. It received positive reviews from Seven Days and will be the subject of a piece in the upcoming issue of Vermont Magazine. Participating in the artist's talk and discussion during the opening reception are both the artists, as well as Ric Kasini Kadour, Curator of Contemporary Art at Rokeby Museum, and Catherine Brooks, Director of the Rokeby Museum.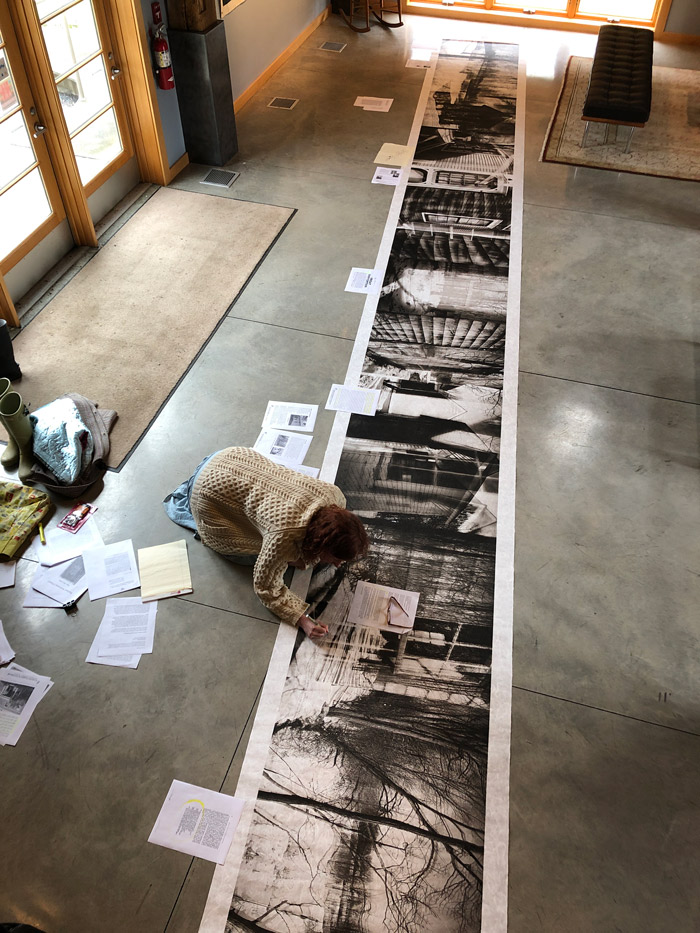 Kadour says about the artwork, "Great art demands that we slow down and look and ponder, three things contemporary life rarely allows us to do. The Rokeby photograph is a near perfect example of how contemporary art can pick up the unfinished work of history and speak to us in the present."
---
INFORMATION
Helmholz Fine Art
442 Depot Street
Manchester Center 05255
(802) 855-1678
Hours:
Thursday-Saturday, 11AM-5PM
Sunday, 11AM-4PM
Images: (top to bottom)
Rokeby (detail) by Stephen Schaub and Eve Ogden Schaub
38″x354″; carbon pigment on Japanese Haruki in-camera collage on film with hand-written text; Unique one of one, 2019
Courtesy of the artists
Eve Ogden Schaub working on Rokeby
Courtesy of the artists