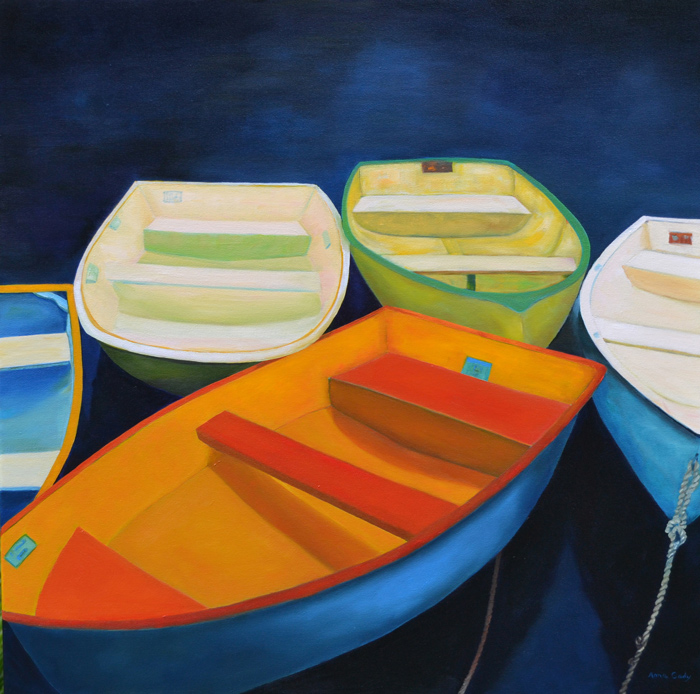 Anne Cady: "See You at the Lake"
July 13-August 27, 2017
Opening reception: Friday, July 21, 5-8PM
"See You at the Lake" is a solo exhibit of new work from Anne Cady.
Cady is best known for her lyrical Vermont landscape paintings. Her work is characterized by luminous saturated color, simplified forms and strongly contrasting values depicting the open pastures, farms, hills and mountains of the Champlain valley. This show marks a departure from landscapes, shifting the focus to boats. Cady says "It has been a long time coming, 25 years in fact. I imagine for every painter there is an early painting that says, 'Yes. You can do this. Go for it.' The painting that gave me the go ahead to become a full time painter was one of rowboats by a dock. I have spent 25 years painting landscapes always knowing I would go back to boats."
Just as in her landscapes, her boat paintings share a certain nostalgia for her childhood, when life moved at a slower pace. "There are certain memories that fill you up, and when you're painting they just come through the work, that's when it really flows." Anne Cady grew up visiting Vermont every summer, living on a horse farm and spending time with her family on a small lake. We've often seen that very same horse farm, along with so many other Vermont farms and fields in Cady's work, but only occasionally caught a glimpse of her lake. "See You at the Lake" visits an environment where Cady felt a great deal of freedom, in her boat with her dog by her side, and nothing but the lake all around. This boat show is significant because it's her first body of work set on the water and revisits the painting which initially emboldened her to become an artist.
Boats provide an opportunity for Cady to explore color relationships and geometric forms as she builds a composition. Her work compels the viewer to develop their own narrative, often evoking a personal emotional response. Even with a canvas dominated by blues, color plays an active role in "See You at the Lake". Cady explains, "As I paint I allow the colors to have their say and lead me where I need to go. I love the process of discovery, and the good mistakes."
The serenity and quiet of the pieces in this show are quite distinct from Cady's expansive landscapes. "There is a tranquility of still boats waiting" Cady says, "With the color and the forms there is a simplicity – a welcome contrast to the chaos of the world we live in today"
Cady has exhibited in many juried, solo and invitational exhibitions throughout her career. Her paintings are held in private collections throughout the United States, Canada, United Kingdom and New Zealand.
(text adapted from the venue's press materials)
---
INFORMATION
Northern Daughters
221 Main Street
Vergennes 05491
(802) 877-2173
Hours:
Thursday-Sunday, 10AM-6PM
and by appointment
Image
Merrily, Merrily, Merrily II
by Anne Cady
36″x36″
oil on canvas
Courtesy of the artist and Northern Daughters, Vergennes