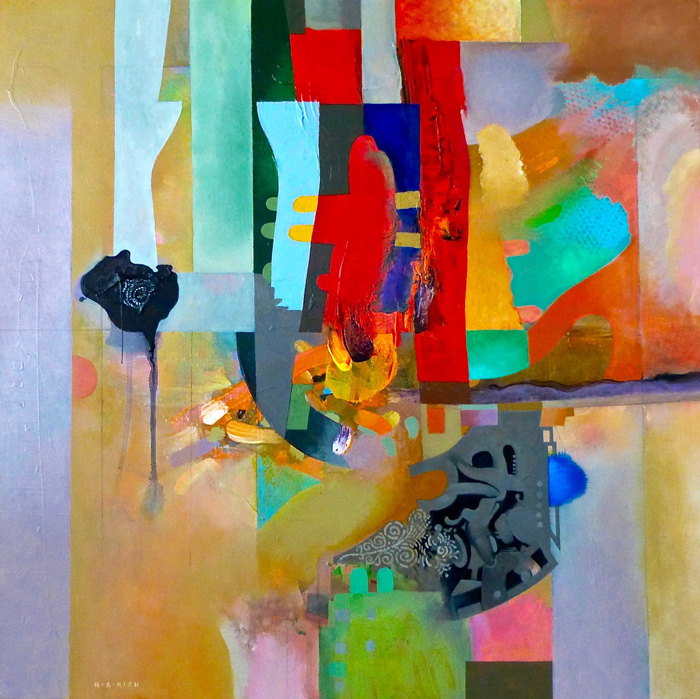 ART ON VIEW
Spring Show
at stART Space in Manchester Center
March 31-May 15, 2018
stART Space's Spring Show presents work by thirteen artists.
stART Space hosts weekly Artist Soirées featuring moderated conversations about art, curating and collecting, casual conversations with artists and formal artist presentations between show openings and closings. Soirées include stART Space's signature pairing of popcorn with chardonnay. For the Spring Show 2018, the soirées take place on Wednesdays, April 25, May 2, May 9, and May 16, 5-7PM.
Harry Rich, Dan Mosheim, Dona Mara, Elizabeth Nagle, Carolina Ellenbogen and Michael Williams are painters in the Spring Show. Rich's paintings build on the explosive heritage of The New York School while remaining within the borders of Modernism. After 40 years of custom furniture-making, Dan Mosheim, inspired by the work of abstract expressionists, applies color and paint in his bold, direct artworks. Dona Mara's mixed-media paintings are planes of space, light, color, texture and form that suggest places of beauty and often start with a view to nature through a screened, frosted or rainy window. Nagle's series, "Go Play Outside", is a narrative written in a language made up of color, gesture, marks, drips, collage, printmaking and drawing and relates to the muffled, less bold moments, of Spring's arrival. Ellenbogen's two series of minimalist artworks, "When the Light Folds" and "When the Light Breaks into Pieces", focus on projected light and use a combination of glazing, scumbling and washings of oils to depict transparency. Her works are studies on endurance, patience, contemplation, awareness, introspection, forgiveness and acceptance. After 10 years of study ending at St. Martin's School of Fine Art in London, painting through the 70s while working alongside the Colorfield painters, Williams transitioned to the computer-generated art form in the 90s that "allows me to experiment, edit freely in ways never before possible, and watch a work through its evolution."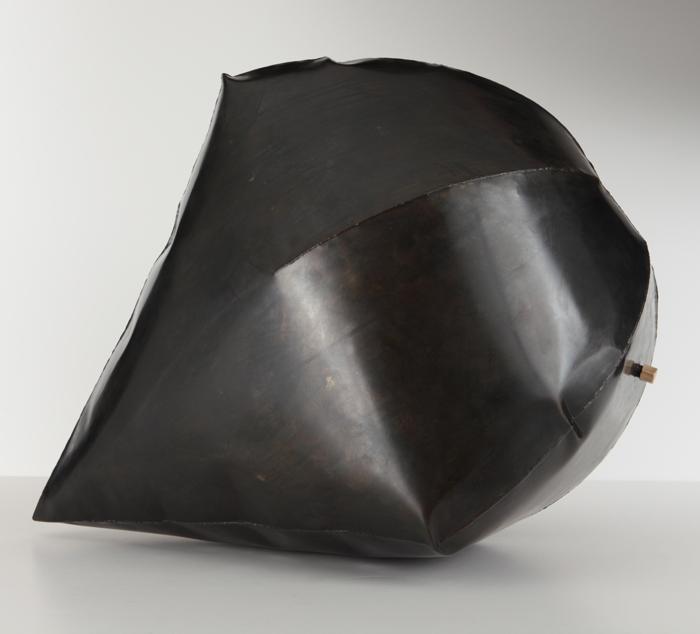 Harry Tabak and Rodrigo Nava are exhibiting sculptors. Tabak has participated in three residency programs at MassMOCA and has artworks in the Brooklyn Museum, Wichita Art Museum, Weatherspoon Art Museum and numerous private and corporate collections. His show reflects a strong bond with nature and an obsession with the lyrical forms and movement of grapevines. The "Visable Force Series" by Nava was created through hydro-forming welded-steel. "These shapes formed from pressurized steel," said Nava, "stress the latent corpulence rather than plasticity and will challenge expectations as steel seems to billow at its extremities and bulge at the seams."
Two collage artists, Deirdre Day and Erika Lawlor Schmidt, offer vastly different views. Day, copywriter, academic and writer, obsessed with the archaeology of dead knowledge, gathered encyclopedia and old magazines, splicing them into collage representations of a past that shapes the present, bridges disparity and creates narratives. Lawlor Schmidt uses collage as a way to bring physical fragments of the past into the present and from the present into the future. Her work is about the assimilation of observation, psyche and spiritual life forces.
Two photographers, Barrack Evans and Michael D Ellenbogen, bring abstract photography to the show. Evans' "Ice Diamonds" of Jökulsárlón's black sand beach takes aim at the remains of calved-off icebergs from Iceland's Vatnajökull Glacier while Ellenbogen, using the camera more like a paintbrush than a mirror to compose images and apply color, shows a series of six images that present one of the primary or secondary colors in "Primary-Secondary".
Alongside the sculpture and painting is the mixed-media, 3D work of Michael D Ellenbogen and the installation, drawings and paintings of Eva Schmidt. Ellenbogen's "Essentials" series is concentrated on the manual deconstruction of familiar technology and its reassembling in ways that draw attention to the technology we don't see. Schmidt will create installations utilizing mirrors, tape and light to transform rooms into spaces for visual allegory and imagination recall.
(text adapted from the venue's press materials)
---
INFORMATION
stART Space
263 Depot Street
Manchester Center 05255
(802) 768-8498
Hours:
Tuesday-Thursday, 1-5PM
Friday-Saturday, 11AM-5PM
Image (top)
Abstract with Rose
by Harry Rich
22″x22″
acrylic on canvas
Courtesy of the artist and stART Space, Manchester
Image (center)
VFS No. 12
by Rodrigo Nava
Courtesy of the artist and stART Space, Manchester