Art gallery offering non-representational, non-objective and abstract art by emerging and established artists. stART Space hosts weekly Artist Soirées featuring moderated conversations about art, curating and collecting, casual conversations with artists and formal artist presentations between show openings and closings. Soirées include our signature pairing of popcorn with chardonnay.
stART Space
263 Depot Street
Manchester Center 05255
(802) 768-8498
Hours:
Visit startspace.art for the current hours.
---
ART ON VIEW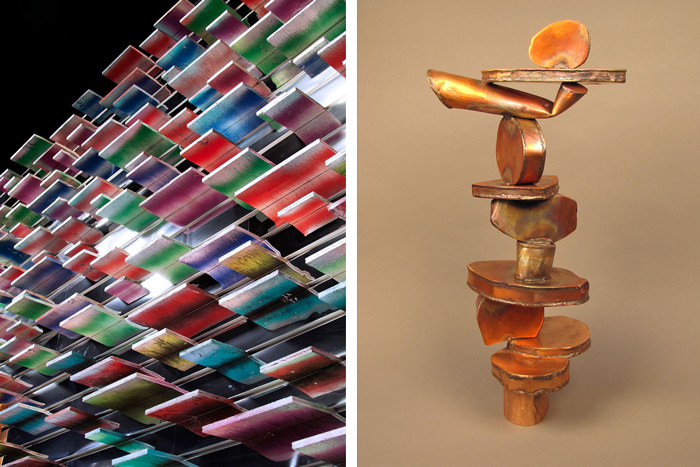 Positive, Negative & Intertwining Spaces
December 15, 2018-April 30, 2019
"Positive, Negative and Intertwining Spaces" features installation and sculptural works by Michael Watson and Gregory Smith. The show reveals the various ways each artist considers, molds and interprets the space around them and purposefully captures an idea or feeling using the materials and tools at their disposal. Also featuring paintings, photography, fashion, mixed-media, video, collage and sculpture by Rodrigo Nava, Harry Rich, John Richey, Erika Lawlor Schmidt, Longina Smolinski, James Vogler, Richard Weis and others.
(text adapted from the venue's press materials)
Image (left):
Mirage (detail, installation view) by Michael Watson
variable dimensions; plywood, spray paint and paper
Courtesy of the artist and stART Space, Manchester Center
Image (right):
Friends in High Places #1 by Gregory Smith
29″x15″x9″; copper; 2011
Courtesy of the artist and stART Space, Manchester Center
---
PREVIOUS EXHIBITIONS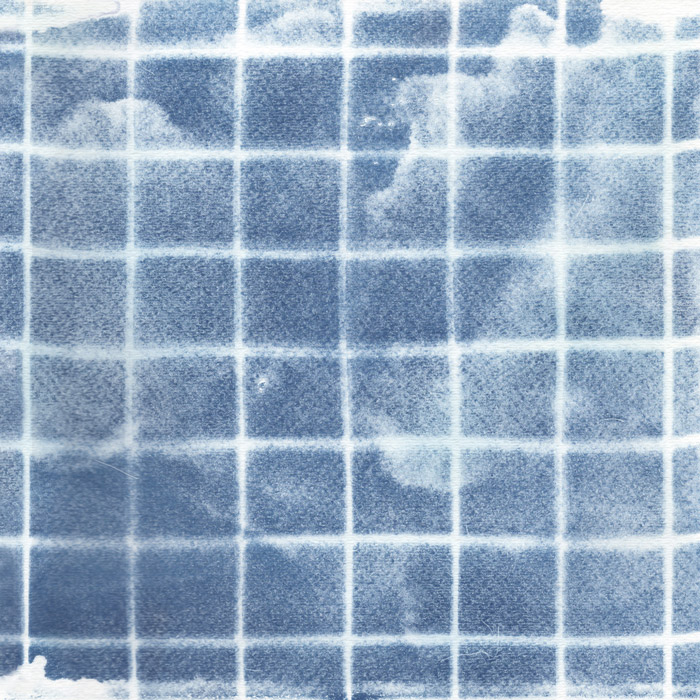 Summer Show 2018
Opened June 23, 2018
Carolina and Michael Ellenbogen's abstract art gallery, stART Space in Manchester opens its Summer Show 2018 with 18 artists. The opening reception is on Saturday, June 23, 4-7PM. At 5:30, there will be a one-time performance artwork created by Eva Schmidt and Chilean artist Sebastian Escalona. IRL (In Real Life) is an exploration of relationship and time in the digital age. The artists will engage with a cast of electronic devices as a way to conjure a new language of movement and feeling.
Meet Editor Ric Kasini Kadour of the Vermont Art Guide, the state's magazine of contemporary art, for a Meet & Greet during the "Summer Show 2018" opening reception. Copies of the current issue, Vermont Art Guide #7, will be on hand.
Among the eighteen artists on view:
Twinning, a new immersive site-specific installation by Brooklyn-based John Richey, brings together a collection of hand-drawn video animations and cyanotype prints produced using themes and images borrowed from various personal collections. Each work seeks to allow elements of chance and flexibility into a labor-intensive process that grapples with the transformative nature of information. By working back-and-forth between, and with different combinations of hand-made and digitally rendered elements, this new installation investigates the physical or conceptual glitches that occur in the spaces between the analogue and the digital. Each performance-based animation depicts a luminous grid pattern infinitely floating and falling into a limitless void. They, along with the vivid blue cyanotype works, speak to formal principles of line and pattern while at the same time addressing themes of light, space, and movement.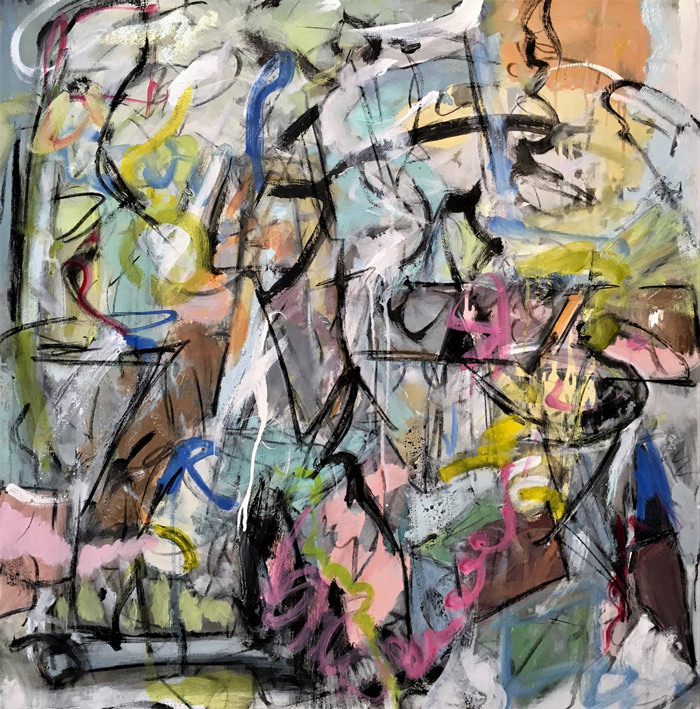 James Vogler received his BA in Painting from Kean University in 1976, continued his education in the Masters Art History program at Rutgers University and later in the Masters Painting program at Kean University. While working for the next 10 years as an art installer for the Metropolitan Museum of Art in New York, he continued to paint and develop his style of abstraction. Working largely in oil on canvas, his paintings reflect a mixture of moments gleaned from past or present personal experiences. The results are expressed in a blending of abstraction and figural lines infusing his work with a curious ambiguity.
Other artists on view include Rodrigo Nava, Julian Sheres, Harry Rich, Carolina Ellenbogen, Elizabeth Nagle, Dona Mara, Dan Mosheim, Michael Williams, Deirdre Day, Erika Lawlor Schmidt, Michael D Ellenbogen, Barrack Evans, and Harry Tabak.
stART Space welcomes emerging and established collectors, providing the opportunity for any person to start building an art collection or to expand an existing collection. Prices range from under $200 to over $10,000. Exhibitions at stART Space are supported by patrons-of-the arts that include Crosspoint Associates and Village Picture Shows. Beverages at the opening reception are provided by Astral Tequila and TÖST.
(text adapted from the venue's press materials)
Image (top)
untitled (screen 07)
by John Richey
2018
Courtesy of the artist and stART Space, Manchester
Image (center)
3 Wishes
by James Vogler
2018
Courtesy of the artist and stART Space, Manchester
---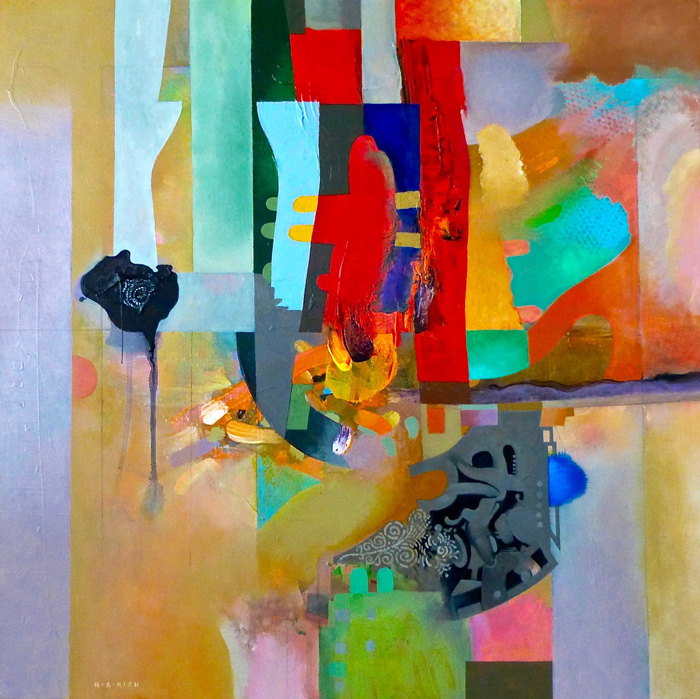 ART ON VIEW
Spring Show
March 31-May 15, 2018
stART Space's Spring Show presents work by thirteen artists.
stART Space hosts weekly Artist Soirées featuring moderated conversations about art, curating and collecting, casual conversations with artists and formal artist presentations between show openings and closings. Soirées include stART Space's signature pairing of popcorn with chardonnay. For the Spring Show 2018, the soirées take place on Wednesdays, April 25, May 2, May 9, and May 16, 5-7PM.
Harry Rich, Dan Mosheim, Dona Mara, Elizabeth Nagle, Carolina Ellenbogen and Michael Williams are painters in the Spring Show. Rich's paintings build on the explosive heritage of The New York School while remaining within the borders of Modernism. After 40 years of custom furniture-making, Dan Mosheim, inspired by the work of abstract expressionists, applies color and paint in his bold, direct artworks. Dona Mara's mixed-media paintings are planes of space, light, color, texture and form that suggest places of beauty and often start with a view to nature through a screened, frosted or rainy window. Nagle's series, "Go Play Outside", is a narrative written in a language made up of color, gesture, marks, drips, collage, printmaking and drawing and relates to the muffled, less bold moments, of Spring's arrival. Ellenbogen's two series of minimalist artworks, "When the Light Folds" and "When the Light Breaks into Pieces", focus on projected light and use a combination of glazing, scumbling and washings of oils to depict transparency. Her works are studies on endurance, patience, contemplation, awareness, introspection, forgiveness and acceptance. After 10 years of study ending at St. Martin's School of Fine Art in London, painting through the 70s while working alongside the Colorfield painters, Williams transitioned to the computer-generated art form in the 90s that "allows me to experiment, edit freely in ways never before possible, and watch a work through its evolution."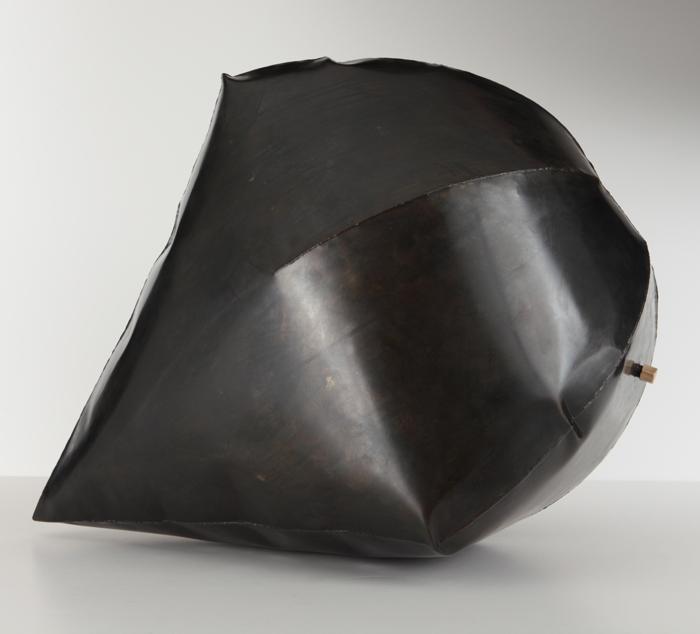 Harry Tabak and Rodrigo Nava are exhibiting sculptors. Tabak has participated in three residency programs at MassMOCA and has artworks in the Brooklyn Museum, Wichita Art Museum, Weatherspoon Art Museum and numerous private and corporate collections. His show reflects a strong bond with nature and an obsession with the lyrical forms and movement of grapevines. The "Visable Force Series" by Nava was created through hydro-forming welded-steel. "These shapes formed from pressurized steel," said Nava, "stress the latent corpulence rather than plasticity and will challenge expectations as steel seems to billow at its extremities and bulge at the seams."
Two collage artists, Deirdre Day and Erika Lawlor Schmidt, offer vastly different views. Day, copywriter, academic and writer, obsessed with the archaeology of dead knowledge, gathered encyclopedia and old magazines, splicing them into collage representations of a past that shapes the present, bridges disparity and creates narratives. Lawlor Schmidt uses collage as a way to bring physical fragments of the past into the present and from the present into the future. Her work is about the assimilation of observation, psyche and spiritual life forces.
Two photographers, Barrack Evans and Michael D Ellenbogen, bring abstract photography to the show. Evans' "Ice Diamonds" of Jökulsárlón's black sand beach takes aim at the remains of calved-off icebergs from Iceland's Vatnajökull Glacier while Ellenbogen, using the camera more like a paintbrush than a mirror to compose images and apply color, shows a series of six images that present one of the primary or secondary colors in "Primary-Secondary".
Alongside the sculpture and painting is the mixed-media, 3D work of Michael D Ellenbogen and the installation, drawings and paintings of Eva Schmidt. Ellenbogen's "Essentials" series is concentrated on the manual deconstruction of familiar technology and its reassembling in ways that draw attention to the technology we don't see. Schmidt will create installations utilizing mirrors, tape and light to transform rooms into spaces for visual allegory and imagination recall.
(text adapted from the venue's press materials)
Image (top)
Abstract with Rose
by Harry Rich
22″x22″
acrylic on canvas
Courtesy of the artist and stART Space, Manchester
Image (center)
VFS No. 12
by Rodrigo Nava
Courtesy of the artist and stART Space, Manchester