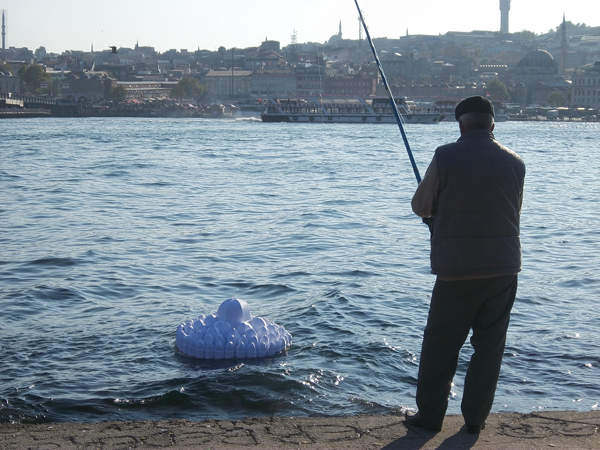 Stephanie Beck is part of Exposed 2011. She lives in Brooklyn, New York.
The project consisted of the construction of a large paper building of cascading domes inspired by and exaggerating the structures of the various mosques of Istanbul. The domed designs of the city's mosques can be traced back to the design of Haghia Sophia, a church first constructed in the 4th century, but rebuilt in its current form in the 6th century. The church was ultimately converted to a mosque after the Turkish conquest of Constantinople/Istanbul in 1453.
For the event the construction was ferried across the Golden Horn, colloquially referred to as the Haliç (Turkish for "estuary"), which bisects the European side of Istanbul. The Haliç was, and is, a major mode of transportation and trade and historically played a pivotal role in the defense of the city and in its ultimate conquest in 1453. The ferrying of the construction occurred next to the Galata Bridge, where tens of thousands of people drive, fish, eat, walk, and shop every day. After the trip across the Haliç, the piece was floated directly in the water where it was capsized and sunk by a Turkish boy who swam out and tried to climb aboard it.
By ferrying the construction across the Haliç and then inserting it directly into the water I was able to speak to the importance of the waterway as a venue for a constant flow of ideas and culture, beautifully represented in the city's architecture.
Stephanie Beck creates drawings, collages and cut-paper sculptures, and stages public-art interventions. Her work explores ideas of architecture, urban spaces and mapping. She has a MFA from the Pennsylvania Academy of the Fine Arts, a Post-Baccalaureate Certificate from the School of the Museum of Fine Arts, Boston, and a Bachelor of Arts in Art History from the University of Virginia.
Beck has participated in residencies in Brooklyn, New York; Fort Collins, Colorado; and Istanbul, Turkey, and has exhibited in solo and group exhibitions and public projects nationally and internationally. Beck received a Joan Mitchell Foundation MFA Grant in 2007.
---
ABOUT EXPOSED
For the past twenty years, the Helen Day Art Center has hosted an outdoor public art and sculpture exhibition called Exposed in Stowe, Vermont. Exposed hosts sculptures, site-specific installations, and participatory work from twenty-three national and international artists. the 2011 edition offers a series of Thursday night events by 12 video artists, writers, performers, and musicians accompany the exhibit. This exhibition and series of events is accompanied by cell phone audio tours, QR codes, walking tour maps, walkabouts, and a catalogue of the exhibit published by Kasini House Books. The exhibition will take place July 8th to October 8th, 2011.