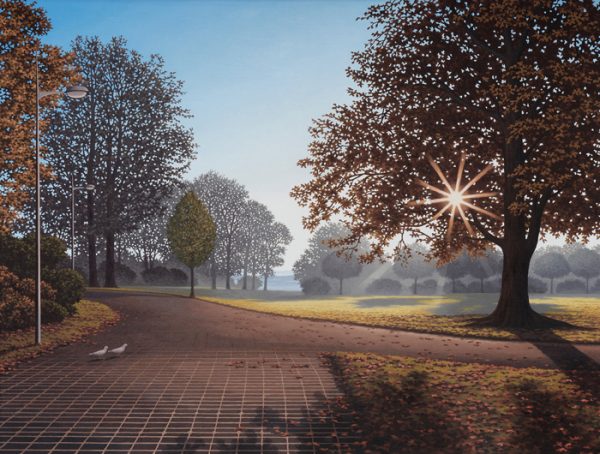 FROM VERMONT ART GUIDE #10
BigTown Gallery in Rochester Installs Solar Array
Rutland-based Same Sun of Vermont recently donated a complete solar array to BigTown Projects in Rochester. Philip Allen, the owner of Same Sun and a former art dealer, combined his love of the arts with solar energy by also commissioning the painting, A Clear Path, by British artist Frederick Phillips. BigTown and Same Sun are selling limited-edition prints of A Clear Path to support this initiative. The prints were produced in Bristol, England, are signed and numbered and sell for $450 each. Each purchaser will have their name inscribed on a plaque which will be placed on-site at BigTown. BigTown says about the donation, "We were thrilled to be selected to receive the solar array. At a time when the discussion about the creative economy is blossoming, this is a lovely demonstration of how businesses can be working together to great effect." This installation will produce more than 650,000 kwhs of energy, offsetting 327 tons of carbon, and will ultimately save BigTown Projects approximately $100,000 in energy operating costs.
This story originally appeared in the print edition of Vermont Art Guide #10. To read more Vermont art news, subscribe to the magazine or order a copy.
To see the solar array and BigTown Projects in person, head over to 99 North Main Street in Rochester or visit www.bigtowngallery.com.