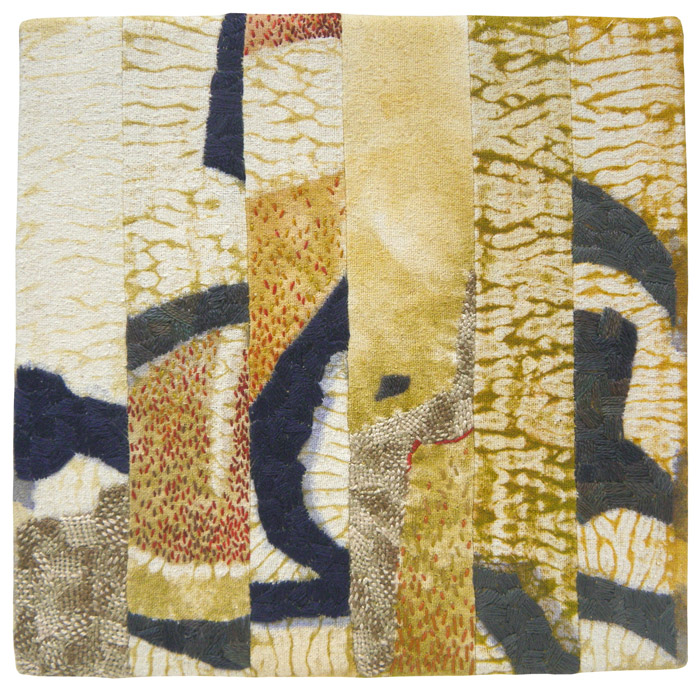 Surface Expressions
November 9-December 9, 2016
Artist Reception: Friday, November 18, 5-7PM
Artist Talk with Eve Jacobs-Carnahan: Sunday, December 3, 1PM
"Surface Expressions" is an exhibition of current work by members of the Vermont chapter of the International Surface Design Association. Surface design is any process that gives structure, pattern or color to fiber and mixed materials, such as felting, spinning, paper making, weaving, knotting, netting, looping, stitching, cutting, piecing, dyeing, painting, printing and embellishing.
Fiber artists are doing some of the most innovative work in the art world today, exploring a variety of surface design techniques and fiber materials.
Pieces in this show include both 2 and 3 dimensional forms by 14 artists from across Vermont, including Judy Dales, Rosalind Daniels, Linda Finkelstein, Elizabeth Fram, Marilyn Gillis, Eve Jacobs-Carnahan, Ruby Leslie, Marya Lowe, Almuth Palinkas, Kathryn Price, Janet Ressler, Leslie Roth, Sharon Webster and Betsy Wing.
During the artist talk with Eve Jacobs-Carnahan on Saturday, December 3, the artist will guide visitors through the exhibit and share her insights into the artists' ideas and backgrounds. Jacobs-Carnahan will also share her knowledge of the broad range of techniques used by artists in the show.
(adapted from the venue's press materials)
---
INFORMATION
Chaffee Art Center
16 South Main Street
Rutland 05701
(802) 775-0356
Hours:
Wednesday-Friday, 11AM-5PM
Saturday, 11AM-3PM
Closed Thanksgiving Day
Image:
Not Quite Enemies from the "Observe" series
by Elizabeth Fram
8.25″x8.25″
stitched-resist, dye, paint and stitch on silk
Courtesy of the artist