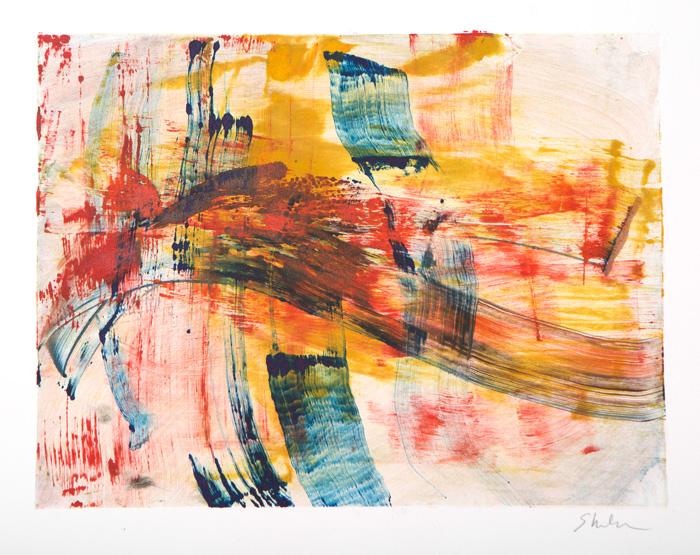 "Swipes and Slashes: Abstract Monotypes"
by Ross Sheehan
July 21-August 31, 2017
The 10 abstract expressionistic monotypes* in this solo show were executed in 2004 over a weekend-long printmaking session at Robert Reynolds' Blue Hand Studio press in Branford, Connecticut.
Ross Sheehan said, "These unique prints are physical. They investigate risk taking, execution, speed and process. Themes of spontaneous gestural mark making and 'happy accidents' commonly run throughout my printmaking practices to this day."
Ross Sheehan operates out of his Vergennes studio at 37 Green Street by appointment (or chance), and his private sculpture studio in South Burlington. He is a painter, printmaker, sculptor and mixed media artist exhibiting nationally and throughout Vermont. Ross is also currently exhibiting his monotype printmaking in "Just Under 100: New Prints 2017/Summer" at IPCNY in Chelsea, New York City.
*All 10 museum quality framed prints are available for sale from $450-$850.
(text adapted from the artist's press materials)
---
INFORMATION
Otter Creek Custom Framing
3 Park Street
Middlebury 05753
(802) 388-2370
Hours:
Monday-Friday, 10:30AM-4:30PM
Image:
untitled
by Ross Sheehan
color monotype (framed)
2004