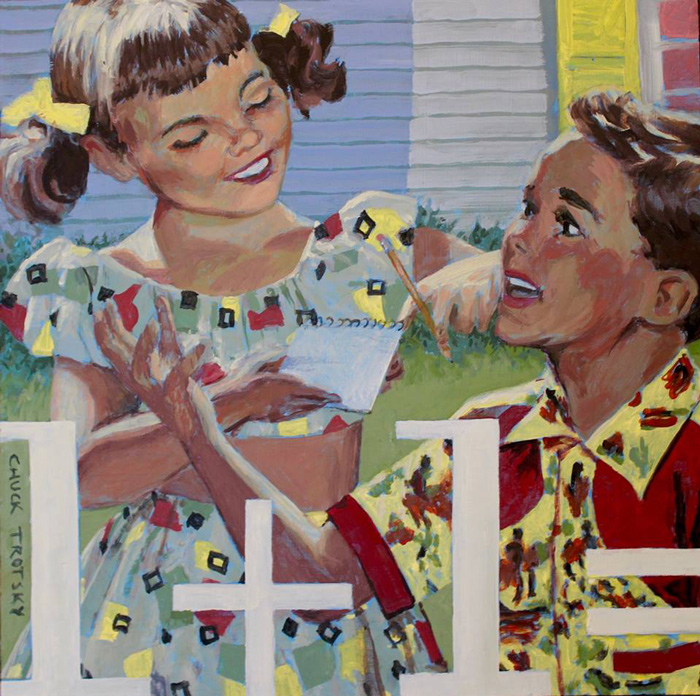 ART ON VIEW
"The Enigmatic Art of Charles Trotsky"
at the Northeast Kingdom Artisans Guild
in St. Johnsbury
January 12-February 24, 2018
Rumor has it that Charles Trotsky is not a real person, yet he makes real art. Like the mask that Bruce Wayne dons, or Zorro's mask, Trotsky is an invented persona that frees a respected realist painter to explore different subjects, styles and media.
His painting, #GHOSTDANCE*, was featured in Art New England, and was featured in the Northeast Kingdom Artisans Guild group show "Seen/UnSeen". Trotsky's works have been displayed at Parker Pie Company, the Miller's Thumb Gallery and Highland Center for the Arts.
This collection of recent acrylic on panels is a study of gender in popular culture. Familiar images are utilized as a language, and then transformed by altered context, color and composition. Trotsky has also been experimenting with printmaking and will be selling original prints on paper for the first time.
Also on display for the first time at the guild, to accompany this exhibit, is uniquely crafted furniture by Ben Barnes.
(text adapted from the venue's press materials)
---
INFORMATION
Northeast Kingdom Artisans Guild
Back Room Gallery
Suite 2
430 Railroad Street
Saint Johnsbury 05819
(802) 748-0158
Hours:
Monday-Saturday, 10:30AM-5:30PM
Image
1 + 1
by Chuck Trotsky