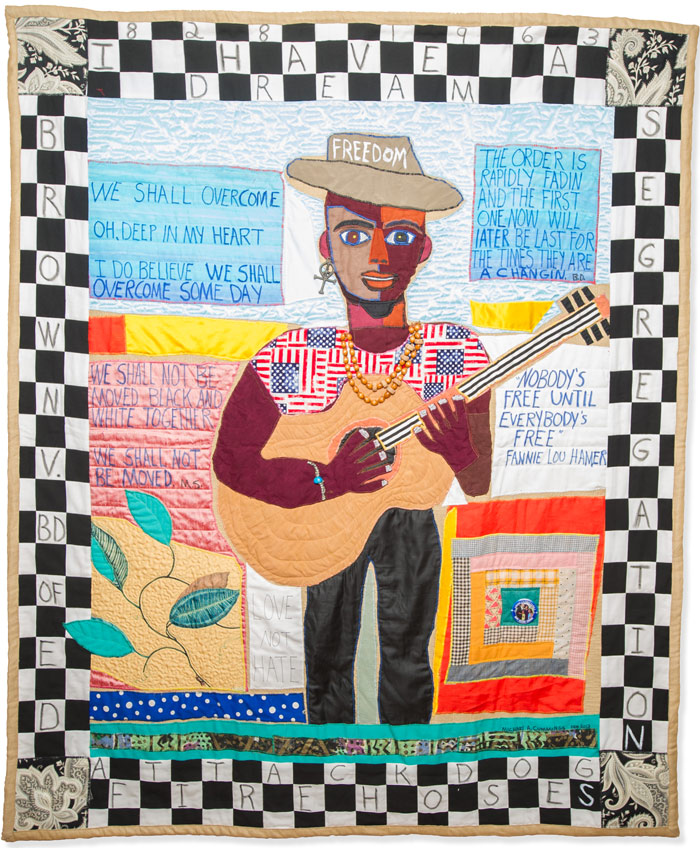 ART ON VIEW
The Fabric of Emancipation
at the Rokeby Museum in Ferrisburgh
July 15-October 28, 2018
Curator talk, "Disrupting Silence", Sunday, July 15, 3PM
A departure from the Museum's usual, more strictly historical and local focus, "The Fabric of Emancipation", curated by Harlem Needle Arts founder Michelle Bishop, features the work of eight contemporary fiber, textile and needle artists expressing what it means to be of African descent in the Americas.
Fabric constructions ranging from costume and quilts, to lace and wall hangings illustrate issues of personal identity, cultural worth and what it means to be liberated (or not) in the Americas today. Some work identifies issues of socio-political agency and 18th and 19th century injustices, like the mannequins created by Sarah Bunn to depict the forced removal of free, land-owning African Americans in order to build New York City's Central Park. Other works, the geometric brilliance of a quilt by Ife Felix and a mixed media triptych by Laura R. Gadson, address contemporary issues of gentrification and injustices in policing.
Curator Michelle Bishop describes the artists as "griots using thread as their base medium" and makes clear the goal of the exhibition, now at its second venue: "The Fabric of Emancipation stimulates citizens to think critically and radically about the humanity of people of African heritage."
With works exhibited nationally and internationally and in the permanent collections of the White House, Brooklyn Museum, and others, the eight artists in the exhibition are Sara Bunn (Teaneck, New Jersey), Michael Cummings (New York City), Ife Felix (New York City), L'Merchie Frazier (Boston), Laura R. Gadson (New York City), Dindga McCannon (Philadelphia), Heather Marie Scholl (New York City), and LaShawnda Crowe Storm (Indianapolis).
(text adapted from the venue's press materials)
---
INFORMATION
Rokeby Museum
4334 Route 7
Ferrisburgh 05456
(802) 877-3406
Hours:
Daily, 10AM-5PM through 10/28/18
Image:
Freedom
by Michael Cummings
Photo by Burroughs Lamar Photography, New York City